Attention to the media! Accreditation for the 2022 World Cup qualifying match Ukraine - Bosnia and Herzegovina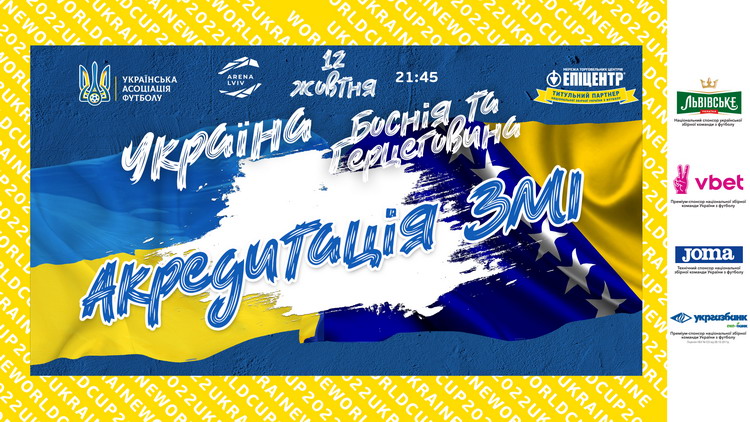 In October, the national team of Ukraine will play the final home match in the qualifying group for the 2022 World Cup. On October 12, the blue-and-yellows will play a football match against the national team of Bosnia and Herzegovina, which will take place at the Lviv Arena in Lviv and will start at 21.45 pm Kyiv time.
Accreditation of mass media for the match Ukraine - Bosnia and Herzegovina started on September 24.
Media representatives wishing to obtain accreditation must be registered in the electronic database on the website of the Ukrainian Association of Football and submit an application.
Please note that applications for accreditation for this game are accepted until October 8 (until 18.00). Applicants will then receive confirmation or denial letters of accreditation.
Accreditations will be issued on the eve of the pre-match media events, as well as on the day of the match, October 12, at the media entrance two hours before the start of the game.
Due to the increased interest in this fight, as well as quarantine restrictions due to the spread of COVID-19 in Ukraine, quantitative restrictions were imposed on the presence of media representatives at the fight. The safety of each participant of the match is above all, that is why we are forced to strictly adhere to the established limit.
Entry and stay of media representatives on the territory of the stadium will be allowed only if there are personal protective equipment.
Information on the schedule of pre-match media events will be announced in addition.
Contacts: +38 097 962 18 08 or +38 097 294 25 40 and [email protected]