Vbet League. Shakhtar defeated Veres, Dynamo defeated Rukh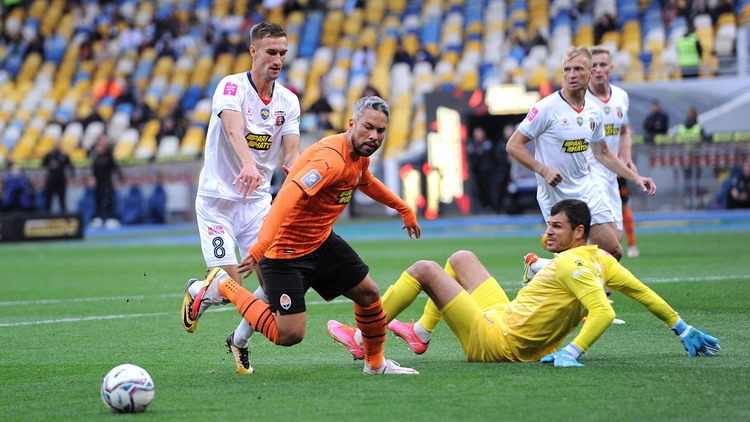 Today, two domestic participants of the Champions League after a face-to-face meeting in the Super Cup of Ukraine won in the regular championship.
Both Roberto de Derby and Mircea Lucescu on the eve of the European Cup matches (next week the Pitmen will meet Inter, and Dynamo will play against Bayern) applied a large-scale rotation. As part of Shakhtar, which hosted Veres in Kyiv, compared to match for the Super Cup there were nine changes. In a somewhat experimental form, the Pitmen did not immediately prove their advantage over the opponent, the first half ended in a draw after Miroshnyk's own goal and the ball in response from Gennady Pasich. But in the second half everything fell into place.
Former Ukrainian national team player Marlos, who recently announced the end of his career in the national team, put his hand to all the orange and black balls. The Pitmen's first goal came after a shot by Marlos, in the second he assisted Tete, the third he scored from the penalty spot, and the fourth he organized by executing a pre-goal pass to Mudryk, which was given by the assistant Traore.
The players called up for the next training camp of the national team of Ukraine played for Shakhtar: Pyatov, Kryvtsov (yellow card), Kornienko (replaced in the 71st minute), Sikan (replaced in the 63rd minute).
As part of Dynamo's Lviv match against Rukh, seven new players came out against Shakhtar. And in Kiev found his hero. Garmash earned an 11-meter, which was realized by Tsygankov, and then scored himself after Timchik's shot.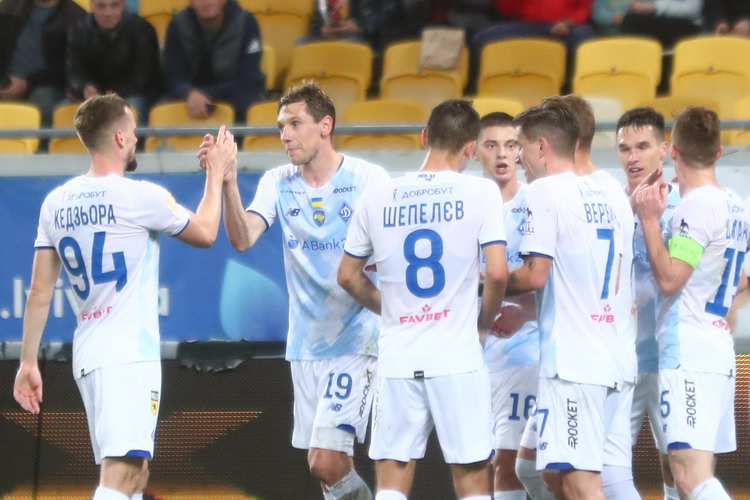 Photo by fcdynamo.kiev.ua
The players called by Oleksandr Petrakov for the October training camp played for the white and blues: Bushchan, Mykolenko (substituted in the 77th minute), Tymchyk, Tsygankov (goal replaced in the 85th minute), Karavaev (came on as a substitute in the 77th minute) ).
In another match, "Alexandria" won a strong-willed victory over "Mariupol". Among the guests was a newcomer, midfielder from Northern Macedonia Spirovsky, who played the first match for the new team. However, the hosts responded twice. Kovalets first earned an 11-meter, which was realized by Tretyakov, and then gave the assist to Kozhushka.
9 round
24.09.2021
Kolos - Vorskla - 0: 1 (0: 1)
25.09.2021
"Alexandria" - "Mariupol" - 2: 1 (1: 1)
Goals: Tretyakov (35, from the penalty spot), Kozhushko (86) - Spirovsky (25).
Shakhtar vs Veres - 4: 1 (1: 1)
Goals: Miroshnyk (22, own goal), Tete (55), Marlos (79, from the penalty spot), Traore (86) - G. Pasic (30).
Rukh - Dynamo - 0:2 (0:2)
Goals: Tsygankov (28, from the penalty spot), Garmash (38).
Standings
| | | | | | | | |
| --- | --- | --- | --- | --- | --- | --- | --- |
| | | G | W | D | L | GD | О |
| 1. | Dynamo | 9 | 8 | 1 | 0 | 25-2 | 25 |
| 2. | Shakhtar | 9 | 7 | 1 | 1 | 23-5 | 22 |
| 3. | Vorskla | 9 | 5 | 3 | 1 | 16-7 | 18 |
| 4. | Oleksandriya | 9 | 5 | 2 | 2 | 10-7 | 17 |
| 5. | Desna | 8 | 5 | 1 | 2 | 12-12 | 16 |
| 6. | Dnipro-1 | 8 | 5 | 1 | 2 | 13-8 | 16 |
| 7. | Zorya | 8 | 4 | 2 | 2 | 16-9 | 14 |
| 8. | Veres | 9 | 3 | 2 | 4 | 9-12 | 11 |
| 9. | Rukh | 9 | 2 | 2 | 5 | 6-12 | 8 |
| 10. | Kolos | 8 | 2 | 2 | 4 | 5-13 | 8 |
| 11. | Inhulets | 8 | 2 | 1 | 5 | 8-14 | 7 |
| 12. | Metalist 1925 | 8 | 2 | 1 | 5 | 6-12 | 7 |
| 13. | Mynai | 7 | 1 | 3 | 3 | 5-9 | 6 |
| 14. | Chornomorets | 8 | 1 | 2 | 5 | 9-21 | 5 |
| 15. | Mariupol | 9 | 1 | 1 | 7 | 12-23 | 4 |
| 16. | Lviv | 8 | 0 | 3 | 5 | 4-13 | 3 |
26.09.2021
"Minai" - "Lviv" (14.00)
Dnipro-1 - Zorya (17.00)
"Desna" - "Metalist 1925" (19.30)
27.09.2021
"Chernomorets" - "Ingulets" (19.30)