Mykola Shaparenko: "The previous match with Finland left negative memories, we have a reason to correct"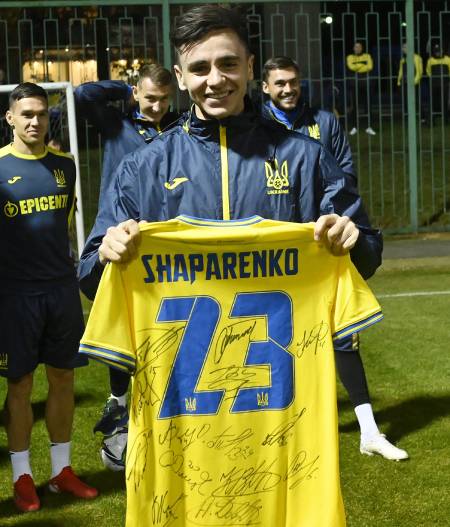 Midfielder of the national team of Ukraine Mykola Shaparenko shared his emotions after congratulating on his birthday in the main team of the country.
Last night training blue-yellow began with a pleasant surprise. V. o. head coach Oleksandr Petrakov, traditionally gathering football players in a circle, congratulated Mykola Shaparenko on his birthday. On behalf of the team, the coach presented the birthday boy with a T-shirt with the autographs of all partners and the number 23.
"It was a pleasure to receive a memorable T-shirt that will stay with me for a long time and will remind me of this gathering. Everyone wished me health. I think this is the most important thing now, "Shaparenko said in a comment for the UAF YouTube channel.
The midfielder also expressed his opinion on the upcoming match of the national team: "We will play against the Finns on the road. This is a good team that needs to be well prepared, to study its strengths and weaknesses. Preparation for the match is ahead.
The previous match with Finland left negative memories, as we dominated throughout the game, but the opponents scored a goal out of nowhere. We have a reason to correct, so we will work to the maximum.
Some guys were injured. I wish them health so that they recover faster. "
In the selection for Euro 2020, Dynamo Kyiv midfielder Myk ...
Mykola Shaparenko, a football player of Dynamo Kyiv, told about ...