Attention to the media! Accreditation for the World Cup qualification match 2023 among women's national teams Ukraine - Faroe Islands and Ukraine - Spain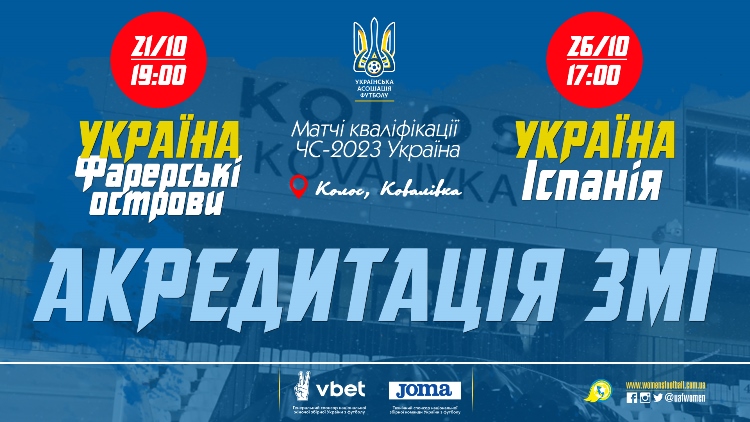 In October, the national women's national team of Ukraine will start playing in the qualification for the 2023 World Cup. On October 21, the blue and yellows will play at home against the Faroe Islands (start of the match - at 19.00), and on October 26 they will host the Spanish team (17.00). Both matches will take place at the Kolos Stadium in Kovalivka.
Media accreditation for the Ukraine-Faroe Islands and Ukraine-Spain match started on October 5.
Media representatives wishing to obtain accreditation must be registered in the electronic database on the website of the Ukrainian Association of Football and submit an application.
Please note that applications for accreditation for the Ukraine-Faroe Islands match are accepted until October 17 (until 18.00:23) and for the Ukraine-Spain match until October 18.00 (until XNUMX:XNUMX). Applicants will then receive confirmation or denial letters of accreditation.
Accreditations will be issued on match days, October 21 and 26, at the media entrance two hours before the matches.
Entry and stay of media representatives on the territory of the stadium will be allowed only if there are personal protective equipment.
Contacts: +38 097 962 18 08 or +38 093 996 47 35 and [email protected]