Andriy Pyatov twice broke the record of the national team of Ukraine in October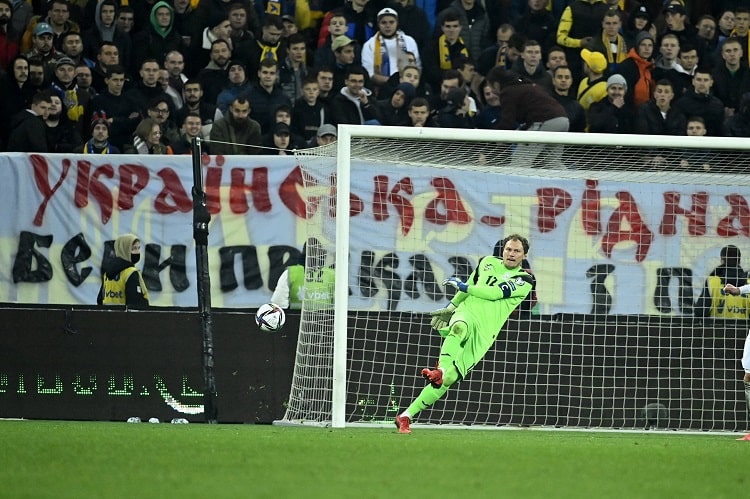 A historic event took place in Helsinki on October 9 during the 2022 World Cup qualifier against Finland (2-1) - Andriy Pyatov broke Anatoliy Tymoschuk's five-year-old record and became the oldest football player in the biography of the Ukrainian national team. He was 37 years and 102 days old on the day of the match.
Tymoschuk's previous record (37 years and 83 days) has been held since June 2016.
And in the match with the team of Bosnia and Herzegovina (1: 1) our captain broke the record again - his own. In Lviv, he came on the field at the age of 37 years and 105 days.
Top 10 oldest football players of the national team of Ukraine
| | | | | |
| --- | --- | --- | --- | --- |
| Player | date | Status | The match | Age |
| Andrii PYATOV | 12.10.2021 | CS-2022 (c) | Bosnia and Herzegovina - 1: 1 | 37 years 105 days |
| Anatolii Tymoshchuk | 21.06.2016 | UEFA EURO 2016 | Poland - 0: 1 | 37 years 83 days |
| Oleksandr Shovkovskyi | 29.02.2012 | TM | Israel - 3: 2 | 37 years 57 days |
| Vyacheslav Shevchuk | 16.06.2016 | UEFA EURO 2016 | North Ireland - 0: 2 | 37 years 34 days |
| Alexander GORYAINOV | 01.06.2012 | TM | Austria - 2: 3 | 36 years 338 days |
| Ruslan Rotan | 28.03.2018 | TM | Japan - 2: 1 | 36 years 150 days |
| Andrii Shevchenko | 19.06.2012 | UEFA EURO 2012 | England - 0: 1 | 35 years 263 days |
| Oleg Luzhnyi | 10.09.2003 | Euro 2004 (c) | Spain - 1: 2 | 35 years 35 days |
| Andriy DYKAN | 29.02.2012 | TM | Israel - 3: 2 | 34 years 227 days |
| Oleksandr Kucher | 06.06.2017 | TM | Malta - 0: 1 | 34 years 227 days |