Vbet League. Dynamo regained the lead, Dnipro-1 rose to the third step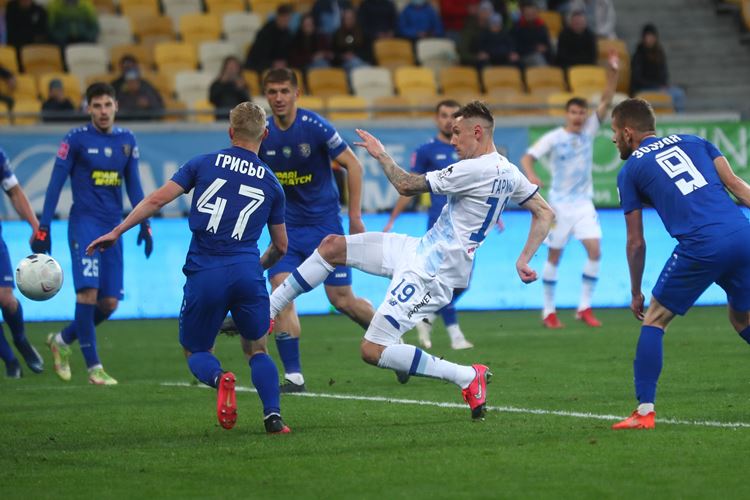 On Saturday in the championship of Ukraine the next victory was won by Kiev «Dynamo», which defeated «Lviv» away.
Mircea Lucescu's charges kept in mind the upcoming match with Barcelona at the Camp Nou. So, given the workload in the national team of Ukraine, the Romanian specialist gave rest to Zabarny, Sydorchuk and Shaparenko. But from the first minutes Mykolenko and Buyalsky came out, who missed the matches of the national team due to injuries.
Despite the large number of moments at Kostyk's goal, the Lviv team opened the scoring - Chiryak scored a penalty for Mykolenko's game with his hand. However, even before the break, Kyiv not only won back, but also went ahead. First, Mykolenko rehabilitated, who acted as Buyalsky's assistant, and later Tsygankov hit the ball into the near upper corner with a strike from the right.
In the second half, Garmash scored a double, replacing Supryag before the break. First, Denis closed the shot of Tsygankov, and at the end of the meeting scored from a distance with a ricochet. Having won a landslide victory, the white and blues regained the lead in the standings, which yesterday selected they have Shakhtar.
As part of Dynamo, the players called up for the October training camp of the national team took part in the match: Bushchan, Mykolenko (goal pass, yellow card, replaced in the 46th minute), Tymchyk, Sirota (replaced in the 74th minute), Tsygankov ( goal, goal pass, replaced in the 74th minute), Buyalsky (goal), Karavaev (came on as a substitute in the 46th minute), Shabanov (came on as a substitute in the 74th minute).
Dnipro-1 dealt with Kolos at home. The hosts decided the fate of the match in the first half - Ignatenko scored a great goal from the selection, and Dovbyk realized a free kick. So Dnipro rose to the current third position. The players of the national team of Ukraine Dovbyk (goal) and Pihalyonok (replaced by 90 + 3 minutes) took part in the match.
In Mariupol, the hosts took the lead in the match against Metalist 1925 in the 3rd minute - Kulakov scored his sixth goal in the current championship. Azov had many chances to increase the advantage, in particular, Kashchuk hit the post. However, in the second half Kharkiv unexpectedly snatched the victory: a great long-range shot was made by Marlison, and in the 90th minute the joker Zubkov scored with his head.
11 round
15.10.2021
Shakhtar - Zorya - 6: 1 (3: 0)
16.10.2021
"Mariupol" - "Metalist 1925" - 1: 2 (1: 0)
Goals: Kulakov (3) - Marlison (71), Zubkov (90).
Lviv - Dynamo - 1: 4 (1: 2)
Goals: Chiryak (36, from the penalty spot) - Buyalsky (38), Tsygankov (45 + 1), Garmash (58, 83).
Dnipro-1 - Kolos - 2: 0 (2: 0)
Goals: Ignatenko (23), Dovbyk (38).
Standings
| | | | | | | | |
| --- | --- | --- | --- | --- | --- | --- | --- |
| | | G | W | D | L | GD | О |
| 1. | Dynamo | 11 | 9 | 2 | 0 | 29-3 | 29 |
| 2. | Shakhtar | 11 | 8 | 2 | 1 | 29-6 | 26 |
| 3. | Dnipro-1 | 11 | 7 | 1 | 3 | 16-12 | 22 |
| 4. | Vorskla | 10 | 6 | 3 | 1 | 19-7 | 21 |
| 5. | Zorya | 11 | 6 | 2 | 3 | 23-15 | 20 |
| 6. | Oleksandriya | 10 | 5 | 3 | 2 | 10-7 | 18 |
| 7. | Metalist 1925 | 11 | 5 | 1 | 5 | 11-14 | 16 |
| 8. | Desna | 10 | 5 | 1 | 4 | 13-16 | 16 |
| 9. | Veres | 10 | 3 | 3 | 4 | 9-12 | 12 |
| 10. | Rukh | 10 | 3 | 2 | 5 | 8-12 | 11 |
| 11. | Kolos | 10 | 3 | 2 | 5 | 7-16 | 11 |
| 12. | Inhulets | 10 | 2 | 2 | 6 | 9-18 | 8 |
| 13. | Lviv | 11 | 1 | 3 | 7 | 7-19 | 6 |
| 14. | Chornomorets | 10 | 1 | 3 | 6 | 11-24 | 6 |
| 15. | Mynai | 9 | 1 | 3 | 5 | 6-12 | 6 |
| 16. | Mariupol | 11 | 1 | 1 | 9 | 13-27 | 4 |
17.10.2021
"Ingulets" - "Movement" - postponed
"Minai" - "Desna" (14.00)
"Alexandria" - "Vorskla" (19.30)
18.10.2021
"Chernomorets" - "Heather" (19.30)