Vbet League. Dynamo defeated Chornomorets and topped the table for at least a day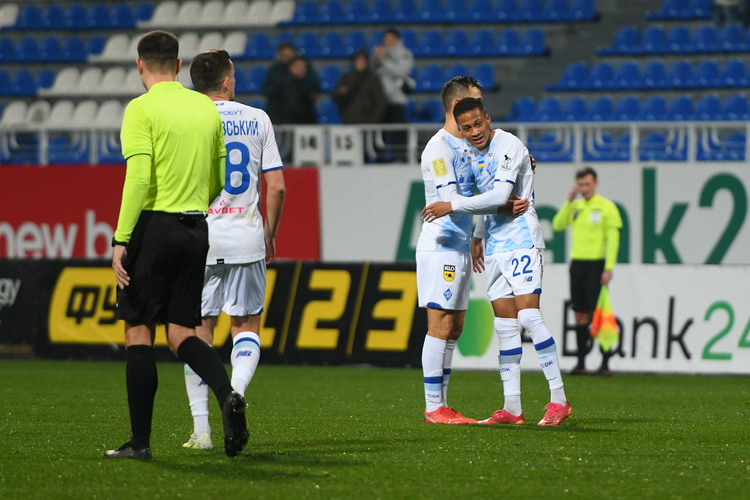 The first match took place today of Vbet Ukrainian Cup Round of XNUMX Leagues after the international break. Chornomorets hosted Dynamo in Kyiv at the Valery Lobanovsky Stadium by agreement between the clubs.
According to another agreement, Odesa players had the opportunity to involve players who were leased from the Kyiv club in the match, but this did not help them get a positive result. Although one of them, Isayenko, scored a goal against Bushchan. The difference in the class of rivals was noticeable and was embodied in the six goals of the nominal guests. Thanks to this victory, the white and blues are ahead of Shakhtar in the table, but the Pitmen will play their match of the 15th round tomorrow.
As part of Dynamo, players who were called up for the November training camp of the national team of Ukraine: Bushchan, Karavaev, Mykolenko, Tsygankov (yellow card, replaced in the 72nd minute), Buyalsky (two goals, replaced in the 77th minute) , Garmash (substituted 46 minutes into the game).
15 round
19.11.2021
Chornomorets - Dynamo - 1: 6 (1: 3)
Goals: Isaenko (44) - Buyalsky (27, 58, from the penalty spot), Vitinho (30, 37), Garmash (48), Kulach (82).
Standings
| | | | | | | | |
| --- | --- | --- | --- | --- | --- | --- | --- |
| | | G | W | D | L | GD | P |
| 1. | Dynamo | 15 | 12 | 2 | 1 | 41-8 | 38 |
| 2. | Shakhtar | 14 | 11 | 2 | 1 | 38-8 | 35 |
| 3. | Zorya | 14 | 9 | 2 | 3 | 33-16 | 29 |
| 4. | Vorskla | 14 | 8 | 4 | 2 | 23-11 | 28 |
| 5. | Dnipro-1 | 14 | 9 | 1 | 4 | 21-14 | 28 |
| 6. | Oleksandriya | 14 | 6 | 5 | 3 | 14-10 | 23 |
| 7. | Desna | 14 | 6 | 3 | 5 | 17-21 | 21 |
| 8. | Veres | 14 | 5 | 4 | 5 | 12-15 | 19 |
| 9. | Metalist 1925 | 14 | 6 | 1 | 7 | 16-22 | 19 |
| 10 | Rukh | 13 | 3 | 4 | 6 | 13-18 | 13 |
| 11 | Kolos | 13 | 3 | 2 | 8 | 8-21 | 11 |
| 12 | Chornomorets | 15 | 2 | 5 | 8 | 17-35 | 11 |
| 13 | Lviv | 14 | 2 | 4 | 8 | 9-22 | 10 |
| 14 | Inhulets | 13 | 2 | 3 | 8 | 9-23 | 9 |
| 15 | Mynai | 13 | 1 | 5 | 7 | 8-20 | 8 |
| 16 | Mariupol | 14 | 2 | 1 | 11 | 17-32 | 7 |
20.11.2021
Lviv - Zorya (14.00)
Shakhtar vs Rukh (17.00)
"Dnipro-1" - "Alexandria" (19.30)
21.11.2021
"Minai" - "Ingulets" (14.00)
Vorskla - Mariupol (17.00)
"Desna" - "Kolos" (19.30)
22.11.2021
"Veres" - "Metalist 1925" (19.30)