Vbet League. Shakhtar won in the last minutes, and Dnipro-1 took advantage of Zorya's misfire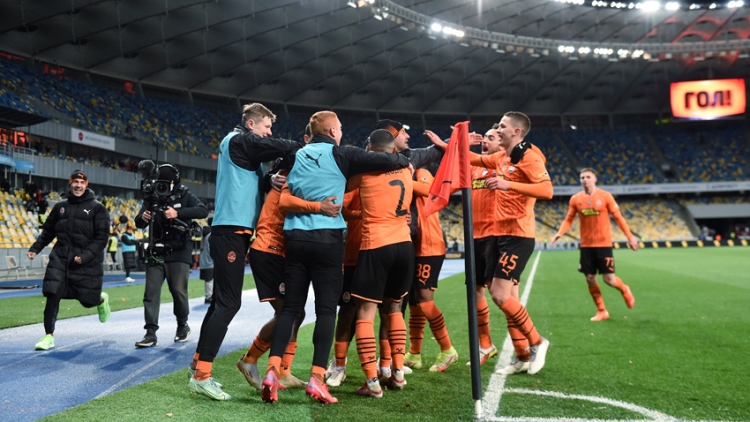 On Saturday, Shakhtar managed to put pressure on Rukh in the last minutes of the Ukrainian championship. The victory allowed the miners to catch up with Dynamo, but Kyiv retained the first place in terms of additional indicators.
Roberto de Derby had in mind the upcoming trip to Milan for the Champions League match with Inter, so he resorted to rotation. In particular, Stepanenko remained on the bench, Kornienko, Sudakov, Marlon and Alan Patrick did not get into the application at all. Moraes, who has not yet recovered from a serious injury, watched his partners from the stands.
Rukh managed to defend reliably during almost the entire match. At the end of the match, passions flared up, even Roberto de Derby was sent off, but Shakhtar managed to snatch three points. At first, Marcos Antonio made an accurate shot from outside the penalty area, and very soon he assisted Tete. The fifth victory in a row for Donetsk in the championship.
As part of Shakhtar, the players who were called up for the November training camp of the national team of Ukraine: Matvienko, Sikan (came on as a substitute in the 57th minute).
The match in Lviv ended with a sensation, where the team of the same name interrupted the six-match winning streak of Zorya and scored three points. Viktor Skrypnyk's wards, who turned 52 yesterday, missed in the 1st minute when Shina shot Matsapura from a few meters. In the first half, Lviv doubled the advantage - Tsvek cut the ball into his own net. Luhansk played one goal in the 64th minute thanks to a great long shot by Lunev, but failed to snatch at least a draw.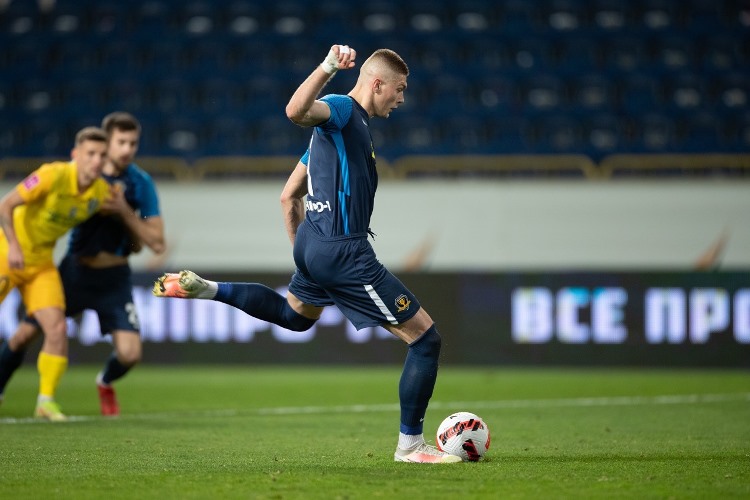 Photo by scdnipro1.com.ua
Dnipro-1 took advantage of Zorya's misfire, rising to the third step after the home victory over Oleksandriya. The hosts missed from Babogl after the corner, after which Dovbyk took up the case. The forward of the national team of Ukraine realized penalties, and also beat Bilyk after a great pass from Pihalonka from the depths of the field. With 10 goals in assets, Artem led the race of scorers.
In the first half Dnipro scored for the third time - after a corner kick Loginov scored. In the second half of the meeting, the hosts competently kept the advantage and had the opportunity to make the score devastating.
The striker of the national team Dovbyk, who was called up for the November training camp, played a full match for Dnipro-1 and scored two goals.
15 round
19.11.2021
Chornomorets - Dynamo - 1: 6 (1: 3)
20.11.2021
Lviv - Zorya - 2: 1 (2: 0)
Goals: Tire (1), Tsvek (31, own goal) - Lunev (64).
Shakhtar vs Rukh - 2: 0 (0: 0)
Goals: Marcos Antonio (86), Tete (88).
Dnipro-1 - Alexandria - 3: 1 (3: 1)
Goals: Dovbyk (29, from the penalty spot, 30), Loginov (41) - Baboglo (19).
Standings
| | | | | | | | |
| --- | --- | --- | --- | --- | --- | --- | --- |
| | | G | W | D | L | GD | P |
| 1. | Dynamo | 15 | 12 | 2 | 1 | 41-8 | 38 |
| 2. | Shakhtar | 15 | 12 | 2 | 1 | 40-8 | 38 |
| 3. | Dnipro-1 | 15 | 10 | 1 | 4 | 24-15 | 31 |
| 4. | Zorya | 15 | 9 | 2 | 4 | 34-18 | 29 |
| 5. | Vorskla | 14 | 8 | 4 | 2 | 23-11 | 28 |
| 6. | Oleksandriya | 15 | 6 | 5 | 4 | 15-13 | 23 |
| 7. | Desna | 14 | 6 | 3 | 5 | 17-21 | 21 |
| 8. | Veres | 14 | 5 | 4 | 5 | 12-15 | 19 |
| 9. | Metalist 1925 | 14 | 6 | 1 | 7 | 16-22 | 19 |
| 10 | Rukh | 14 | 3 | 4 | 7 | 13-20 | 13 |
| 11 | Lviv | 15 | 3 | 4 | 8 | 11-23 | 13 |
| 12 | Kolos | 13 | 3 | 2 | 8 | 8-21 | 11 |
| 13 | Chornomorets | 15 | 2 | 5 | 8 | 17-35 | 11 |
| 14 | Inhulets | 13 | 2 | 3 | 8 | 9-23 | 9 |
| 15 | Mynai | 13 | 1 | 5 | 7 | 8-20 | 8 |
| 16 | Mariupol | 14 | 2 | 1 | 11 | 17-32 | 7 |
21.11.2021
"Minai" - "Ingulets" (14.00)
Vorskla - Mariupol (17.00)
"Desna" - "Kolos" (19.30)
22.11.2021
"Veres" - "Metalist 1925" (19.30)