Vbet League. Vorskla defeated Mariupol, Kolos broke a four-game losing streak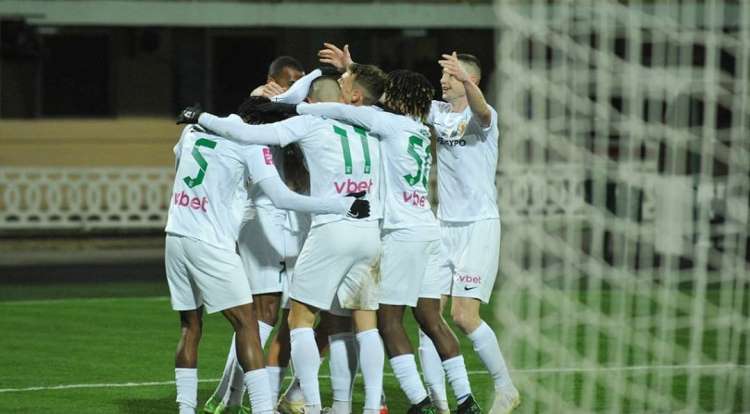 Following the results of Sunday's matches in the championship of Ukraine, Poltava's Vorskla rose to third place, ahead of Dnipro-1 in terms of additional indicators.
Only yesterday Dnipro took advantage Zorya's misfire, but today they were pushed from the third position by Vorskla. At home, Yuri Maksimov's team defeated Mariupol, which occupies the last place in the table.
Till shot a double in the first half - he made a powerful shot from the penalty spot and took advantage of a goalkeeper's mistake. Now the Luxembourger has eight goals in the current Vbet League. In the second half, the removal of Peterman for a foul of last hope left the guests in the minority, which, however, did not prevent Topalov to reduce the gap in the score. However, by the end of the match, Vorskla scored three more times - the unrestrained Till assisted Peshich and Tamma, and Stepaniuk realized a free kick.
The full match of the Poltava team was played by the goalkeeper of the national team of Ukraine Riznyk.
The battle of outsiders turned out to be interesting, as a result of which "Minai" and "Ingulets" failed to interrupt their winless series. Two teams scored four goals and parted ways. We will note the debut goal of the ex-forward of the national team of Ukraine Seleznyov for "Pass", which became for him the 117th in the championships of Ukraine and allowed to approach a scoring record.
In Sunday's final match, Kolos broke a four-game losing streak in the championship, scoring three points in Chernihiv. Sitchinava scored the only goal after coming on as a substitute, opening the scoring with his goals for the Kovalev team. Desna had the game advantage for most of the match, but Selin's removal significantly affected the situation.
15 round
19.11.2021
Chornomorets - Dynamo - 1: 6 (1: 3)
20.11.2021
Lviv - Zorya - 2: 1 (2: 0)
Shakhtar - Rukh - 2: 0 (0: 0)
"Dnipro-1" - "Alexandria" - 3: 1 (3: 1)
21.11.2021
"Minai" - "Ingulets" - 2: 2 (2: 1)
Goals: Seleznyov (39), Gorin (45 + 1) - Kovalev (28), Plokhotnyuk (80).
Sent off: Meshi (90 + 2, "M").
Vorskla - Mariupol - 5: 1 (2: 0)
Goals: Till (16, 22), Pesic (65), Tamm (79), Stepanyuk (83) - Topalov (61).
Sent off: Peterman (60, "M").
"Desna" - "Kolos" - 0: 1 (0: 0)
Goal: Sitchinova (67).
Removed: Celine (53) - Diego (90 + 1).
Standings
| | | | | | | | |
| --- | --- | --- | --- | --- | --- | --- | --- |
| | | G | W | D | L | GD | P |
| 1. | Dynamo | 15 | 12 | 2 | 1 | 41-8 | 38 |
| 2. | Shakhtar | 15 | 12 | 2 | 1 | 40-8 | 38 |
| 3. | Vorskla | 15 | 9 | 4 | 2 | 28-12 | 31 |
| 4. | Dnipro-1 | 15 | 10 | 1 | 4 | 24-15 | 31 |
| 5. | Zorya | 15 | 9 | 2 | 4 | 34-18 | 29 |
| 6. | Oleksandriya | 15 | 6 | 5 | 4 | 15-13 | 23 |
| 7. | Desna | 15 | 6 | 3 | 6 | 17-22 | 21 |
| 8. | Veres | 14 | 5 | 4 | 5 | 12-15 | 19 |
| 9. | Metalist 1925 | 14 | 6 | 1 | 7 | 16-22 | 19 |
| 10 | Kolos | 14 | 4 | 2 | 8 | 9-21 | 14 |
| 11 | Rukh | 14 | 3 | 4 | 7 | 13-20 | 13 |
| 12 | Lviv | 15 | 3 | 4 | 8 | 11-23 | 13 |
| 13 | Chornomorets | 15 | 2 | 5 | 8 | 17-35 | 11 |
| 14 | Inhulets | 14 | 2 | 4 | 8 | 11-25 | 10 |
| 15 | Mynai | 14 | 1 | 6 | 7 | 10-22 | 9 |
| 16 | Mariupol | 15 | 2 | 1 | 12 | 18-37 | 7 |
22.11.2021
"Veres" - "Metalist 1925" (19.30)