UEFA President Aleksander Ceferin congratulated UAF on its 30th anniversary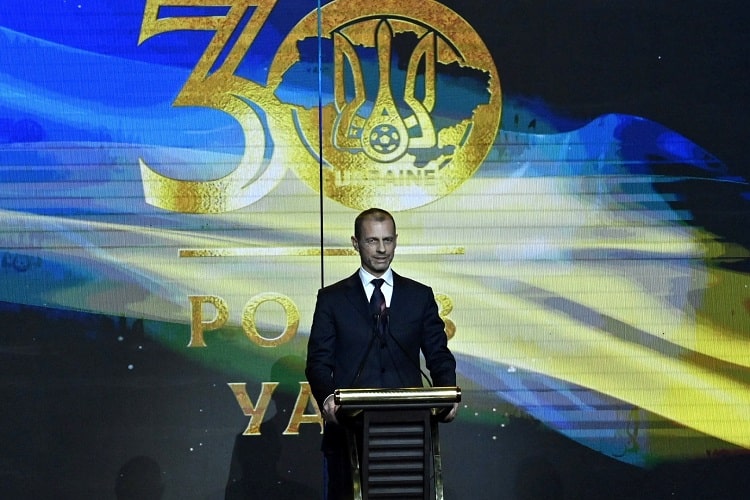 UEFA President Aleksander Ceferin congratulated the participants of the gala evening in honor of the 30th anniversary of the Ukrainian Association of Football, which took place today in Kyiv at the National Opera of Ukraine:
"Dear Mr. President of the Ukrainian Association of Football Pavelko, dear Andrew! Dear friends of the Ukrainian Association of Football! Dear guests!
Looking back on three decades of independence, you should be proud of what you have already done. You have achieved what many would not have achieved in a hundred years.
Ukrainian clubs play an important role at the European level, regularly participating in the most prestigious competitions under the auspices of UEFA. Shakhtar Donetsk will remain in history the last winner of the UEFA Cup, won in 2009, and Dynamo Kyiv stopped just a step away from the 1999 Champions League final.
No big tournament can be imagined without the blue and yellow uniform of the national team of Ukraine, as well as without many of its players who are world-class footballers. The most prominent is Andriy Shevchenko, who won the Golden Ball in 2004 after such great players of all time as Oleg Blokhin and Igor Belanov.
Ukraine has repeatedly established itself as a worthy host of major football events. We still admire the wonderful memories of Euro 2012, which Ukraine hosted with Poland, and the 2018 UEFA Champions League final in Kyiv.
More importantly, the number of children who enjoy our wonderful game in Ukraine is growing every year. Despite all the problems that have nothing to do with football and that you have had to face. This shows the vision, strength and commitment of the association to the true values ​​of football. This is the same devotion you feel during every conversation with Andriy Pavelko.
I am especially proud that you have recognized the aspect of social responsibility of our sport by launching outstanding projects that use sport as a tool of protection, creating a safe environment for society.
Football is unique, it gives each of us the opportunity to dream. And you, my friends, allow millions of children to follow their dreams on the green field.
Thank you for this on behalf of UEFA and for myself, and I wish you many more years of success!
Happy anniversary, my friends! "