2021: results of the year for the national team of Ukraine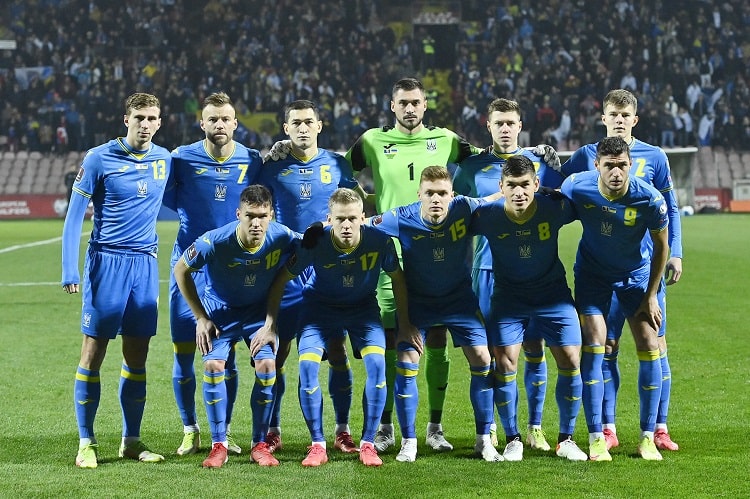 Last year was a record year for the national team of Ukraine in terms of matches. The previous record was 14 meetings (2006), in 2021 there were as many as 18. And this achievement will be extremely difficult to surpass.
In 2021, the national team of Ukraine managed to start the 2022 World Cup qualifying, and then prepare and perform in the final part of Euro 2020, which was postponed for one year due to quarantine restrictions. And at this tournament, Andriy Shevchenko's team gave our best result in the continental championships - reaching the quarterfinals. Earlier in the Euro we could not progress from the group.
After that, the national team changed coach - the 2019 world champion in the U-20 category Oleksandr Petrakov came to the helm. He was destined to finish World Cup qualifying, which the Ukrainian national team started by losing six points in three matches.
Points were lost in September, but in October and November the team managed to get a win over direct competitors - Finland and Bosnia and Herzegovina, which allowed to take second place and reach the playoffs. In March 2022 we will have to play with Scotland, and the winner of the tie in a few days will play with the winner of the pair Wales - Austria for a ticket to the final tournament.
The further calendar of matches of the national team of Ukraine in 2022 also depends on the result of the March games. So far, we only know that four matches of the UEFA Nations League, and in September - two more to be held. The Ukrainian rivals are Ireland (we will play with her for the first time in history), Scotland and Armenia. Then the period of preparation for the 2022 World Cup follows, which will take place in a very unusual time - from November 21 to December 18, which is quite logical, given the climatic conditions in Qatar.
All matches of the national team of Ukraine in 2021
| | | | | |
| --- | --- | --- | --- | --- |
| date | Status | Opponent | Score | Goals of Ukraine |
| 24.03.2021 | World Cup 2022 | France | 1:1 | own goal |
| 28.03.2021 | World Cup 2022 | Finland | 1:1 | Moraes |
| 31.03.2021 | World Cup 2022 | Kazakhstan | 1:1 | Yaremchuk |
| 23.05.2021 | TM | Bahrain | 1:1 | Tsygankov |
| 03.06.2021 | TM | Northern Ireland | 1:0 | Zubkov |
| 07.06.2021 | TM | Cyprus | 4:0 | Yarmolenko (2), Zinchenko, Yaremchuk |
| 13.06.2021 | UEFA EURO 2020 | Netherlands | 2:3 | Yarmolenko, Yaremchuk |
| 17.06.2021 | UEFA EURO 2020 | North Macedonia | 2:1 | Yarmolenko, Yaremchuk |
| 21.06.2021 | UEFA EURO 2020 | Austria | 0:1 | |
| 29.06.2021 | UEFA EURO 2020 | Sweden | 2:1 | Zinchenko, Dovbyk |
| 03.07.2021 | UEFA EURO 2020 | England | 0:4 | |
| 01.09.2021 | World Cup 2022 | Kazakhstan | 2:2 | Yaremchuk, Sikan |
| 04.09.2021 | World Cup 2022 | France | 1:1 | Shaparenko |
| 08.09.2021 | TM | Czech Republic | 1:1 | Korniyenko |
| 09.10.2021 | World Cup 2022 | Finland | 2:1 | Yarmolenko, Yaremchuk |
| 12.10.2021 | World Cup 2022 | Bosnіa and Herzegovina | 1:1 | Yarmolenko |
| 11.11.2021 | TM | Bulgaria | 1:1 | Stepanenko |
| 16.11.2021 | World Cup 2022 | Bosnіa and Herzegovina | 2:0 | Zinchenko, Dovbyk |
All football players and coaches of the national team of Ukraine in 2021
| | | | | | |
| --- | --- | --- | --- | --- | --- |
| Goalkeepers | Date of birth | Club | G | Min | Г |
| Heorhii BUSHCHAN | 31.05.1994 | Dynamo | 10 | 885 | 13c |
| Andrii PYATOV | 28.06.1984 | Shakhtar | 5 | 450 | 5c |
| Anatolii TRUBIN | 01.08.2001 | Shakhtar | 2 | 180 | 2c |
| Denys BOIKO | 29.01.1988 | Dynamo | 1 | 90 | 1c |
| Dmytro RIZNYK | 30.01.1999 | Vorskla | 1 | 45 | 0c |
| Defenders | Date of birth | Club | G | Min | Г |
| Mykola MATVIYENKO | 02.05.1996 | Shakhtar | 17 | 1529 | 0 |
| Illya ZABARNYI | 01.09.2002 | Dynamo | 14 | 1290 | 0 |
| Oleksandr KARAVAYEV | 02.06.1992 | Dynamo | 13 | 980 | 0 |
| Serhii KRYVTSOV | 15.03.1991 | Shakhtar | 11 | 891 | 0 |
| Vitalii MYKOLENKO | 29.05.1999 | Dynamo | 10 | 891 | 0 |
| Eduard SOBOL | 20.04.1995 | Bruges (Belgium) | 9 | 572 | 0 |
| Oleksandr TYMCHYK | 20.01.1997 | Dynamo | 8 | 621 | 0 |
| Viktor KORNIYENKO | 14.02.1999 | Shakhtar | 2 | 135 | 1 |
| Taras KACHARABA | 07.01.1995 | Slavia (Czech Republic) | 1 | 90 | 0 |
| Bohdan MYKHAILICHENKO | 21.03.1997 | Anderlecht (Belgium) | 1 | 90 | 0 |
| Oleksandr SYROTA | 11.06.2000 | Dynamo | 1 | 90 | 0 |
| Denys POPOV | 17.02.1999 | Dynamo | 1 | 28 | 0 |
| Midfielders | Date of birth | Club | G | Min | Г |
| Mykola SHAPARENKO | 04.10.1998 | Dynamo | 16 | 996 | 1 |
| Serhii SYDORCHUK | 02.05.1991 | Dynamo | 15 | 783 | 0 |
| Andrii YARMOLENKO | 23.10.1989 | West Ham (England) | 14 | 1192 | 6 |
| Oleksandr ZINCHENKO | 15.12.1996 | Manchester City (England) | 13 | 1200 | 3 |
| Ruslan MALINOVSKYI | 04.05.1993 | Atalanta (Italy) | 13 | 909 | 0 |
| Oleksandr ZUBKOV | 03.08.1996 | Ferencváros (Hungary) | 13 | 396 | 1 |
| Viktor TSYGANKOV | 15.11.1997 | Dynamo | 11 | 562 | 1 |
| Taras STEPANENKO | 08.08.1989 | Shakhtar | 10 | 680 | 1 |
| MARLOS | 07.06.1988 | Shakhtar | 7 | 311 | 0 |
| Yevhen MAKARENKO | 21.05.1991 | Kortrijk (Belgium), Fehervar (Hungary) | 6 | 292 | 0 |
| Georgii SUDAKOV | 01.09.2002 | Shakhtar | 3 | 88 | 0 |
| Viktor KOVALENKO | 14.02.1996 | Atalanta (Italy), Spice (Italy) | 3 | 48 | 0 |
| Serhiy BULETSA | 16.02.1999 | Zorya | 3 | 41 | 0 |
| Vitalii BUYALSKYI | 06.01.1993 | Dynamo | 1 | 57 | 0 |
| Vladyslav KOCHERGIN | 30.04.1996 | Zorya | 1 | 15 | 0 |
| Denys HARMASH | 19.04.1990 | Dynamo | 1 | 13 | 0 |
| Roman BEZUS | 26.09.1990 | Gent (Belgium) | 1 | 3 | 0 |
| Forwards | Date of birth | Club | G | Min | Г |
| Roman YAREMCHUK | 27.11.1995 | Gent (Belgium), Benfica (Portugal) | 17 | 1215 | 6 |
| Artem BESEDIN | 31.03.1996 | Dynamo | 6 | 151 | 0 |
| Artem DOVBYK | 21.06.1997 | Dnipro-1 | 6 | 138 | 2 |
| Danylo SIKAN | 16.04.2001 | Shakhtar | 4 | 92 | 1 |
| Junior MORAES | 04.04.1987 | Shakhtar | 3 | 108 | 1 |
| Coaches | Date of birth | | G | | |
| Andrii SHEVCHENKO | 29.09.1976 | | 11 | | |
| Oleksandr PETRAKOV | 06.08.1957 | | 7 | | |