Oleksandr Kosenko: All the guys who go to the Euros will represent our country with dignity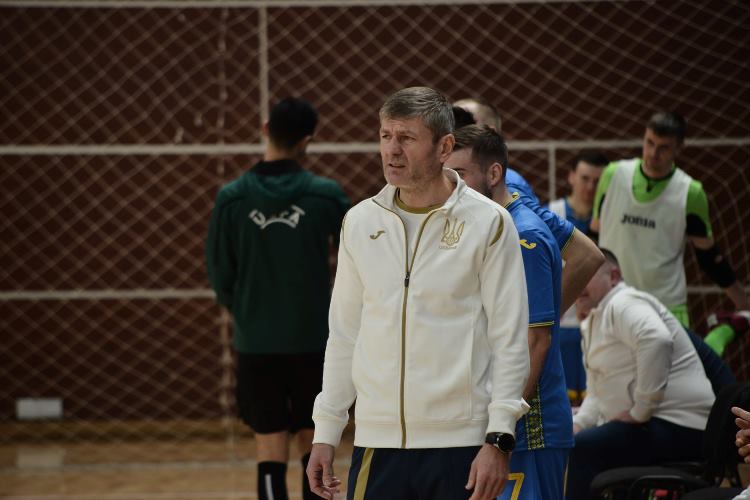 The head coach of the Ukrainian national futsal team Oleksandr Kosenko spoke about the team's preparations for Euro 2022.
Today blue-yellowы in preparation for Euro-2022 in Bucha at the Academy of Sports conducted training, open to the media. The head coach of the national team of Ukraine Oleksandr Kosenko spoke about the upcoming plans of his team.
- Have you already decided on 14 players who will go to the Netherlands?
- We still have time. While we are training, we are still giving a thought, as all the guys deserve it, they work with desire. Unfortunately, only 14 players will go to the tournament. We will announce the list later.
- Our group includes the current European champions - Portugal, the hosts - Netherlands, as well as very unpleasant Serbia. Is this a death group?
- Now all groups are difficult, there are no easy rivals. Everyone knows how to play, prepare for each opponent. The most striking example is Bosnia and Herzegovina, which reached the European Championship from the fourth pot. Therefore, all opponents are interesting, difficult. We need to prepare for each, get tuned in to each game. The European Championship is held only once in four years.
- Is it possible for the current young roster of the Ukrainian national team to break through as far as possible?
- Of course, we think it is possible. And how everything turns out - the game will show. Until the start of the competition, all teams are on equal terms. Everything is in our hands, we will adjust to each game.
- Your first match is against Netherlands. What can you say about this team?
- The team is interesting, there are many technical players of Arab origin. Dimensional team, like many others. As the hosts, they do not need to adapt to anything. It is always difficult to play with the hosts.
- How much will you miss injured players?
- We hope that we will be able to find a replacement for Serhiy Malyshko and Mykola Mykytyuk. They were in our cage, we were counting on them… But we have other performers, no less qualified. All the guys who go to the Euros will represent our country with dignity.
- Two friendly matches with Kazakhstan broke down. How much did this affect the training?
- This forced us to adjust our plans. We expected to hold two friendly matches against a very strong opponent. I think these games would have shown our certain shortcomings that each team has. Only a strong opponent can show these shortcomings more. Unfortunately, for political reasons, Kazakhstan were unable to arrive. We understand them, no insults ...
We will play with the Sky Up team from the First league. The team is not bad, I think they will set up for the match with the national team and create some difficulties for us. I hope this match will also benefit us.
Futsal Euro 2022. Group stage
Group A: Netherlands, Portugal, Serbia, Ukraine.
Group B: Kazakhstan, Italy, Slovenia, Finland.
Group C: Russia, Croatia, Poland, Slovakia.
Group D: Spain, Azerbaijan, Bosnia and Herzegovina, Georgia.
Before the calendar of the final tournament, date, time and place of each match was published. The national team of Ukraine will take part in the first day of the competition and play against Netherlands.
Calendar. Group A
19.01.2022
Serbia - Portugal (18.30, Amsterdam)
Netherlands - Ukraine (21.30, Amsterdam)
23.01.2022
Serbia - Ukraine (15.30, Amsterdam)
Portugal - Netherlands (18.30, Amsterdam)
28.01.2022
Ukraine - Portugal (21.30, Groningen)
Netherlands - Serbia (21.30, Amsterdam)
The start time of the matches is Kyiv.
Playoffs
1/4
31.01.2022
Group B winner - second group A team (Amsterdam)
Group A winner - second group B team (Amsterdam)
01.02.2022
Group C winner - second team of group D (Amsterdam)
Group D winner - second group C team (Amsterdam)
Semifinals
04.02.2022
Winner of quarterfinal 2 - winner of quarterfinal 4 (Amsterdam)
Winner of quarterfinal 1 - winner of quarterfinal 3 (Amsterdam)
Match for 3rd place
06.02.2022
15.30, Amsterdam
Final
06.02.2022
18.30, Amsterdam
The start time of the matches is Kyiv.
The matches of the final tournament will take place at the Ziggo Dome in Amsterdam (group stage, playoffs) and the Martini Plaza arena in Groningen (group stage).
We will remind that wards of Alexander Kosenko became participants in the final tournament following the results of the group stage of qualification, where they were left behind Croatia (2: 3, 2: 7) and ahead of Denmark (6: 2, 8: 2) and Albania (10: 3, 5: 0).
In the ranking of teams that took second place, Ukrainians settled on the second position. In total, the six best second teams out of eight went directly to the European Championship, another participant was determined by the playoffs.