Yuriy Savenko: "We are only adjusting to the Euro 2022 final, we will fight"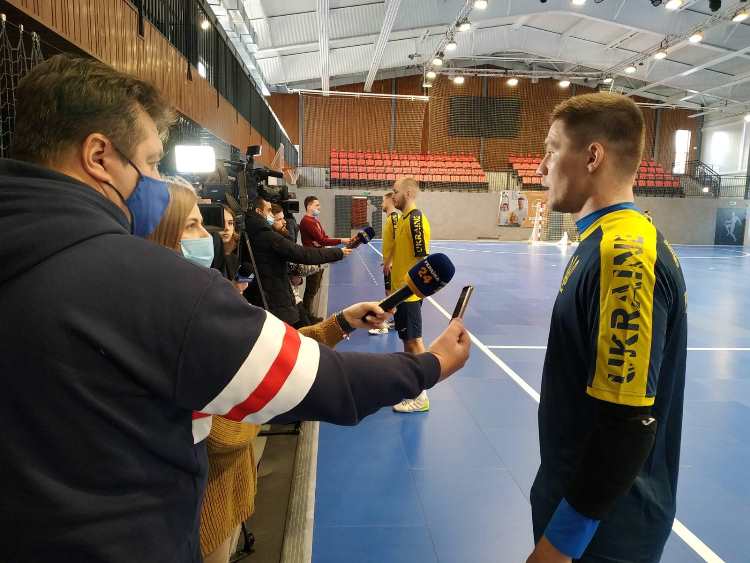 Goalkeeper of the Ukrainian national futsal team Yurii Savenko shared his expectations from the European Championship, which starts in the Netherlands on January 19.
Blue-yellows continue preparing for Euro-2022 in Bucha. Goalkeeper of the national team of Ukraine Yurii Savenko spoke about the work of the team and the mood on the eve of the competition.
- There is a week left before the European Championship. How can you assess the mood in the team?
- The mood is good, we are preparing. Everyone is emotionally ready. We had rounds in the championship before that. Everyone arrived in a good mood and healthy, most importantly.
- How absence of friendlies with Kazakhstan affects the team?
- It is very influential, it would be good to play against such a team. Kazakhs are one of the best, it would be a good experience for us. It didn't work out, but it's okay. Let's move on.
- Instead of Kazakhstan, the team plans to spar with Sky Up. To what extent will it replace international matches?
- No matter, friendly game against any team is good. We will try to play something for the future. The team is solid, there are a lot of good players, so it will be interesting.
- The first game at Euro 2022 - against Netherlands. Is it good that we start with this team?
- Of course, it is good that we will start with them. Although we will watch the game. There will be a good atmosphere, of course, it will be difficult, but we will try.
- What is your minimum task for the European Championship??
- The final, of course. It can't be otherwise. We are preparing only for the final, we will fight.
Futsal Euro 2022. Group stage
Group A: Netherlands, Portugal, Serbia, Ukraine.
Group B: Kazakhstan, Italy, Slovenia, Finland.
Group C: Russia, Croatia, Poland, Slovakia.
Group D: Spain, Azerbaijan, Bosnia and Herzegovina, Georgia.
Before the calendar of the final tournament, date, time and place of each match was published. The national team of Ukraine will take part in the first day of the competition and play against Netherlands.
Calendar. Group A
19.01.2022
Serbia - Portugal (18.30, Amsterdam)
Netherlands - Ukraine (21.30, Amsterdam)
23.01.2022
Serbia - Ukraine (15.30, Amsterdam)
Portugal - Netherlands (18.30, Amsterdam)
28.01.2022
Ukraine - Portugal (21.30, Groningen)
Netherlands - Serbia (21.30, Amsterdam)
The start time of the matches is Kyiv.
Playoffs
1/4
31.01.2022
Group B winner - second group A team (Amsterdam)
Group A winner - second group B team (Amsterdam)
01.02.2022
Group C winner - second team of group D (Amsterdam)
Group D winner - second group C team (Amsterdam)
Semifinals
04.02.2022
Winner of quarterfinal 2 - winner of quarterfinal 4 (Amsterdam)
Winner of quarterfinal 1 - winner of quarterfinal 3 (Amsterdam)
Match for 3rd place
06.02.2022
15.30, Amsterdam
Final
06.02.2022
18.30, Amsterdam
The start time of the matches is Kyiv.
The matches of the final tournament will take place at the Ziggo Dome in Amsterdam (group stage, playoffs) and the Martini Plaza arena in Groningen (group stage).
We will remind that wards of Alexander Kosenko became participants in the final tournament following the results of the group stage of qualification, where they were left behind Croatia (2: 3, 2: 7) and ahead of Denmark (6: 2, 8: 2) and Albania (10: 3, 5: 0).
In the ranking of teams that took second place, Ukrainians settled on the second position. In total, the six best second teams out of eight went directly to the European Championship, another participant was determined by the playoffs.