Birthday of the national team of Ukraine: 30 years behind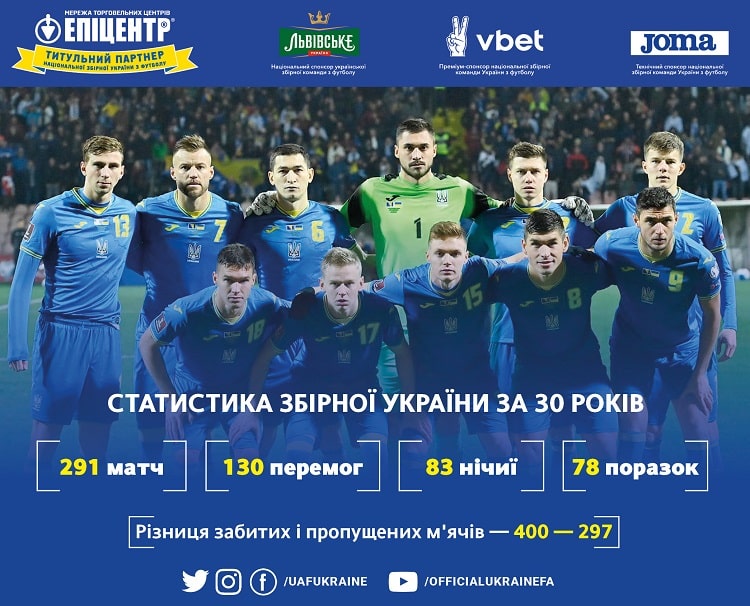 Today the national team of Ukraine has a significant milestone. It marks the 30th anniversary of the first official match, which took place at Uzhhorod's Avangard Stadium with the Hungarian team. Our south-western neighbors then proved to be more playful than the debutant of the international arena, and won - 3: 1.
Since then, our main team has played 290 more matches and is approaching the anniversary mark - 300 meetings.
Out of 291 matches, we have 130 victories and 78 defeats. A draw was recorded 83 more times. The total difference between goals scored and conceded is 400-297.
It will be recalled that this statistic is taking into account the sparring match with Malta (0: 1) in 2017, which is not included in the FIFA register due to too many substitutions. But we take it into account, because we have had a lot of substitutions in friendly matches before. And this is not a reason to delete these meetings from the biography.
National team matches by status
| | | | | | |
| --- | --- | --- | --- | --- | --- |
| Status of matches | G | W | D | L | GD |
| World Cups | 5 | 2 | 1 | 2 | 5-7 |
| World Cup qualifyings | 78 | 37 | 28 | 13 | 119-60 |
| Euro final finals | 11 | 3 | 0 | 8 | 8-19 |
| Euro qualifyings | 62 | 29 | 17 | 16 | 90-57 |
| UEFA Nations League | 10 | 5 | 0 | 5 | 10-18 |
| Friendlies | 125 | 54 | 37 | 34 | 168-136 |
| Together | 291 | 130 | 83 | 78 | 400-297 |
The national team of Ukraine in the final tournaments of the world championships
| | | | | | | | | |
| --- | --- | --- | --- | --- | --- | --- | --- | --- |
| Tournament | Coach | G | W | D | L | GD | P | Pidsumok |
| World Cup 2006 | Blochin | 5 | 2 | 1 | 2 | 5-7 | 7 | 1/4 |
The national team of Ukraine in the selection of world championships
| | | | | | | | | |
| --- | --- | --- | --- | --- | --- | --- | --- | --- |
| Tournament | Coaches | G | W | D | L | GD | P | Pidsumok |
| World Cup 1998 | Clogs | 12 | 6 | 3 | 3 | 11-9 | 21 | defeat in the playoffs |
| World Cup 2002 | Lobanovsky | 12 | 4 | 6 | 2 | 15-13 | 18 | defeat in the playoffs |
| World Cup 2006 | Blochin | 12 | 7 | 4 | 1 | 18-7 | 25 | exit to the World Cup from the 1st place |
| World Cup 2010 | Mikhailchenko | 12 | 6 | 4 | 2 | 21-7 | 22 | defeat in the playoffs |
| World Cup 2014 | Blokhin, Ball, Fomenko | 12 | 7 | 3 | 2 | 30-7 | 24 | defeat in the playoffs |
| World Cup 2018 | Shevchenko | 10 | 5 | 2 | 3 | 13-9 | 17 | 3rd place in the group |
| World Cup 2022 | Shevchenko, Petrakov | 8 | 2 | 6 | 0 | 11-8 | 12 | 2nd place in the group, playoffs |
The national team of Ukraine in the final tournaments of the European Championships
| | | | | | | | | |
| --- | --- | --- | --- | --- | --- | --- | --- | --- |
| Tournament | Coaches | G | W | D | L | GD | P | Pidsumok |
| WHE-2012 | Blochin | 3 | 1 | 0 | 2 | 2-4 | 3 | 3rd place in the group |
| WHE-2016 | Fomenko | 3 | 0 | 0 | 3 | 0-5 | 0 | 4th place in the group |
| WHE-2020 | Shevchenko | 5 | 2 | 0 | 3 | 6-10 | 6 | 1/4 |
The national team of Ukraine in the selection of European championships
| | | | | | | | | |
| --- | --- | --- | --- | --- | --- | --- | --- | --- |
| Tournament | Coaches | G | W | D | L | GD | P | Pidsumok |
| WHE-1996 | Basilevich, Sabo, Konkov | 10 | 4 | 1 | 5 | 11-15 | 13 | 4th place in the group |
| WHE-2000 | Clogs | 12 | 5 | 6 | 1 | 16-7 | 21 | defeat in the playoffs |
| WHE-2004 | Beet | 8 | 2 | 4 | 2 | 11-10 | 10 | 3rd place in the group |
| WHE-2008 | Blochin | 12 | 5 | 2 | 5 | 18-16 | 17 | 4th place in the group |
| WHE-2016 | Fomenko | 12 | 7 | 2 | 3 | 17-5 | 23 | exit to the European Championships through the playoffs |
| WHE-2020 | Shevchenko | 8 | 6 | 2 | 0 | 17-4 | 20 | exit at the European Championships from the 1st place |
The national team of Ukraine in the UEFA League of Nations
| | | | | | | | | |
| --- | --- | --- | --- | --- | --- | --- | --- | --- |
| Tournament | Coaches | G | W | D | L | GD | P | Pidsumok |
| LN-2019 | Shevchenko | 4 | 3 | 0 | 1 | 5-5 | 9 | 1st place in League B group |
| LN-2021 | Shevchenko | 6 | 2 | 0 | 4 | 5-13 | 6 | 4th place in League A group |