Players of the national team of Ukraine shared their impressions of working in the first days of the training camp in Slovenia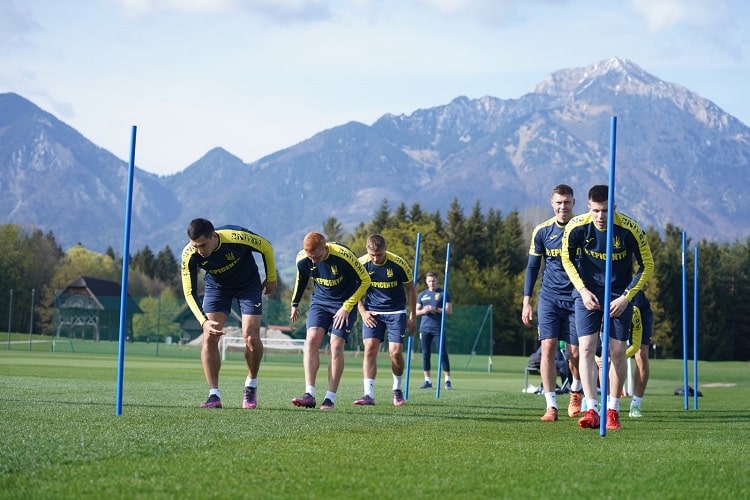 Players of the national team of Ukraine commented on the work at the beginning of the training camp in Slovenia.
On May 1, the national team of Ukraine started preparing to the playoff matches of the 2022 World Cup and the League of Nations. 11 players of our team have already arrived at the training camp in Brdo, Slovenia, and started training. Shakhtar midfielder Taras Stepanenko, Pitmen defender Yuhym Konoplya and Dnipro-1 midfielder Oleksandr Pihalonok shared their impressions from the beginning of the training camp.
Taras Stepanenko: We arrived at the national team's camp immediately after the match in Split with Haiduk. We are in good conditions on the excellent base of the Slovenian national team. We have everything for quality preparation for the match with Scotland. We are currently waiting for at least 70% of the team to gather. It is clear that the players who play in European clubs will arrive later. We will work here in an intensive mode, I think there will be a lot of double training. We have a goal, and we have to work hard to achieve it.
Shakhtar have played a few games recently, and although they were friendly, they lacked the tensions and moods that characterize official meetings, but we played them back, and with each passing match we felt we were gaining momentum. This is good in terms of preparation for the national team matches, because we will look better in them, and we will only have to work to get in optimal condition. "
Yukhim Konoplya: "The head coach constantly adds tone to our classes. That's right, motivation is very important at this time. We have two training sessions, we get used to it a little bit, because we need to get in shape. There are such exercises where you need to think about the technique of execution, and so everything is normal, because we are with Ivan Bashtov (coach of the national team of Ukraine in physical training. - Approx. Ed.) work in one team. We have already played a few matches with Shakhtar, so I feel good, but there is still room for improvement. "
Alexander Pihalonok: "I'm gradually getting used to the two-time training regime. We are waiting for a group of players from Dynamo Kyiv and Artem Dovbyk. There will be more people, and I think the game series will begin. And so we gradually acquire game conditions and get used to the local field. The conditions here are excellent, it is a sin to complain. The field is perfect, the terrain is just gorgeous, the mountains around. I really like everything. Today we had very good loads, but Oleksandr Vasyliovych says that tomorrow they will be even bigger. There is no time to relax, you need to prepare. We have no other way out, we must pass through Scotland. We need to make our people happy, give them positive emotions. "
It will be recalled that the match of the semi-finals of the 1 World Cup qualifiers between the national teams of Scotland and Ukraine is scheduled for June 2 in Glasgow at the Hampden Park Stadium.