Euro-2023 in women's futsal: all rivals of the national team of Ukraine in the main round of selection have been determined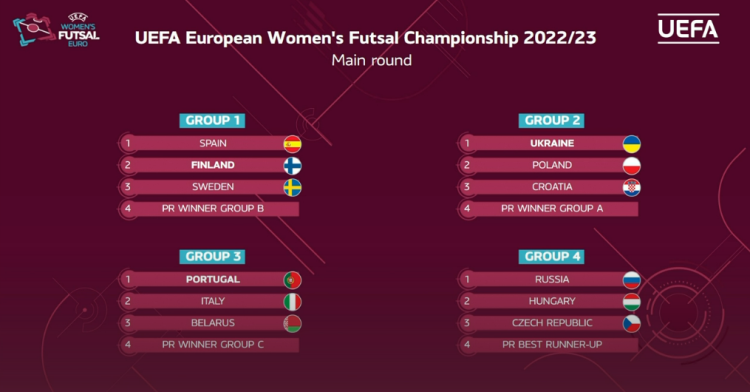 The third opponent of the Ukrainian women's futsal team in the main qualifying round of the next European Championship has been determined.
The final part of Euro-2023 in women's futsal with the participation of four national teams is scheduled for March 2023. The selection cycle will still consist of two stages. The previous round took place on May 10-14, and the main round with the participation of 16 strongest teams will take place on October 18-23. Four group winners will advance to the finals.
Ukraine's women's futsal team will start its way from the main round, where its opponents in Group 2 will be Poland, Croatia and the winner of Group A of the previous round, which became the Netherlands (beat Latvia - 6: 0, Northern Ireland - 2: 0 and Serbia - 5 : 2). It should be noted that Ukraine must first host the mini-tournament.
The main round
The 12 teams are divided into four groups of four teams that will play in mini-tournaments.
The matches of the main round will take place on October 18-23, 2022. The four winners of the groups will go to the final tournament, which will take place in March 2023 on the site of one of these teams.
Group 1: Spain, Finland, Sweden, Belgium.
Group 2: Ukraine, Poland, Croatia, Netherlands.
Group 3: Portugal, Italy, Belarus, Slovenia.
Group 4: Hungary, Czech Republic, Slovakia, Bosnia and Herzegovina.
We will remind, the final tournament of Euro-2022 on futsal among women in which the national team of Ukraine will take part, from July 1 to July 3 will hold Pavilion "Gondomar" in Porto. In the semifinals, our girls will play with the Spaniards.