Oleksandr Petrakov: I'm grateful to boys for listening to me and doing everything I tell them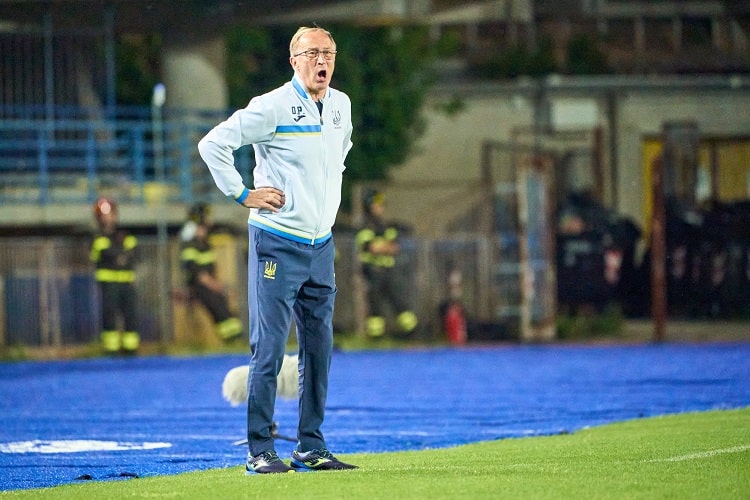 The head coach of the national team of Ukraine Oleksandr Petrakov commented on the result of the friendly match with Empoli.
The national team of Ukraine continues a series of matches in preparation for the 2022 World Cup play-offs and June meetings in the Nations League-2022/2023. This time blue and yellow beat Empoli with a score of 3:1. After the match, the head coach of our team Oleksandr Petrakov praised the actions of his wards.
- Did you like the game? Why did you want to play against Empoli?
- Empoli helped us, responded, because we failed to play with Udinese. There was no such thing as choosing an opponent. I'm grateful to the Italians - the club, the president, the head coach, the players - for the reception.
- How do you prepare the team, given the current situation in Ukraine?
- It was difficult when we just got together. I'm grateful to the guys for listening to me and doing everything I tell them. It is very difficult for them. Today at the touchline I practically played with them, I tried to make them physically fit. I pushed them forward, many barely were moving their legs. But I thank them for reaching the end, they are well done. We need friendly matches. The problem is that we didn't play games at all.
- Are there any news on Denys Popov's injury?
- He has a problem with the Achilles tendon, we'll see, it takes about two days. The doctor said that the tendon was intact, but an MRI had to be done and that Denys should rest for a few days. I will let him go home to his wife. After Popov's arrival, he will do an MRI, then we will decide.
- What squad of the national team of Ukraine will we see tomorrow in the match against Rijeka?
- There are no secrets. In the morning we fly to Croatia, arrive, have lunch. Tomorrow 11 new players will appear on the pitch.
- Oleksandr Pihalyonok scores in the second match in a row and demonstrates a good level of play. Roman Yaremchuk recently arrived at the national team and also showed himself today. Please, comment on their actions.
- Yaremchuk played his last match on May 13, immediately flew to the national team, did not ask for a day off. Roman and I work, he stays for 15-20 minutes after training to work on the finishing. He is fine, he had moments today. I hope he scores as many as we need in Glasgow. As for Pikhalyonok, there is no need to praise him. This is a friendly game. The guy is young, let him play, I'm happy for him.
- Have you watched Eurovision?
- I watched, the whole team watched. We are very happy with our victory.
- In June, a large number of matches await the national team of Ukraine. Do you have an understanding of how many players it takes to withstand this crazy rhythm and rotate?
- I've been thinking about this for a long time. You see, the guys are getting very heavy loads. Popov, Buletsa, Hutsulyak got injured… I talked to the UAF president and told him that I wanted to hold five friendly matches. I also asked to bring 27 players to Glasgow for the next matches.