Alexander Karavaev: "We understand that ahead is the most important game in our lives at the moment"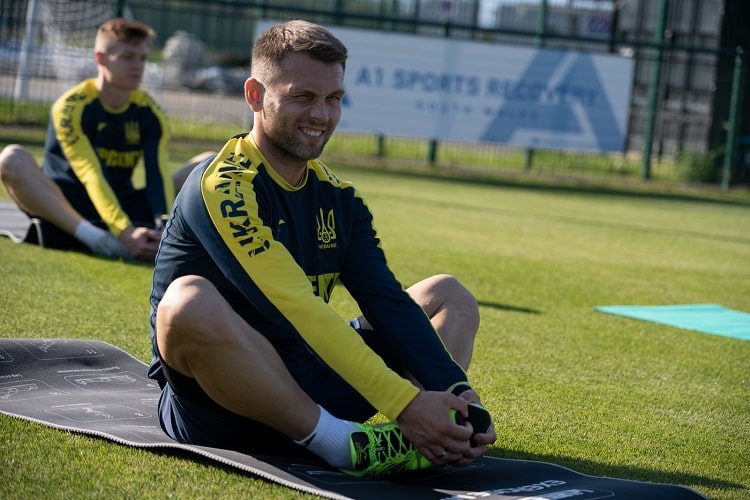 Defender of the national team of Ukraine Oleksandr Karavayev shared his thoughts on the eve of the match with Wales.
Tomorrow, June 5, the blue and yellows will play the final match of the playoffs of the 2022 World Cup against Wales (starting at 19.00 in Kyiv). On the eve of the crucial game, participate in a press conference with the head coach Oleksandr Petrakov took the defender of the national team of Ukraine Alexander Karavaev.
- How your family in occupied Kherson watched over match with Scotland?
- They could not watch the fight. As everyone knows, the connection was cut off there, and the Internet is only available in some places. We communicate in the morning and in the evening only by SMS or through audio recordings, because it is not possible to be constantly online. But when they read the news, they were very happy and congratulated us. It also coincided that June 2 was my mother's birthday and June 3 was my mother's. It was a good occasion to congratulate her. Of course, everyone who stayed in my area, where I was born and raised, watches and experiences. Everyone said hello, only victory is expected from us. Everyone reads the news, if there is the Internet, follows.
- Did you have the opportunity to recover and relax after the previous game?
- Yes, we have a very good medical staff. We have very good masseurs, we have everything for recovery and relaxation. We use everything that the medical staff gives us.
- You mentioned friends who are currently under occupation. What are they doing now and what are they doing?
- Of course, they do not have the cases that were before the occupation. There is no work as such either. They all very much hope that in the near future our military will be able to liberate our territories and they will return to our independent country. That is why everyone is in such great anticipation. Everyone I spoke to is in a very good and positive mood, because they see our military repelling those who came to our land, those whom no one was waiting for. This gives a positive incentive. Everyone believes in this and sees how the world is united around us.
- The players of the Welsh national team said that they all sympathize with Ukraine, but will not give the victory tomorrow, because it is a sport, a game. Were you able to accumulate enough sports anger for tomorrow's match?
- Of course, everyone knows what our situation is, but sport is sport. Even when there were thoughts that we would be given a ticket to the World Cup, all the players immediately said "no". Everything should be decided honestly, on the football field, on a sports basis. So we got a ticket to the playoffs, first for the match against Scotland. We know what path we have taken, we understand that the most important game in our lives is ahead. We have a great desire, game anger. Everyone is waiting for this, striving for victory. What is happening in our team will be on the field tomorrow. We are one and we will show what we are capable of.
- We all expected an emotional game with Scotland, but it turned out to be calm and balanced. What can you say about tomorrow?
- I would not say that the game with Scotland was very calm. It took away a lot of emotions, more positive ones, which is good. When you play in such a stadium with such strong support, even from the opponent - it adds strength and confidence. Because in recent years, due to pandemics and other problems, there have been very few filled stadiums. When you go out and feel such support ... That's why we play. It is very good when so many spectators are watching us.
We also understand that tomorrow's support will be no less than it was in the last match. Of course, we are tuning in to show a good game.
- After the match with Scotland, I got the impression that you and Andriy Yarmolenko were punished.era play on one flank. Such a wonderful understanding between you was ...
- We have been playing on the same flank for many years. We are very comfortable, we understand each other half-heartedly, because we communicate not only on the field, but also outside it. Lots of individual conversations about the game. That is why we have such an understanding on the field.