770 thousand UAH for the reconstruction of Ukraine: the results of the sale of virtual football tickets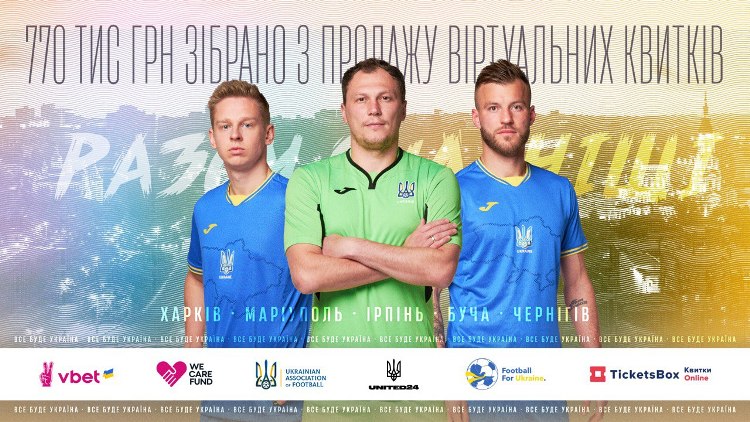 The national team of Ukraine has completed a cycle of five matches in the playoffs of the World Cup-2022 and the League of Nations-2022/2023. Unfortunately, she did not make it to the finals of the World Cup, but our guys are the leaders of their group in LN.
Results of matches played
Qatar World Cup play-off playoffs in Qatar:
Scotland - Ukraine - 1: 3;
Wales - Ukraine - 1: 0.
Matches of group B1 of the League of Nations-2022/2023:
Ireland - Ukraine - 0: 1;
Ukraine - Armenia - 3: 0;
Ukraine - Ireland - 1: 1.
Fundraising results
UAH 770 was raised for the reconstruction of Ukraine through the sale of virtual tickets to matches with the participation of our team! In addition to incredible support from Ukrainians, donations also came from more than 35 countries, including Austria, Canada, the United States, the Netherlands, England, Scotland, Kenya, Belgium, Georgia, Poland and more. This is another evidence of the indifference of the world community and the desire to fight side by side with the invincible Ukrainian people.
The collection was initiated by VBET Ukraine, the Ukrainian Football Association and the TicketsBox ticket service.
All funds received will soon go to the fundraising platform UNITED24, which is part of a global initiative of the President of Ukraine.
The money will be directed to one of the main directions of the initiative - the reconstruction of Ukraine. This, in particular, the restoration of urban infrastructure, construction of bridges, roads, water utilities, thermal power plants, schools, kindergartens and more.
On behalf of the players of the national team and VBET Ukraine, we thank everyone who joined the fundraiser for the reconstruction of Ukraine!
Autographed T-shirts of the national team players were drawn among those who bought level 1 tickets. Also, those who buy 1st and 2nd level tickets will receive their memorable physical copies.
The next matches in Group B1 of the League of Nations-2022/2023 are to take place in September. News on future initiatives related to the event will appear closer to the current dates.