The Ukrainian women's futsal team will play a friendly match against Portugal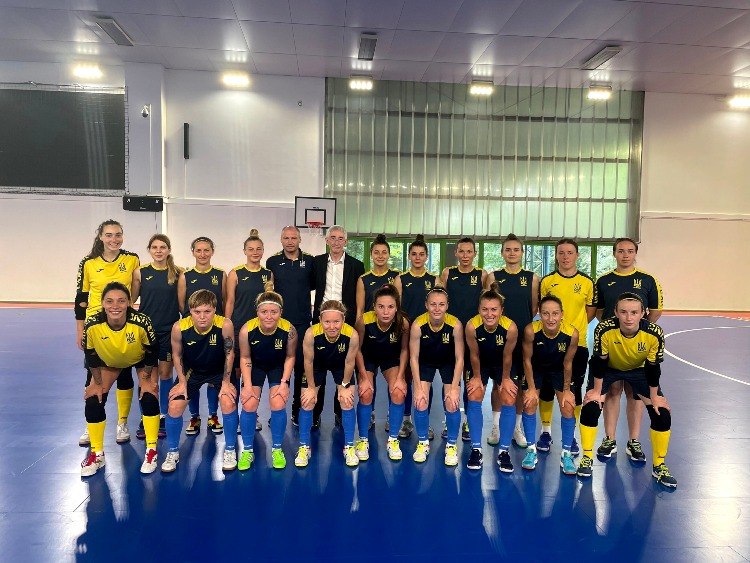 On the eve of the final tournament of Euro-2022, Oleg Shaitanov's wards continue to work as part of the training camp.
During the preliminary stages of training, the blue and yellows held three sparring matches. After the defeat of the Italian national team (1:2) our team defeated the representative of the second-ranked Italian division "Bagnolo" (8:1). Later, the Ukrainians moved to France, where they held a sparring match against the team of the local championship "Nantes Metropol" (5:1).
Today the blue and yellows will hold the final training session in France, and tomorrow they will go to Portugal, where they will play a friendly match against the national team of this country on June 24, reports with the Futsal Association of Ukraine press-service..
The composition of the women's national futsal team of Ukraine
Goalkeepers - Victoria Sagaidachna, Anastasia Terekh, Natalia Mitrofanskaya, Victoria Kislova; field players - Yulia Forsyuk, Ksenia Hrytsenko, Iryna Dubytska, Alyona Kyrylchuk, Snizhana Volovenko, Yulia Titova, Sofia Ruban, Ksenia Burlachenko, Yana Dychko, Taisiya Babenko, Oleksandra Skybina, Maria Vaskovets, Polina Drozd, Khrystyna Eremenko.
It should be noted that, the final tournament of the second in history of the European Women's Futsal Championship, in which the national team of Ukraine has to take part, takes place on July 1-3 this year.
Formerly UEFA reportedthat the final tournament of the women's Euro-2022 futsal, which was to be held from March 25 to 27 in Portugal, has been postponed. This decision was made after consultations and the consent of the host football association.
Later UEFA determined with new dates for the semifinals and medal matches. The matches are scheduled for July 1-3. Thus, on July 1, the national team of Ukraine will play in the semifinals with Spain. The venue of the final tournament has not changed - all meetings will be held in Gondomar, Portugal.
In the other match of the semifinals, the teams of Portugal and Russia had to meet. However, due to the invasion of Russian troops in Ukraine by FIFA and UEFA excluded the Russian national team and the clubs of the aggressor country from all competitions under its auspices. Thus, the Russian women's futsal team in the final tournament of Euro-2022 will no longer play. According to UEFA decision, Hungary will take part in the continental championship, which took the second place in its group of the main round of selection.
Women's Futsal Euro-2022
01.07.2022
Semifinal Ukraine - Spain (19.00)
Semifinals Portugal - Hungary (23.30)
03.07.2022
Match for 3rd place (16.30)
Final (20.00)
We will remind, the national team of Ukraine in October in Lviv won the group main selection round of Euro-2022. The rival of the blue and yellows in the semifinals of the competition was the current European champion - the Spanish national team.