Champions League. Dynamo started the European season with a draw with Fenerbahce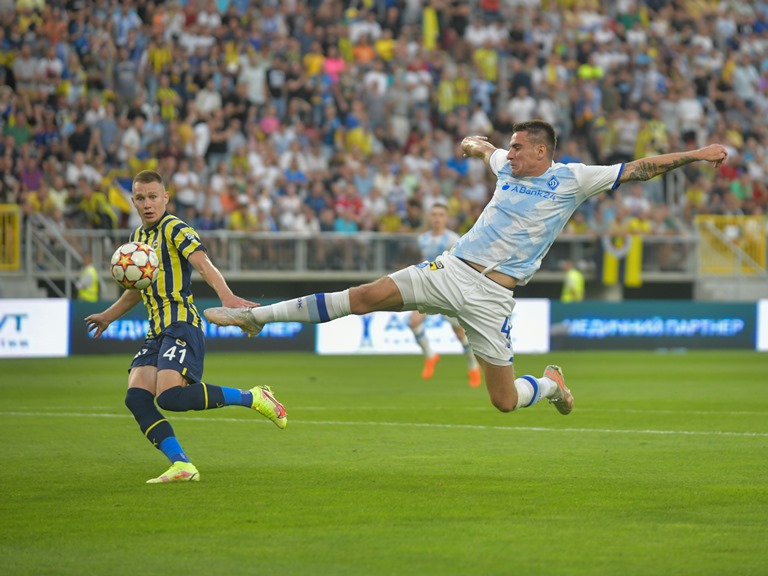 Dynamo Kyiv was the first among Ukrainian clubs to start the European campaign in the 2022/2023 season. Moreover, the match between the white and blue team in the second qualifying round of the Champions League against the Turkish Fenerbahce became the first official match for UPL representatives since December 2021.
Due to the Russian military invasion, the Dynamo team had to host the Istanbul team in Lodz, Poland, at the LKS stadium. By the way, this is where the national team of Ukraine played its home matches in June.
In the first half, Fenerbahçe had more focused attacks and created more chances. So, in the 14th minute, Bushchan saved the home team after Valencia's header. Soon Yukšek hit from a distance near the post. The Kyivans had their good moment in the 27th minute, but Verbic unsuccessfully put his foot under Kendziora's cross. Later, Rossi tested Bushchan with a shot from outside the penalty area. Subsequently, Kahveci blocked a cross from a few meters - after the rebound, the ball flew into the hands of the goalkeeper of Dynamo.
In the second half of the meeting, Mircea Lucescu's wards looked much better. At first, Popov, Sydorchuk and Shaparenko missed their shots. In the 71st minute, Besedin had a goalscoring opportunity, but after his shot from the penalty line, the ball flew past the post. As a result, the first part of the Ukrainian-Turkish duel ended goalless.
Dynamo players who were on the roster for the June matches of the national team of Ukraine took part in the match: Bushchan, Zabarnyi, Popov (replaced in the 83rd minute), Sydorchuk (yellow card), Shaparenko, Tsygankov (replaced in the 88th minute), Syrota (substituted in the 83rd minute), Karavaev (substituted in the 88th minute).
Champions League 2022/2023. Second qualifying round. The first match
Dynamo (Ukraine) — Fenerbahce (Turkey) — 0:0
Dynamo: Bushchan, Kendziora, Zabarnyi, Popov (Syrota, 83), Dubinchak, Sydorchuk (k), Shaparenko, Tsygankov (Karavaev, 88), Verbic (Vanat, 83), Buyalskyi (Garmash, 77), Besedin.
Substitutions: Nescheret, Boyko, Vivcharenko, Burda, Andrievskyi, Kravchenko, Tymchyk, Antyukh.
Head coach: Mircea Lucescu.
Fenerbahce: Bayindir (k), Osai-Samuel, Aziz (Tisseran, 46), Salai, Kadioglu, Arao, Yukshek, Kahveji (Bruma, 63), Rossi (Güler, 72), Valencia (Dursun, 71), King (Lincoln, 63 ).
Substitutions: Ertugrul Cetin, Gumyushkaya, Zaits, Krespu, Novak, Kapajak, Mor.
Head coach: Jorge Jesus.
Referee: Glenn Nyberg (Sweden).
Booked: Sydorchuk (58), Besedin (73), Garmash (90) — King (31), Dursun (87).
July 20. Łódź LKS Stadium.
The return match will take place in Istanbul on Wednesday, July 27 (starting at 20.00 Kyiv time).