Conference League. Vorskla Poltava lost to AIK in overtime and were eliminated from the tournament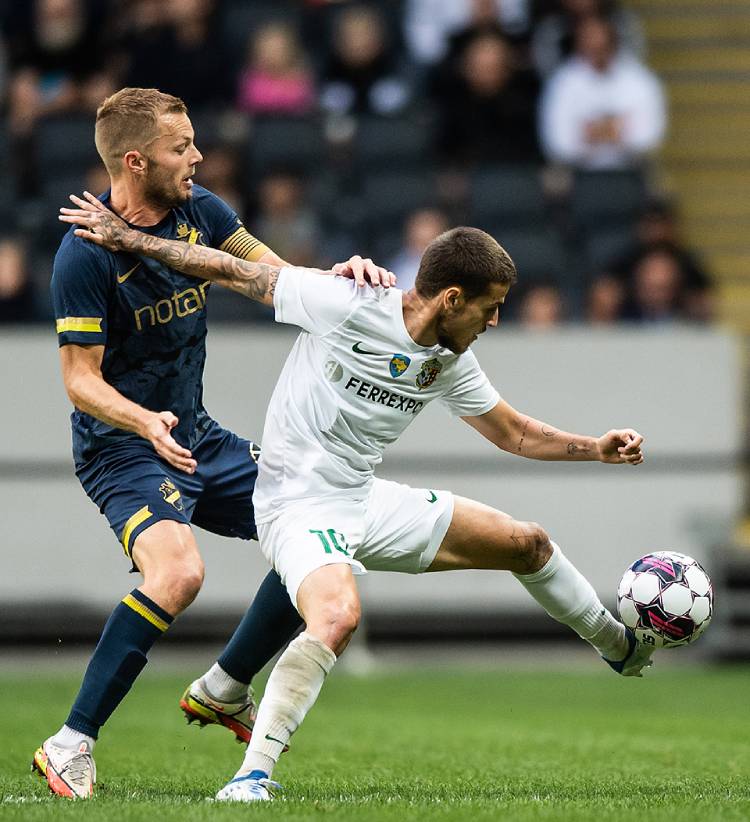 Poltava "Vorskla" played the return match of the 2nd qualifying round of the Conference League with the Swedish AIK in Stockholm at the "Friends Arena".
In the first match, which took place on July 21 also in the capital of Sweden, at the "Stockholm Arena", Viktor Skrypnyk's wards celebrated the victory - 3:2.
The first half of today's match took place in an absolutely equal struggle with a small number of sharp moments. "Vorskla" had the best chance in the 29th minute, when the Swedish goalkeeper pulled the ball after a shot by Vincent Till. Unfortunately, already in the time added by the referee to the first 45 minutes, AIK did open the scoring. Yusafat Mendes scored from the corner of the penalty area, and with the help of a small ricochet, the ball ended up in the net of Dmytro Riznyk's goal.
After the break, the hosts increased their activity and started to create moment by moment. But Dmytro Riznyk played really well here, saving his team from a goal at least three times. So there were no goals scored in the second half, and the game went into overtime.
In the 100th minute, Ruslan Stepaniuk should have equalized the score, but AIK's goalkeeper Christopher Nordfeldt was already on top, and he pulled the ball out from under the crossbar. But at the beginning of the second overtime, according to the referee, the Swedes managed to push the ball into the goal of the Poltava team. Axel Bjornström excelled.
So, 2:0 — AIK's victory, which brought Bartosz Grzeliak's wards into the 3rd qualifying round of the Conference League.
It should be noted that Dmytro Riznyk, the goalkeeper of the national team of Ukraine, played a full match as part of Vorskla.
Conference League-2022/2023. Second qualifying round. Match-answer
AIK (Sweden) — "Vorskla" (Ukraine) — 2:0 (1:0), extra time
Goals: Mendes (45+3), Bjornström (107).
AIK: Nordfeldt, Otieno, Papayannopoulos, Sichenje (Sisei, 106), Mendes (Ring, 103), Bjornström, Larsson (k), Hussain, Stefanelli (Mbunga-Kimpioka, 103), Ayari (Ahmed, 78), Guidetti (Bauyi, 106 ).
Substitutions: Yanoshevich, Henareh, Atola, Elbuzedi, Kesai, Lustig.
Head coach: Bartos Gzheliak.
Vorskla: Riznyk, Perduta (k), Zaikov (Chelyadin, 30), Yavorsky, Batsula, Kozyrenko, V. Till (Felipe, 75), Putslin, Oliynyk (Kulakovsky, 95), Stepaniuk, Marlison (Kravchuk, 75).
Substitutions: Tkachenko, Isenko, Izotov, Krupskyi, Melnychuk, Khrypchuk, Yakubu, Chernysh.
Head coach: Viktor Skrypnyk.
Referee: Milos Milanovych (Serbia).
Booked: Otieno (41), Bowie (118), Hussein (120+1) — V. Till (45), Felipe (83), Batsula (88), Riznyk (108), Putzlin (119).
July 27. Stockholm. "Friends Arena".
Debut - 2: 3.
The opponent of AIK in the 3rd qualifying round of the Conference League will be the winner of the pair "Valmiera" (Latvia) - "Shkendia" (North Macedonia).