Champions League. Dynamo claimed a victory over Sturm in a close game in Lodz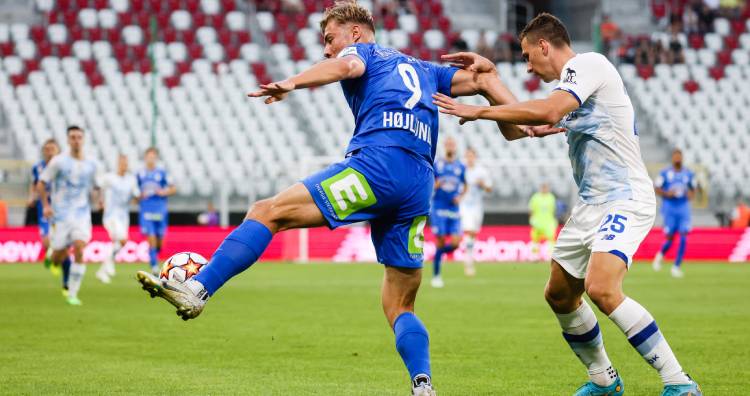 Dynamo Kyiv continued their performance in the UEFA Champions League with a victory over the Sturm Graz in Lodz, Poland.
In the second round of qualification, white and blue have passed Fenerbahce, snatching victory in Istanbul in extra time. After that, Dynamo visited Liverpool, where they held charity match against Everton with Vitaliy Mykolenko. Subsequently, the Kyiv team arrived in Łódź to play in the Champions League with the vice-champion of Austria. It should be recalled that due to the Russian military invasion, Mircea Lucescu's wards are forced to hold home matches of European Cups in this Polish city.
The Slovenian Verbic recently left "Dynamo", so Shepelev took his place in the starting line-up. During the pre-match warm-up, Tsygankov was injured, so Karavaev appeared on the right flank of the attack.
After cautious play in the opening minutes, "Sturm" started to create chances. Bushan had to save after shots from Prass and Goylund, in the 24th minute, the Austrians created another goal-scoring opportunity, but Goylund shot higher from a few meters away.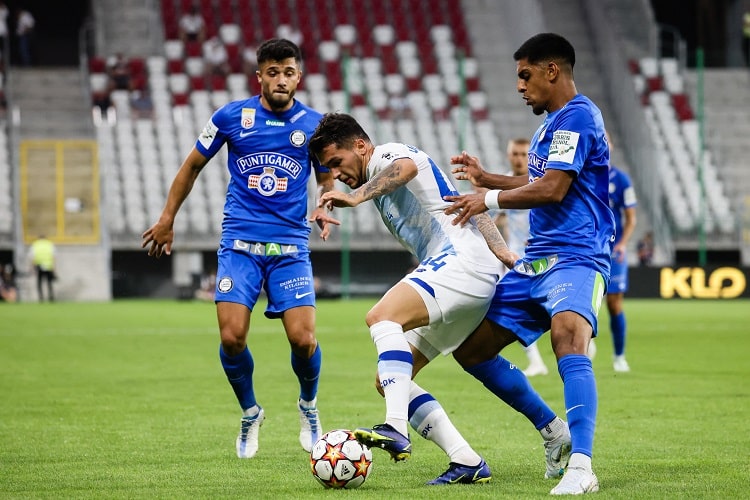 Photo by sksturm.at
Despite this, "Dynamo" soon opened the score, and Karavaev scored in the second match of the Champions League in a row. Dubinchak served from the left flank, Besedin didn't reach, and Oleksandr shot from the left right into the corner. Having scored a goal, the Dynamo team gained a game advantage and made several good attacks, but the home team lacked the finishing touch.
After the break, Besedin had a chance, to whom the ball was thrown by Karavaev, but Artem's shot managed to cover his face. Later, Sydorchuk and Shaparenko distinguished themselves with inaccurate long-range attempts. In the 73rd minute, Besedin blocked Shaparenko's pass with his head - the ball flew over the goal. As a result, Kyiv kept a minimal advantage and won - 1:0.
Dynamo players who were on the list for the June matches of the national team of Ukraine took part in the match: Bushchan, Zabarny, Popov (yellow card), Sydorchuk, Shaparenko, Karavaev (goal).
Champions League 2022/2023. Third qualifying round. The first match
"Dynamo" (Ukraine) — "Sturm" (Austria) — 1:0 (1:0)
Goal: Karavaev (28).
Dynamo: Bushchan, Kendzora, Zabarny, Popov, Dubinchak (Vivcharenko, 71), Sydorchuk (k), Shepelev (Garmash, 71), Shaparenko, Karavaev, Buyalskyi, Byesedin (Vanat, 83).
Substitutions: Nescheret, Boyko, Bol, Yatsyk, Andrievsky, Kravchenko, Tymchyk, Sirota.
Trainer: Mircea Lucescu.
"Assault": Siebenhandl, Gazibegovic, Affengruber, Wütrich, Dante (Schnegg, 68), Stankovic, Girlender (k) (Ljubych, 68), Prass (Demaku, 78), Horvath, Sarkaria, Goylund (Lang, 90).
Substitutions: Schutzenauer, Giuliani, Borkovich, Orots, Kronberger, Ingolich, Fuseini, Vels.
Trainer: Christian Ilzer.
Referee: François Leteccie (France).
Booked: Popov (21), Shepelev (48) — Wutrich (16), Stankovich (42), Girlender (46).
August 3. Łódź LKS Stadium.
The return match will take place in Graz on Tuesday, August 9 (starting at 21.30:XNUMX p.m. Kyiv time).