League of Europe. "Dnipro-1" lost again to AEK Cyprus and will play in the group round of the Conference League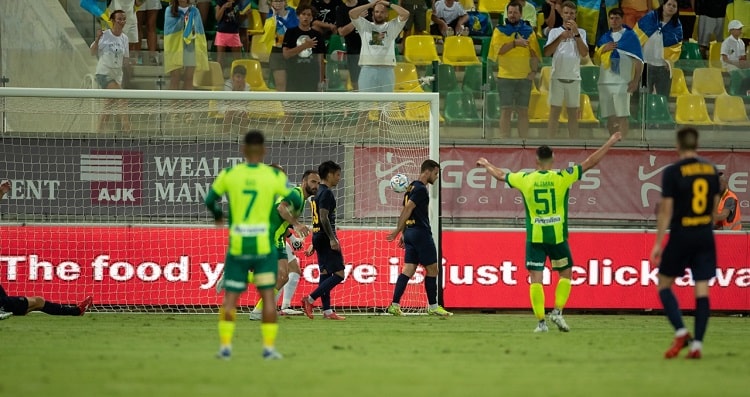 Ukrainian "Dnipro-1" completed its journey in the 2022/2023 Europa League, losing to Cypriot AEK in Larnaca.
A week ago, in the home match of the play-off round of the League of Legends in Košice, the Dnipros played lost AEK — 1:2. Now Oleksandr Kucher's wards played the return match in Larnaca. The Ukrainians had serious personnel losses: Adamyuk, Purita and Sarapiy could not play for various reasons, and only four field players were on the bench.
At the beginning of the meeting, the teams exchanged several inaccurate shots. In the 21st minute, AEK took the lead - the ball flew into Valef's goal after Gyurcho's shot from outside the penalty area and a small ricochet.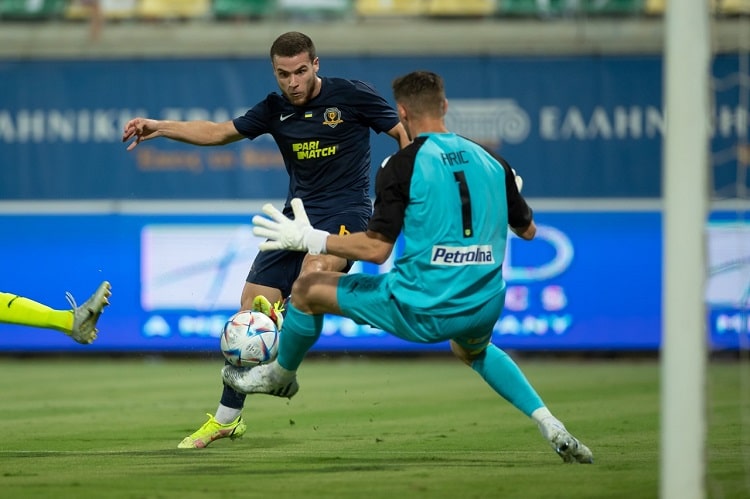 Photo by scdnipro1.com.ua
Then the Dnipro people took the initiative and created a lot of good moments, but the ball stubbornly did not go into the goal. In particular, Blanco, Svatok, Dovbyk, Pikhalyonok were dangerously punched. The second goal of the Cypriots before the break looks all the more illogical - after a cross from the left, Lopes played on the finish and overcame the goalkeeper of "Dnipro-1".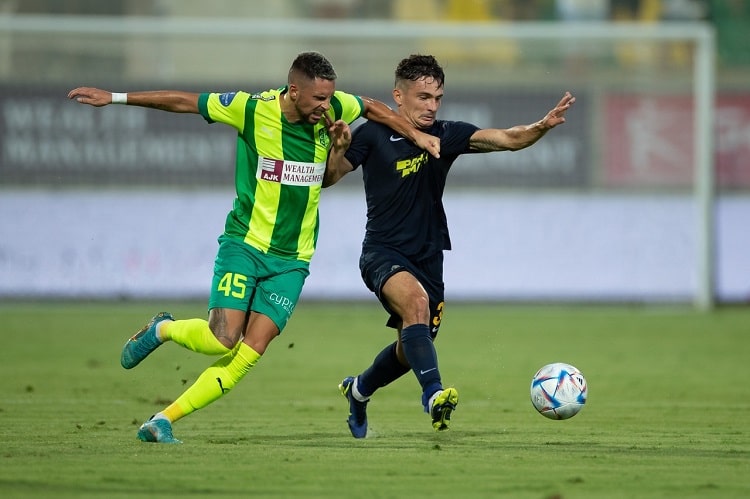 Photo by scdnipro1.com.ua
In the second half, the Ukrainians lost a few more chances, in particular, Hutsulyak headed over the crossbar. Instead, AEK scored the third time - Anglezu finished off a wing pass with an irresistible volley. In the end, "Dnipro-1" conceded with a score of 0:3.
After relegation from the Europa League, the sports clubs will continue their journey in the group round of the Conference League, the draw for which will be held on August 26.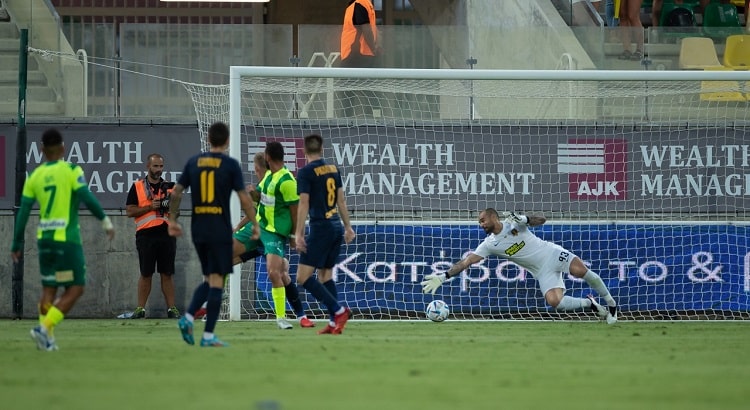 Photo by scdnipro1.com.ua
Let's add that as part of Dnipro-1, the performers who were in the application for the June matches of the national team of Ukraine, Pikhalyonok and Dovbyk, took part in the match.
Europa League 2022/2023. Playoff round. Match-answer
AEK (Cyprus) — "Dnipro-1" (Ukraine) — 3:0 (2:0)
Goals: Gyurcho (21), Lopes (45), English (78).
AEK: Pyric, Rosales, Milicevic, Gonzalez (k), Englesu (Gama, 87), Oyer, Gustavo, Farage (Mamas, 74), Altman (Garcia, 74), Gyurcho (Naum, 83), Lopes (Olatunji, 73).
Substitutions: Toumbas, Stylianidis, Casas, Romo, Kypros, Andreu.
Head coach: Jose Luis Oltra.
"Dnipro-1": Valef, Tanchyk, Svatok (k), Loginov (Rubchinsky, 73), Buzanello, Blanco, Babenko, Hutsulyak (Nazarenko, 58), Pikhalyonok, Gromov (Kogut, 70), Dovbyk.
Substitutions: Rybak, Yurchuk, Kononov.
Head coach: Valery Horodov.
Referee: Davide Massa (Italy).
Booked: Gustavu (61), Lopes (74), Garcia (90+1) — Loginov (14), Babenko (42).
August 25. Larnaca. AEK Arena.
The first match - 2: 1.