"You have to work a lot to play at the same level as such teams": soccer players of the women's national team of Ukraine - about the defeat in the 2023 World Cup selection match against Spain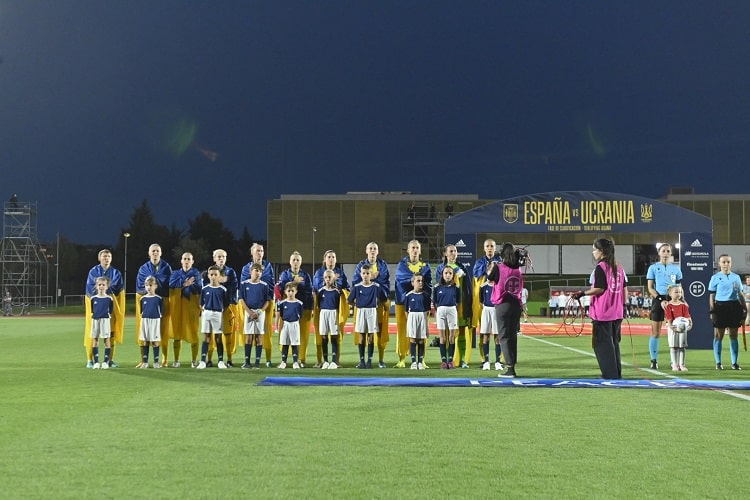 Football players of the national women's team of Ukraine, Yana Malakhova and Iryna Podolska, commented on the defeat by the Spanish team (0:5) in the final qualifying match for the 2023 World Cup.
Yana Malakhova: "Spain has a very skillful team. The game was not easy, because the Spaniards had a lot of possession of the ball. The bill speaks for itself. I wanted to show more meaningful football. Such matches are a good experience for soccer players. You have to work very hard to play at the same level as these teams. One should draw conclusions and move on.
There are always mistakes. It is necessary to work on physical qualities, individual technical skill and team play.
Overall, we did a good job. Played enough matches at a good level with good teams. Our main task was to get out of the group. It didn't work out. We will analyze and move on. Only forward".
Iryna Podolska: "Spain is stronger than Ukraine. We fought until the end but conceded a lot of goals in the first half. After the break, they played more compactly and confidently.
The Spaniards control the ball well and quickly transfer it, perform accurate diagonals. This is exactly what we lack.
I wanted to take second place. But we dropped a lot of points against Hungary and Scotland. Therefore, there were no chances for the required result."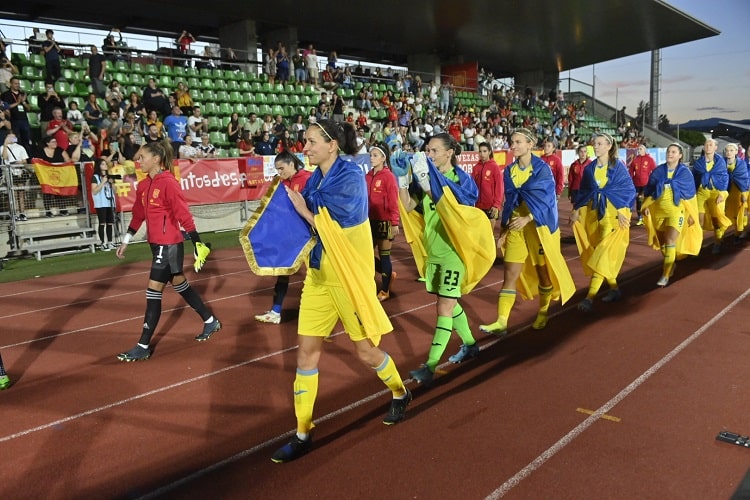 Photo by Pavlo Kubanov
It should be noted that the Royal Spanish Football Federation held a social event in support of Ukraine during the match between Spain and Ukraine.
At the beginning of the war, the Spanish government, through the Ministry of Integration and Social Security, initiated a program to help and care for refugees who arrived as a result of hostilities in Ukraine.
Thanks to this promotion, some of these people were able to support our national team at the stadium. There were about a hundred Ukrainians at the match, in addition, Ukrainian children accompanied the players at the beginning of the match.
2023 Women's World Cup. Qualifying tournament
European area. Group B
16.09.2021/0/10 Faroe Islands - Spain - XNUMX:XNUMX
17.09.2021/0/2 Hungary - Scotland - XNUMX: XNUMX
21.09.2021/7/1 Scotland - Faroe Islands - XNUMX: XNUMX
21.09.2021/0/7 Hungary - Spain - XNUMX: XNUMX
21.10.2021. Ukraine - Faroe Islands - 4: 0
22.10.2021/2/1 Scotland - Hungary - XNUMX: XNUMX
26.10.2021. Ukraine - Spain - 0: 6
26.10.2021/1/7 Faroe Islands - Hungary - XNUMX: XNUMX
25.11.2021/12/0 Spain - Faroe Islands - XNUMX: XNUMX
26.11.2021 Scotland - Ukraine - 1: 1
30.11.2021/XNUMX/XNUMX Hungary - Ukraine - 4: 2
30.11.2021/8/0 Spain - Scotland - XNUMX: XNUMX
08.04.2022/7/0 Hungary - Faroe Islands - XNUMX: XNUMX
12.04.2022/0/2 Scotland - Spain - XNUMX: XNUMX
24.06.2022. Ukraine - Scotland - 0: 4
28.06.2022. Ukraine - Hungary - 2: 0
02.09.2022/XNUMX/XNUMX Faroe Islands - Ukraine - 0: 3
02.09.2022/3/0. Spain — Hungary — XNUMX:XNUMX
06.09.2022/XNUMX/XNUMX Spain - Ukraine - 5: 0
06.09.2022/0/6. Faroe Islands - Scotland - XNUMX:XNUMX
Standings
| | | | | | | | |
| --- | --- | --- | --- | --- | --- | --- | --- |
| | | G | W | D | L | GD | P |
| 1 | Spain | 8 | 8 | 0 | 0 | 53-0 | 24 |
| 2 | Scotland | 8 | 5 | 1 | 2 | 22-13 | 16 |
| 3 | Ukraine | 8 | 3 | 1 | 4 | 12-20 | 10 |
| 4 | Hungary | 8 | 3 | 0 | 5 | 19-19 | 9 |
| 5 | Faroe Islands | 8 | 0 | 0 | 8 | 2-56 | 0 |