Luis Cortes: "It's a shame that the Ukrainian national team didn't manage to score at least one goal against the Spanish"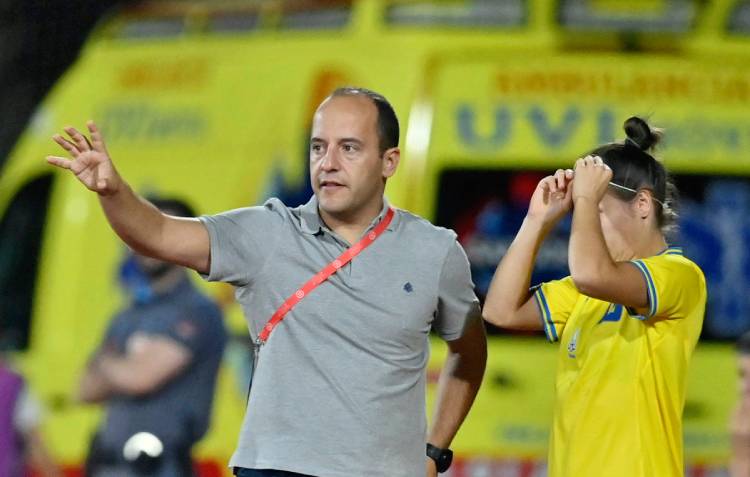 The head coach of the national women's team of Ukraine, Luis Cortes, gave a post-match press conference after the end of the 2023 World Cup qualification away match, in which his charges lost to Spain by a score of 0:5:
"We expected such a scenario in the match against the Spanish national team. The opponents controlled the ball a lot and moved very well. Unfortunately, our players made mistakes in defense and allowed the Spaniards to score, but it is through such matches that the team can progress and become better. Well, there was no sensation, Spain naturally won. It's just a shame that my team didn't manage to find a way to the opposite goal and score at least one goal.
I am partially satisfied with the fact that the Ukrainian national team finished third in the group. We are aware that at the moment Spain and Scotland are stronger than Ukraine. Yes, there were hopes that we would be able to give the Scots a fight and compete for the second position, but we lost a decisive match to them.
But the national team of Ukraine is on the right track. The team continues to grow, take small steps forward. There are still a lot of things we should work on, but it all takes time. Now our goal will be to lead the team to the 2025 European Championship.
I also hope that the war in Ukraine will end, and we will finally be able to start implementing the women's football development project. After all, it is still difficult to expect any significant changes in the situation when hundreds of thousands of Ukrainians left the country in search of refuge due to Russian military aggression."
It should be noted that the Royal Spanish Football Federation held a social event in support of Ukraine during the match between Spain and Ukraine.
At the beginning of the war, the Spanish government, through the Ministry of Integration and Social Security, initiated a program to help and care for refugees who arrived as a result of hostilities in Ukraine.
Thanks to this promotion, some of these people were able to support our national team at the stadium. There were about a hundred Ukrainians at the match, in addition, Ukrainian children accompanied the players at the beginning of the match.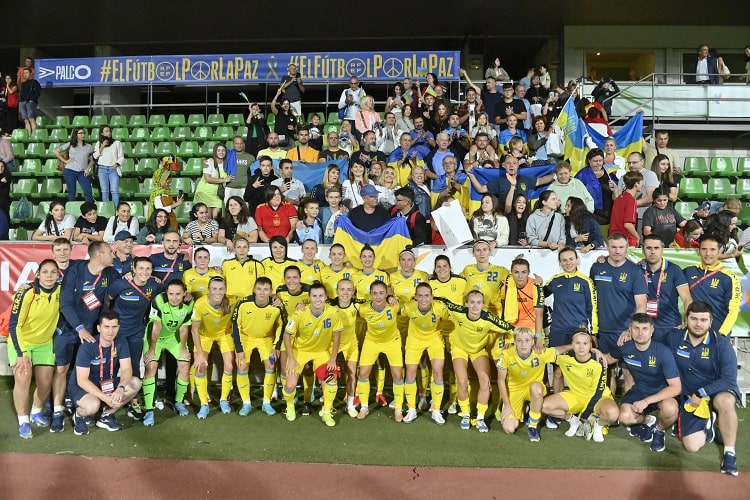 Photo by Pavlo Kubanov
2023 Women's World Cup. Qualifying tournament
European area. Group B
16.09.2021/0/10 Faroe Islands - Spain - XNUMX:XNUMX
17.09.2021/0/2 Hungary - Scotland - XNUMX: XNUMX
21.09.2021/7/1 Scotland - Faroe Islands - XNUMX: XNUMX
21.09.2021/0/7 Hungary - Spain - XNUMX: XNUMX
21.10.2021. Ukraine - Faroe Islands - 4: 0
22.10.2021/2/1 Scotland - Hungary - XNUMX: XNUMX
26.10.2021. Ukraine - Spain - 0: 6
26.10.2021/1/7 Faroe Islands - Hungary - XNUMX: XNUMX
25.11.2021/12/0 Spain - Faroe Islands - XNUMX: XNUMX
26.11.2021 Scotland - Ukraine - 1: 1
30.11.2021/XNUMX/XNUMX Hungary - Ukraine - 4: 2
30.11.2021. Spain - Scotland - 8:0
08.04.2022/7/0. Hungary - Faroe Islands - XNUMX:XNUMX
12.04.2022/0/2. Scotland - Spain - XNUMX:XNUMX
24.06.2022. Ukraine — Scotland — 0:4
28.06.2022. Ukraine - Hungary - 2: 0
02.09.2022/XNUMX/XNUMX Faroe Islands - Ukraine - 0: 3
02.09.2022/3/0. Spain — Hungary — XNUMX:XNUMX
06.09.2022/XNUMX/XNUMX Spain - Ukraine - 5: 0
06.09.2022/0/6. Faroe Islands - Scotland - XNUMX:XNUMX
Standings
| | | | | | | | |
| --- | --- | --- | --- | --- | --- | --- | --- |
| | | G | W | D | L | GD | P |
| 1 | Spain | 8 | 8 | 0 | 0 | 53-0 | 24 |
| 2 | Scotland | 8 | 5 | 1 | 2 | 22-13 | 16 |
| 3 | Ukraine | 8 | 3 | 1 | 4 | 12-20 | 10 |
| 4 | Hungary | 8 | 3 | 0 | 5 | 19-19 | 9 |
| 5 | Faroe Islands | 8 | 0 | 0 | 8 | 2-56 | 0 |