The Ukrainian beach soccer team defeated Azerbaijan and took fifth place in the Euroleague 2022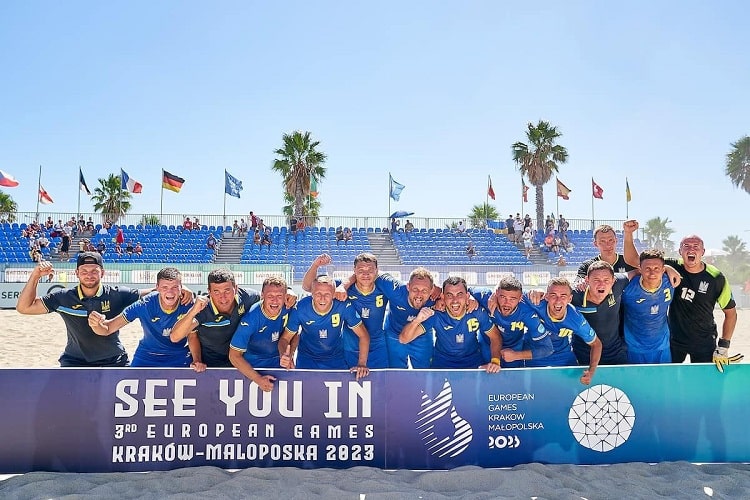 Today, in the EuroLeague 2022, which is taking place in Cagliari, Italy, the Ukrainian beach soccer team met with Azerbaijan in the match for the fifth place.
We will remind you that on Saturday our team defeated France in the semi-finals of the tournament for the fifth-eighth place - 10:5 and guaranteed a ticket to the 2023 European Games in Krakow. So, in the meeting with the Azerbaijan national team, which yesterday beat Poland (6:2), for the final fifth position of the Euroleague-2022, Mykola Kostenko's wards acted very loosely.
Our team, having opened the scoring in the first period thanks to the efforts of Voytenko, doubled its advantage in the opening of the second 12-minute period — Ihor Borsuk scored. The Transcaucasians tried to turn the tide of the match when Zeinalli scored, but the blue-yellow team immediately restored the status quo after a spectacular header by Andrii Borsuk. And in the third period, Voytok, Pashko and Kovalenko finished the job.
Thus, the Ukrainian team finished the competition in Sardinia in fifth place.
Euroleague-2022 on beach soccer. Men. Division A
Match for 5th place
Ukraine — Azerbaijan — 6:2
Goals: Voytenko (9), I. Borsuk (13), A. Borsuk (18), Voytok (25), Pashko (31), Kovalenko (36) — Zeynalli (18), Kovalenko (34, own goal).
Ukraine: Nerush, Kovalenko, I. Borsuk, A. Borsuk, Shcheritsa, Medvid, Voytok, Voytenko, Pashko, Zborovsky, Korniychuk, Zavorotny.
And the winner of Euroleague-2022 unexpectedly became Switzerland, which defeated Portugal - 6:5. In the match for the third place, Italy defeated Spain - 3:2.