The national futsal team of Ukraine won a friendly match with the team of Moldova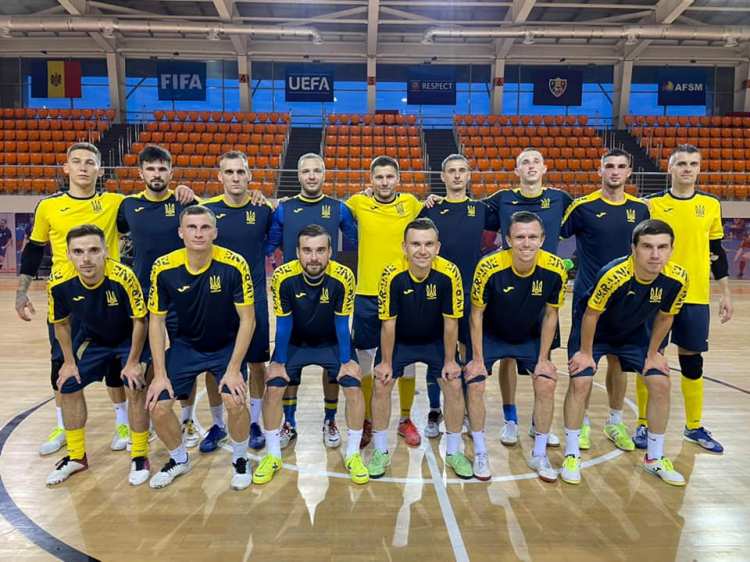 As part of preparations for the World Cup 2024 selection, the Ukrainian futsal team played a friendly match against the Moldovan team in Choresk.
The Blue and Yellow met for the first time since February, when took fourth place for Euro-2022. On September 12, our team's training camp began in Choresk, Moldova, dedicated to preparing for World Cup-2024 qualifying.
Today, the national team of Ukraine held a sparring match against the team of Moldova. Our team's debutant Andriy Melnyk opened the score in the match, Artem Fareniuk and Yevhen Siriy also scored in the first half.
After the break, Mykola Mykytyuk and Ihor Korsun scored as part of the Ukrainian national team, and Melnyk scored a double. At the same time, the Moldovans did not realize two double penalties, but on the third attempt they still won one goal. In the end, our team won with a score of 6:1.
"The backbone of the team has been preserved, because the boys showed themselves very successfully at the European Championship. With their game and attitude to work, they deserve to be called up to the national team. We will review other artists as well. If any of the potential newcomers or players who have previously been involved in the team prove themselves, they will receive a challenge. The road to the national team is open. In friendly matches, we will evaluate the current state of each of the futsal players. This is the final stage of preparation for official matches. There is very little time left," Ukrainian head coach Oleksandr Kosenko said in a comment for press service of the Futsal Association of Ukraine.
Up ahead, the blue and yellow team will face Moldova (September 18) and Romania (September 19) as part of the Three Nations Cup, which will also be held in Chorescu.
Friendly match of national futsal teams
Moldova — Ukraine — 1:6 (0:3)
Goals: Takot (40, double penalty) — Melnyk (11, 35), Fareniuk (18), Siriy (20), Mykytyuk (24), Korsun (38).
Unrealized Double Penalties: Lashko (36), Kozhokaru (37).
Moldova: Kitoroagi — Takot, Lashku, Obade, Burduzhel; Kapsamun, Kuban, Adam, Gurzhuy, Tsimpeu, Podlesnov, Gurgurov, Gutsu, Negara, Kozhokaru.
Ukraine: Sukhov — Lebyd, Mykytyuk, Syriy, Abakshin; Tsypun, Savenko, Shoturma, Korsun, Fareniuk, Zvarych, Malyshko, Radevich, Chernyavskyi, Melnyk.
Booked: Lashku (16) — Shoturma (34), Korsun (37).
Tri-Nations Cup calendar
18.09.2022
Moldova - Ukraine 18.00
19.09.2022
Ukraine — Romania 18.00
20.09.2022
Moldova — Romania 18.00
The roster of the Ukrainian national futsal team:
Goalkeepers: Kyrylo Tsypun (Piast, Poland), Oleksandr Sukhov (HIT), Yuriy Savenko (Uragan).
Outfield players: Petro Shoturma, Ihor Korsun, Daniil Abakshin, Artem Fareniuk, Mykola Mykytyuk (all "Uragan"), Mykhailo Zvarych, Serhiy Malyshko, Vitaly Radevich (all "Energy"), Yevhen Siriy, Ihor Chernyavskyi (both "HIT") , Andriy Melnyk (CLUST), Yaroslav Lebid (Cosmos, Estonia).