Officially. The decision of the UEFA Executive Committee regarding the procedure for the Euro 2024 qualification draw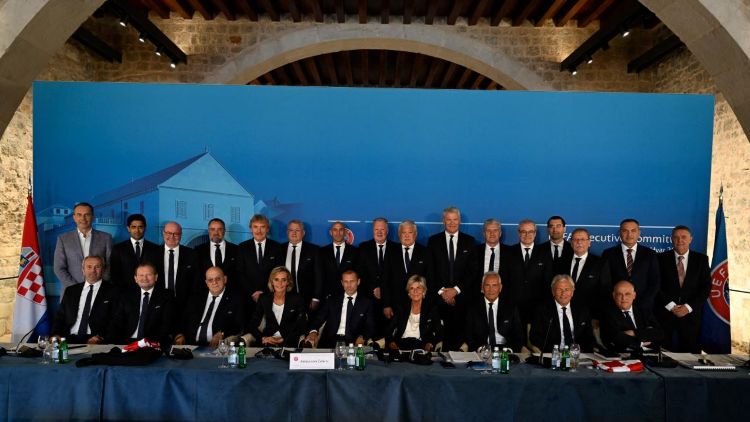 The UEFA Executive Committee, which includes UAF President Andriy Pavelko, met today in Hvar (Croatia) and, among other things, approved the procedure for the Euro 2024 qualification draw, which will take place on October 9 in Frankfurt am Main.
Procedure the qualification draw can be summarized as follows:
— Germany, the host association team of Euro-2024, automatically qualifies for the final tournament, therefore does not participate in the selection draw;
— all Russian teams are currently suspended in accordance with the decision of the UEFA Executive Committee of 28 February 2022, which was further confirmed by the Court of Arbitration for Sport on 15 July 2022. Therefore, Russia is not included in the Euro 2024 qualification draw;
— 53 national associations will take part in the qualifying draw, which will divide the participants into 10 groups (seven groups of five teams and three groups of six teams);
— 10 group winners and 10 second place teams will advance to the final tournament. The winners of three more tickets will be determined in the playoffs, which will take place in March 2024;
— 53 participating teams will be seeded according to the overall ranking of the 2022/2023 UEFA Nations League and divided into seven baskets;
— the national teams of Ukraine and Belarus will be divided among themselves before the draw for the qualifying tournament.
European Futsal Championship-2022/2023 (U-19).
Porec (Croatia) has been appointed as the venue for the Euro 2022/2023 U19 futsal tournament.
"Soccer at School" festival
Earlier in the day, the executive committee attended a massive 'Football in Schools' festival where over 80 girls and boys played on the mini pitches alongside football legends and the UEFA president.
The Football in Schools initiative, launched in 2020, aims to have more than 2024 million children and more than 2,8 schools participate in it by 81. After two years of the program, about 2,4 million children from 44 schools are already participating. Equally impressive is the fact that more than 100 school teachers have already been trained to conduct football training, exceeding the initial target of 63.
It should be noted that about 24 million euros were invested in the development and promotion of life skills such as fair play, respect, teamwork and leadership through the game of football at school.