Andrii Yarmolenko: "Of course, we know that Scotland is a strong team. However, we have our own game plan"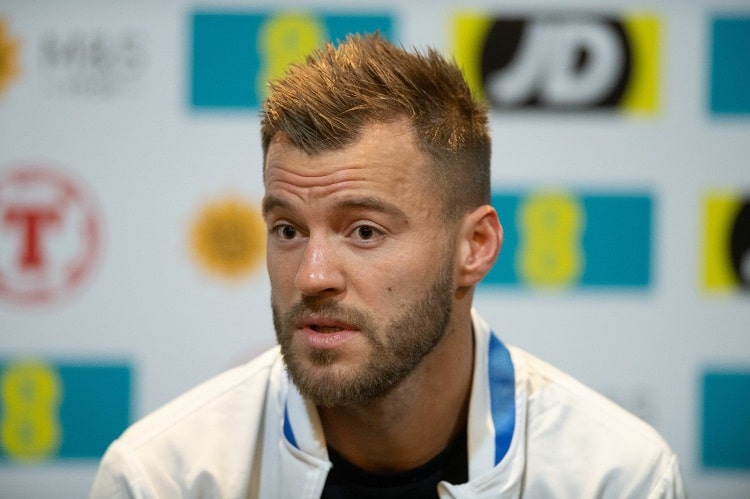 Midfielder of the national team of Ukraine Andriy Yarmolenko shared his expectations from the Nations League away match against Scotland.
The Nations League match between the teams of Scotland and Ukraine will take place on September 21 in Glasgow at the Hampden Park stadium (kick-off at 21.45:XNUMX p.m.). On the eve of the game, participation in a press conference together with the head coach of the blue-yellow team Oleksandr Petrakov took midfielder Andriy Yarmolenko.
"You've arrived in Glasgow again." How do you feel here?
— Memories of previous matches that were held at this stadium are very positive. However, this is history. Now we are adjusting to a new game, to a new battle. We are concentrating on preparing for tomorrow's match.
— With what thoughts and strength do you approach the meeting with Scotland?
— We are thinking about winning this match. You always have to think about it if you play football. Of course we know Scotland are a strong team. However, we have our own game plan, we are concentrating. We know how to play. We hope that we will win, but we understand that it will be difficult.
— The Russian national team not allowed before the Euro 2024 draw. How did you take this news? Also regarding potential friendly match of the national team of Bosnia and Herzegovina with Russia - what else can be done to prevent this match? What do the Ukrainian national team think about this?
— My opinion regarding Russian football, sports, absolutely everything — this country should be isolated from the whole world, because it is a terrorist country. Every day they kill Ukrainians, our children. Therefore, there can be no question of any sport. Therefore, everyone in the national team of Ukraine wants only one thing - to punish this country as hard as possible. Therefore, we are only in favor of simply isolating them from the rest of the world. I will be happy if they are excluded not only from football, but also from all possible competitions.
— The last time Ukraine played at Hampden Park was in June. It was the first official match since the start of the full-scale Russian invasion. How do you feel about the upcoming game? How has the situation in the team changed since then?
- Nothing has changed, there is a war going on in our country. We want to bring at least some joy to our fans, Ukrainians, with our game. We are playing now for our people, for all those who are now in Ukraine and just want to distract themselves from the war. We must make Ukrainians have at least a small smile on their faces, at least for 90 minutes.
— Do you feel physically better now than on the eve of the June matches of the national teams?
- I think so. Al-Ain and I have already played three games in the championship. I think I am in better shape. But only tomorrow's match will show that. The most important thing for a football player is to hold official matches. Now I'm playing, I'm satisfied, everything suits me, I feel good. I hope I can help the team tomorrow.