Andriy Yarmolenko: "Nothing is finished in our group yet, we need to keep the mood for the fight"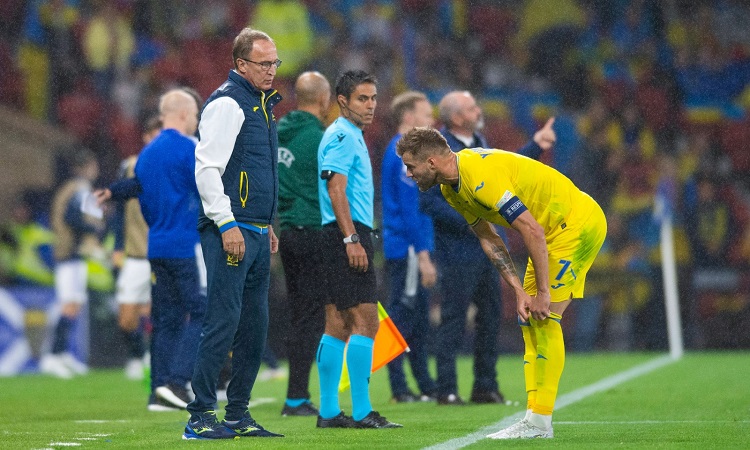 In the first September match within the UEFA Nations League 2022/2023, the Ukrainian national team lost to the Scots in Glasgow at the Hampden Park stadium — 0:3. After the game, Andriy Yarmolenko, the captain of the blue and yellow team, shared his thoughts.
"Like me and spoke at the pre-match press conference, we were playing against a strong opponent. We know his strong qualities, but we did not succeed in many things. It is difficult to say in hot pursuit what exactly did not work out in terms of tactics. I think we will analyze this game and draw conclusions. Congratulations to Scotland on a well-deserved win because they created so many chances. However, in our group, nothing is finished yet, we need to keep our fighting spirit. Two games ahead, everything remains in our hands. We need to go out and win two matches, and then we will see what and how.
I think the coaching staff shouldn't have and won't have any questions for the guys about dedication. Everyone gave their best, but this is football, it happens. You have to raise your head, move, don't give up, everything will be fine. We have two games to go and everything is in our hands.
It was clear that the Scots changed their tactics, played differently, did not allow us to calmly play the ball, as was the case in the previous game three months ago. Somewhere they found a counter to our strong qualities, which we like to work on, work with the ball. In the second half, we adjusted to their actions, the game was emotional. And this is their element — without ball control, attack after attack. Although we did not have many attacks, we lost the ball in our half of the field, which was what the opponent needed. After our mistakes, the Scots created their dangerous moments.
Nothing is done yet, two games to go. We need to draw conclusions, see what we did wrong. Something needs to be improved in order to better come out of defense when they press us, because in the game against Ireland the opponent team pressed well. You need to sit down, think, draw conclusions. Of course, we support each other. It has always been like that, and it will always be like that," Yarmolenko believes.