Oleksandr Petrakov: "We really want to rehabilitate tomorrow and move up to League A"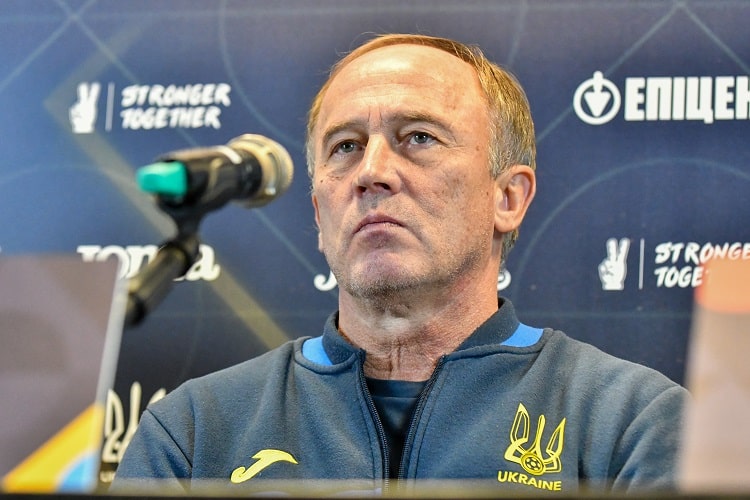 On the eve of the League of Nations match against Scotland, the head coach of the national team of Ukraine, Oleksandr Petrakov, spoke to the media.
The Nations League match between the national teams of Ukraine and Scotland will take place on September 27 in Kraków (start at 21.45:XNUMX p.m. Kyiv time). On the eve of the game, the head coach of the blue and yellow Oleksandr Petrakov spoke at a press conference.
— You have been working in the national team of Ukraine for more than a year. Almost every match can be called a final for you. Does this situation pressure you psychologically or, on the contrary, mobilize you?
— I have already adapted, although at first it was very difficult. But this is the specifics of the national team — every game is responsible, the responsibility grows many times before people, before everyone. The level of matches is very high. Here, one game is worth 10 games of the domestic championship. When I return home after fights, I feel very tired, but I leave in three or four days. The match of the national team is a very serious level and a very big responsibility.
— In the previous September matches, against Scotland and Armenia, you played with two different starting lineups. Will the line-up decision for tomorrow's game be one of the most difficult of your career?
- No, it won't happen. In no way do I want to insult the Armenian national team, but the difference in individual level between them and the players of Scotland is very big. There, football players play in the English Premier League. Therefore, our guys are well done, they did what they were asked to do. There will be changes, as always in football. However, it is not difficult for me.
— Do you think that tomorrow your team will be able to play stronger than it was in Glasgow a few days ago? How tough will it be for Scotland without three of their key players?
— I don't follow someone who won't play in Scotland, I look at my team. In June, we beat this opponent - 3:1, and now we lost to Glasgow - 0:3. So we have parity.
I would like to add that I thank the Scottish Football Association, the head coach and the team for agreeing back in March to postpone our games because of the war. They could have refused, but they did, for which I am very grateful.
— After the previous match with Scotland, you said that the absence of such experienced performers as Zinchenko affected the result. Then you got a cool win over Armenia. How many of these will not be enough tomorrow football players, as the same Zinchenko, to show such a game as it was in the June playoff match?
— I don't want to offend anyone, but we are not a country like France or Spain, which are capable of fielding three or four equal teams. We have two or three players eliminated... Zinchenko is a good person, a great performer. We are always short of non-players. Zabarny, Mykolenko did not play for us. Vitaly wanted to go out and play, but I never make a career for myself on the health of players. We saved him, he recovered and was already on the field.
It is very difficult for us when one of the main players does not play. Like I said before, we don't have a core lineup per se, but I want one. We miss Bushchan, Zinchenko, Shaparenko...
— Will the match against Scotland be your last in charge of the national team, as your contract expires this year?
- There are no negotiations. Tomorrow is the game, after it you will know everything. This is a question for the president of UAF.
- Do you have any injured?
— Everyone is healthy, we have 23 football players in the team.
— How important is it for you to break into the top division of the League of Nations?
— All of us, the boys and the coaching staff, want to move up to League A.
— The match with Scotland in the World Cup 2022 selection was perceived as something incredibly important. However, there is no such excitement among fans nowadays. How do you feel people's emotions before tomorrow's game?
— On June 1, the status of the match was different — the semifinals of the World Cup selection playoffs. The League of Nations is something else, including in people's minds. But don't think that we came out to play on September 21 with some kind of misconfiguration. The war is going on, people came from different clubs, with different practices, transferred... All this left its mark.
It's no secret that all teams have sensors that monitor the functional state of players. We were in a very bad situation before the Glasgow game. And now all the guys have leveled up, they are working well, with dedication and spirit. We are ready to play and the status of this game is important. We really want to rehabilitate tomorrow. And how will it turn out...
— How will the fact that it will take place on a neutral field affect tomorrow's match?
— We play in such realities, we play all games away from home. I really want to live to the time to play at home.
— Were you surprised by the way Scotland plays on the standards?
— We analyze all the games, how who plays on the standards. This is the horse of all British teams, they play well with the head. The standard position is the main tool of the Scottish national team. We know it, we are analyzing it, we will do everything possible so that we don't score against the standard.