Andriy Yarmolenko: We didn't get the desired result, but I'm proud of the guys who fought on the pitch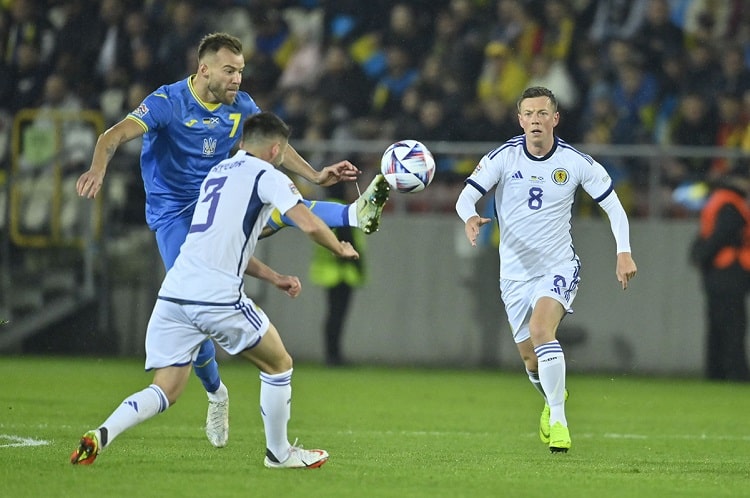 In the final match of the League of Nations-2022/2023, the national team of Ukraine drew with Scotland (0:0) and did not manage to climb to division A. After the match, our team captain Andriy Yarmolenko evaluated this result.
"We didn't win, we didn't get the result we wanted, but I'm proud to be here, proud of the guys who just fought on the football field. We did what we agreed on before the match - not to lose the fight and tackles. I think we played well considering the weather conditions. The field was not in the best condition. But this is by no means an excuse. This is football. Sometimes you score some illogical goal and win, sometimes you create a lot of chances and don't score. If Artem Dovbyk or I had scored in the first half, the game would have been a little different. But sometimes you win, sometimes you lose. It is necessary to move on, nothing terrible has happened.
I think the fans in the stands enjoyed themselves. They saw the most important thing - that we are fighting for this coat of arms on our chest, for the T-shirt we wear. We would like to express our big thanks to them for coming to support us in such weather at this difficult time. We felt support that was at the top level.
Of course, the sediment remained, because they created several good moments and did not score. These moments decided the fate of the whole group. Therefore, it is somewhat unfortunate, but, I will repeat, the boys gave all their strength, they were very upset in the dressing room. However, you have to raise your head and move on. We played against a good opponent. Scotland plays good football, many of its players play in the English Premier League. I think we played well.
My 112th by medicine duel for the national team? I remember all the games. For me, every match in the national team is like the last. I always give my best. I just want to thank all my partners with whom I played and will play, fans for their support and criticism. It means a lot to me. When Oleksandr Vasyliovych handed me this T-shirt, I could barely hold back tears. I wanted to say something, but I kept silent because I would have cried. It means a lot to me.
We will work. Football is such a thing that you just have to work, and then the result will come. We gave all our strength. Sometimes you score from a half-moment and win. Sometimes you create 10 scoring chances and you can't score. This is beautiful football. Therefore, we move on, nothing terrible happened. I think that the fans were satisfied with our game, but not with the result, just like us," Yarmolenko said after the match in Krakow.