League of Europe. "Dynamo" lost to the French "Rennes" on the road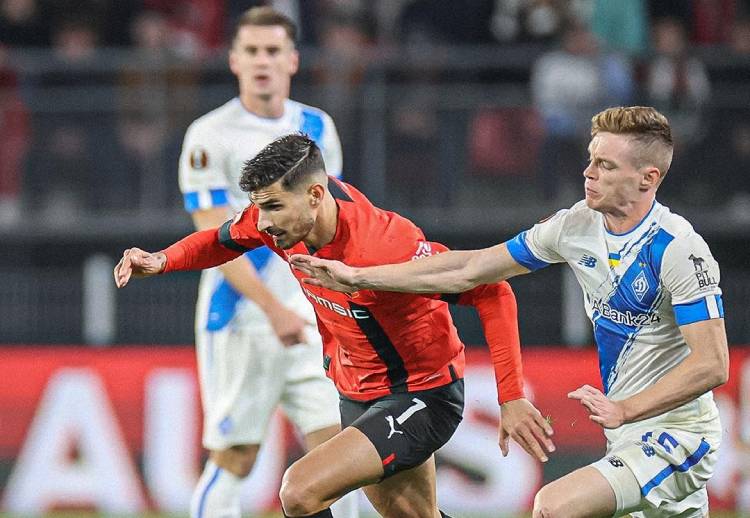 "Dynamo" Kyiv continues to remain without points in the group round of the Europa League, losing to the French "Rennes".
After failures in the previous matches of the Europa League with "Fenerbahce" (1:2) and AEKCom (0:1) white and blue found themselves in a difficult position in group B. So Dynamo should have taken points on the field of the fourth team of the previous French championship.
"Rennes" boldly started the match, pressing the visitors to their penalty area. The French created many chances in the first half hour of the game. So, in the 8th minute Mayer completed the combination with a shot above the goal. Subsequently, Boyko parried a dangerous long-range shot from a pick-up from Bourijeau, Terje missed the near corner after his partner's clearance.
In the 23rd minute, the hosts did score - a sweeping attack ended with Guiry's pass to Terje, who beat Boyk from the left from the penalty area. Soon Mayer made a dangerous shot, but the ball flew past the post. "Dynamo" finally responded as early as the 33rd minute, and the Kyiv attack turned out to be a goal. Dubinchak passed to Besedin in the penalty area, who threw it to Buyalskyi, who continued to Tsygankov, and Viktor beat Mandand on the second attempt.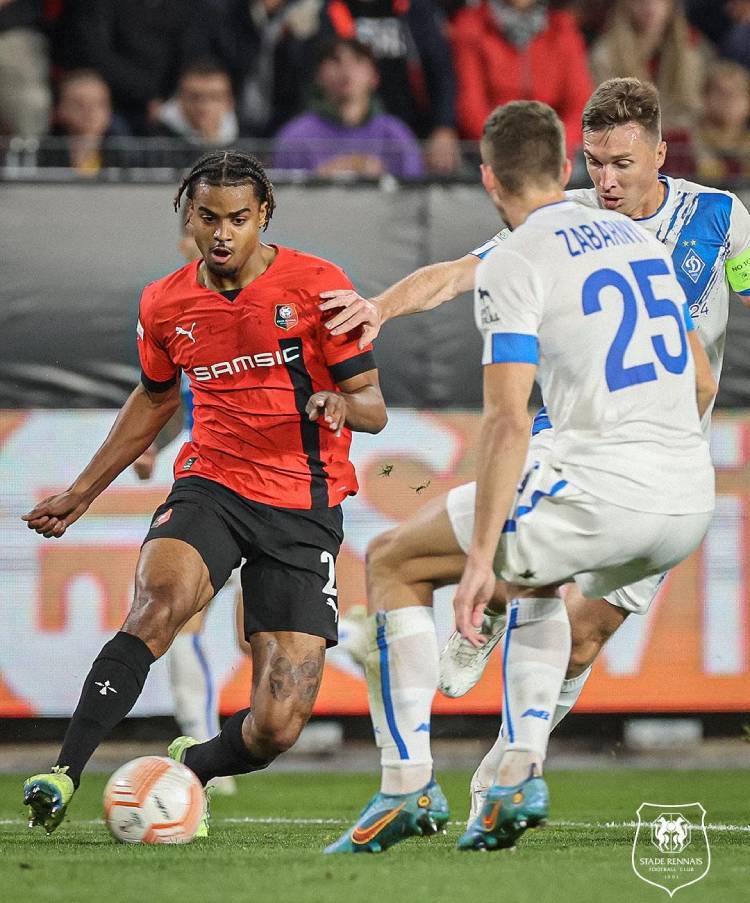 Photo staderennais.com
In the second half of the game, the hosts continued to have the advantage, repeatedly getting to the Kyiv penalty area. In particular, Boyka had to be rescued after the blows of Tait and Bourijeau. Dynamo responded with Kabaev's shot in the area in the 77th minute, later Sydorchuk shot over the goal from a rebound. And yet, "Rennes" managed to score a second goal before the curtain of the meeting - Popov made a mistake near the penalty spot, and Desiree Due intercepted the ball and beat Boyko. So, as a result, the white and blue lost in the Europa League for the third time in a row.
In the Dynamo team, the players who were called up for the last training session of the national team took part in the match: Zabarny (yellow card), Sydorchuk, Tsygankov (goal, substituted in the 86th minute), Karavaev (substituted in the 86th minute) .
League of Europe. Group round. Group B
3 round
Rennes (France) - Dynamo (Ukraine) - 2: 1 (1: 1)
Goals: Terye (23), D. Due (89) — Tsygankov (33).
Rennes: Mandanda, Assignon, Rodon, Teat, Meling, Bourijeau (c) (Truffer, 85), Ugochukwu, Tait, Terrier (Ablin, 79), Mayer (Kalimuendo-Muinga, 64), Guiry (D. Duet, 64) .
Substitutions: Alemdar, Salen, Wu, Belochan, G. Duet, Francoise.
Head coach: Bruno Genesio.
Dynamo: Boyko, Kendzora, Zabarny, Popov (Vivcharenko, 90+2), Dubinchak, Sydorchuk (k), Shepelev, Tsygankov (Karavaev, 86), Buyalskyi, Kabaev (Vanat, 79), Besedin.
Substitutions: Nescheret, Ignatenko, Burda, Perris, Andrievsky, Garmash, Kravchenko, Tymchyk, Sirota.
Head coach: Mircea Lucescu.
Referee: Jose Maria Sanchez (Spain).
Booked: Zabarny (88).
October 6. Rennes. "Roazon Park".
Fenerbahçe (Turkey) — AEK (Cyprus) — 2:0 (1:0)
Standings
| | | | | | | |
| --- | --- | --- | --- | --- | --- | --- |
| | G | W | D | L | GD | P |
| 1. Fenerbahce | 3 | 2 | 1 | 0 | 6-3 | 7 |
| 2. Rennes | 3 | 2 | 1 | 0 | 6-4 | 7 |
| 3. AEK | 3 | 1 | 0 | 2 | 2-4 | 3 |
| 4. Dynamo | 3 | 0 | 0 | 3 | 2-5 | 0 |
4 round
13.10.2022
AEK — "Fenerbahce" 19.45
Dynamo — "Rennes" 19.45