WU-17: the women's national team of Ukraine started their performance in League A Euro-2023 with a defeat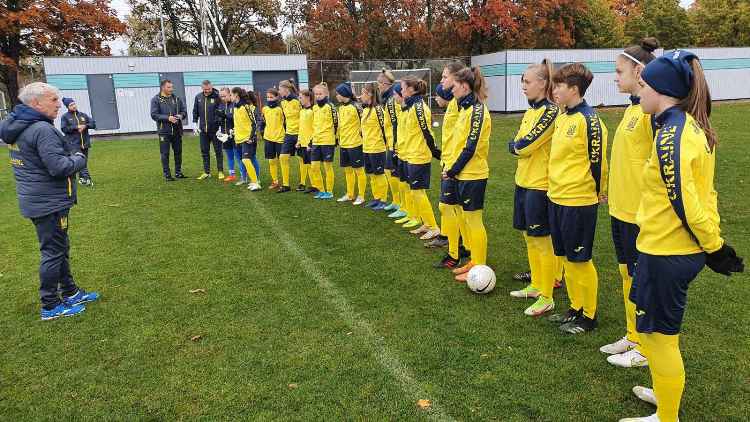 In Estonian Tallinn started the Euro-2023 League A tournament with the participation of the women's national team of Ukraine WU-17. The first opponent of the blue-yellow team was England.
It will be recalled that due to full-scale aggression by Russia and the martial law in Ukraine, our team could not perform in the second round selection for Euro-2022 and formally took the last, fourth place in the group, but the UEFA Executive Committee decided to leave the women's national team of Ukraine in the elite due to Russia's disqualification. Thus, she remained in League A.
Unfortunately, Serhiy Sapronov's wards, who gathered for the first time in a year, lost to the English with a score of 0:11. Our team's next match in League A, against Denmark, will take place on October 10.
Euro-2023 (WU-17). First round of qualifying. Group A6
07.10.2022
Ukraine (WU-17) — England (WU-17) - 0: 11 (0: 6)
Goals: Baker (21, 28, from penalties, 45+1, 55), Potter (29, 50), Herbert (32), Agyemang (33), Earl (67, 71), Lea (90+2).
Ukraine (WU-17): Snigur, Vershniak, Zaborovets, Krasnoborodko, Ignatenko (Kotelchuk, 79), Shevtsova (Chornenko, 34, Maslovska, 65), Yuzva (Stakhnyuk, 46), Borovska (Pomyanovska, 65), Astakhova, Ptitsyna, Skvortsova.
England (WU-17): Poore, Dennis (Nacimento, 69), Reid (Shaw, 56), Newell, Ward, Earl, Herbert, Potter (Nesbet, 69), Baker (Tucker, 46), Agyemang (Lea, 56), Brown.
Warning: Stakhniuk (90+3).
Denmark — Estonia — 7:0 (2:0)
10.10.2022
Denmark - Ukraine (14.30)
England — Estonia (18.00)
13.10.2022
England - Denmark (14.30)
Estonia - Ukraine (14.30)
The kick-off is Kyiv time.
League A will feature 28 teams (including seven who moved from League B as a result of the second round of the 2021/2022 season, which ended in the spring). They were divided into seven groups. Teams of the same group will play in the same arena in the format of mini-tournaments. The fourth-place teams will continue their season in the second round in League B.
The seeding of participants before the second round will depend on which places in their teams the teams will take in the first round. Estonia will also take part in the competition, despite a direct ticket to the finals, which belongs to it as the host.
League B teams (including teams relegated from League A in the second round of the 2021/2022 season) will compete for promotion to League A in six groups. The group winners and the runners-up with the best record against the first and third-placed teams in their groups will advance to the top division.
Euro 2023 (WU-17). First round of qualifying
League A
Group A1: Norway, Hungary, the Czech Republic, Bosnia and Herzegovina.
Group A2: Spain, Greece, Poland, Belgium.
Group A3: Finland, Austria, Ireland, Northern Ireland.
Group A4: France, Iceland, Italy, Switzerland.
Group A5: Germany, Serbia, Slovenia, Turkey.
Group A6: Denmark, England, Ukraine, Estonia.
Group A7: The Netherlands, Portugal, Sweden, Scotland.
League B
Group B1: Belarus, Georgia, Luxembourg, Armenia.
Group B2: Kosovo, Albania, Northern Macedonia, Moldova.
Group B3: Croatia, Bulgaria, Faroe Islands.
Group B4: Slovakia, Latvia, Azerbaijan.
Group B5: Montenegro, Israel, Wales.
Group B6: Romania, Lithuania, Kazakhstan.