League of Europe. "Dynamo" in Krakow lost to the French "Rennes" for the second time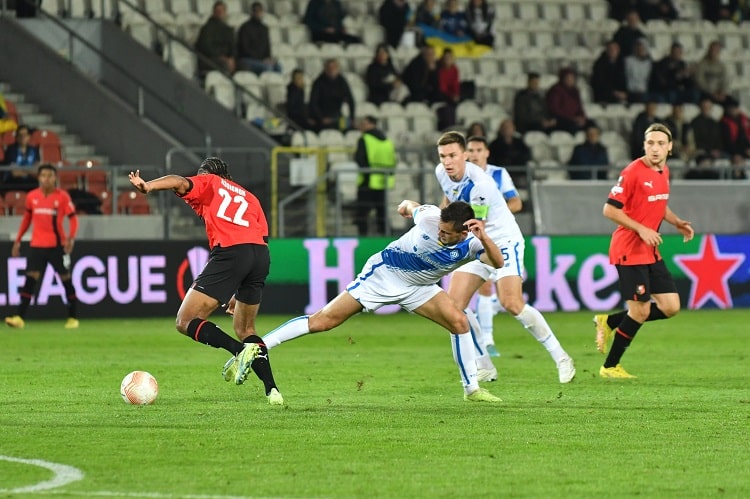 "Dynamo" Kyiv suffered its fourth defeat in a row in the group round of the Europa League of the 2022/2023 season.
A week ago in France white and blue lost in the Europa League for the third time in a row, so in order to preserve the chances for the European Cup in the spring, they had to collect points in the second match with Rennes, which was held in Krakow. The task for Mircea Lucescu's team was complicated by the fact that goalkeepers Buschan and Boyko are in the infirmary, so 20-year-old Nescheret came out from the first minutes.
At the beginning of the match, the players of "Renna" tested Ruslan with two shots in the plane. In the 15th minute, a dangerous shot by Bourijeau hit the post. Dynamo responded with a cool long-range shot by Harmash, who pulled Mandand. In the 30th minute, Meling created a goal-scoring opportunity for himself, moving to the center and hitting close to the post. Towards the end of the first half, the teams fought more on the field, it did not reach dangerous moments.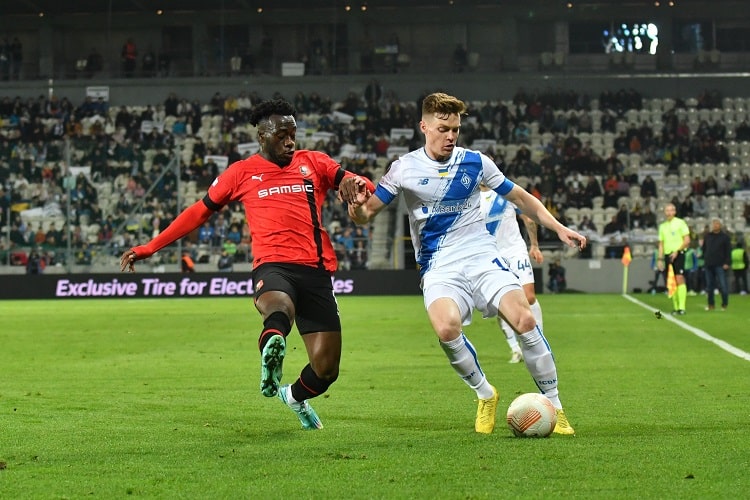 Photo by fcdynamo.com
At the beginning of the second half of the meeting, "Rennes" scored - Vu blocked Bourjot's pass from a corner. After that, "Dynamo" tried to fight back, but it was remembered only by Karavaev's inaccurate shot in the time added by the referee. As a result, the white and blue lost in the Europa League for the fourth time in a row, so they have a chance to continue fighting only in the Conference League.
In the Dynamo team, the players who were called up for the last training session of the national team took part in the match: Tymchyk (yellow card, substituted in the 77th minute), Zabarny, Sydorchuk, Tsygankov, Karavaev (substituted in the 77th minute).
League of Europe. Group round. Group B
4 round
Dynamo (Ukraine) - Rennes (France) - 0: 1 (0: 0)
Goal: Wu (48).
Dynamo: Nescheret, Tymchyk (Karavaev, 77), Zabarny, Syrota, Dubinchak (Vivcharenko, 66), Sydorchuk (k), Shepelev (Andrievsky, 70), Tsygankov, Buyalsky, Garmash (Kabaev, 66), Besedin (Vanat, 66).
Substitutions: Ignatenko, Popov, Burda, Perris, Kravchenko, Diallo, Kendzora.
Head coach: Mircea Lucescu.
Rennes: Mandanda, Assignon, Vu, Teat, Meling, Bourijeau (c) (Truffer, 84), Ugochukwu, Mayer, D. Duet (Tait, 73), Kalimuendo-Muinga (Guiri, 73), Thierry (Sulemana, 66) .
Substitutions: Alemdar, Salen, Rodon, Belochan, Ablin, G. Duet, Francoise.
Head coach: Bruno Genesio.
Referee: Serdar Gezyubyuk (Netherlands).
Booked: Besedin (44), Tymchyk (53), Vanat (90+4) — Burizho (24), D. Due (70).
October 13. Krakow Stadium "Krakowia" named after Yu. Pilsudskyi.
AEK (Cyprus) — Fenerbahçe (Turkey) — 1:2 (0:1)
Standings
| | | | | | | |
| --- | --- | --- | --- | --- | --- | --- |
| | G | W | D | L | GD | P |
| 1. Fenerbahce | 4 | 3 | 1 | 0 | 8-4 | 10 |
| 2. Rennes | 4 | 3 | 1 | 0 | 7-4 | 10 |
| 3. AEK | 4 | 1 | 0 | 3 | 3-6 | 3 |
| 4. Dynamo | 4 | 0 | 0 | 4 | 2-6 | 0 |
5 round
27.10.2022
AEK - Dynamo 19.45
"Fenerbahce" - "Rennes" 19.45