Conference League. "Dnipro-1" won against "Vaduts" thanks to Dovbyk's goal in stoppage time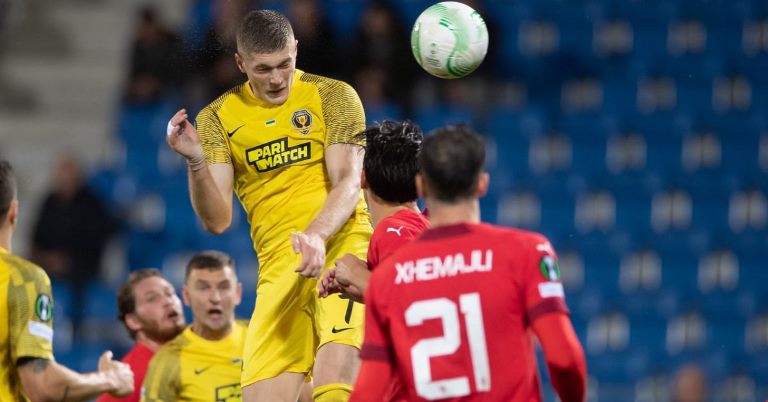 In the 4th round of the group round of the Conference League, Ukrainian "Dnipro-1" beat Liechtenstein "Vaduts" on the road.
A week ago, Oleksandr Kucher's wards drew with the debutant of the group stages of the European Cups — 2:2. So now in Vaduka, the Dniproans hoped to rehabilitate and improve their own tournament position.
At the beginning of the match, the hosts had the advantage and made several dangerous shots, in particular, Valef saved after Jokic's attempt to block a cross from the wing. However, in the 25th minute, "Dnipro-1" took the lead - after the standard, the ball bounced to Amash, who beat Büchel with a shot from outside the penalty area. However, Vaduz soon recovered - Fer's pass from the right wing reached Rastoder, who scored in a touch.
In the second half, the representatives of Liechtenstein dominated the field, and only their inaccuracy and Valef's skill allowed the Dniproans not to miss. But in the time added by the referee, Dovbyk blocked Tanchyk's serve and brought victory to the guests. For Artem, this is already the 11th goal in the last nine matches.
As part of Dnipro-1, the players who were called up for the last national team training took part in the match: Sarapiy, Pikhalyonok (replaced in the 83rd minute), Dovbyk (goal).
Conference League. Group round. Group E
4 round
Vaduz (Liechtenstein) — Dnipro-1 (Ukraine) — 1:2 (1:1)
Goals: Rastoder (30) — Amash (25), Dovbyk (90+1).
"Vaduc": Büchel (k), Fer (Ulrich, 46), Isik, Dzemaili, Iodice, Hajic, Hadji (Sacere, 66), Fosso (Hasler, 66), Dobras, Jokic (Zutter, 87), Rastoder (Cicek, 76).
Substitutions: Fozer, Schande, Gelzer, Omerovich, Lüchinger, Gasser, Pepsi.
Head coach: Alessandro Manjarratti.
"Dnipro-1": Valef, Adamyuk, Sarapiy, Svatok (k), Amash, Babenko (Rubchinsky, 76), Pikhalyonok (Gorbunov, 83), Hutsuliak (Tanchyk, 60), Baluli (Gromov, 60), Blanco (Kogut, 83), Dovbyk.
Substitutions: Rybak, Kinareykin, Yurchuk, Kononov, Buzanello, Loginov.
Head coach: Alexander Kucher.
Referee: Marian Barbu (Romania).
Booked: Fosso (54) — Babenko (63), Gromov (71), Rubchinsky (78), Valef (90+4), Tanchyk (90+5).
October 13. Vaduz Stadium "Rhinepark".
"Apollon" (Cyprus) — AZ (Netherlands) — 1:0 (1:0)
Standings
| | | | | | | |
| --- | --- | --- | --- | --- | --- | --- |
| | G | W | D | L | GD | P |
| 1. AZ | 4 | 3 | 0 | 1 | 8-4 | 9 |
| 2. Dnipro-1 | 4 | 2 | 1 | 1 | 7-5 | 7 |
| 3. Apollo | 4 | 1 | 1 | 2 | 4-6 | 4 |
| 4. Vaduz | 4 | 0 | 2 | 2 | 4-8 | 2 |
5 round
27.10.2022
"Vadutz" - AZ 19.45
Dnipro-1 — "Apollo" 22.00