Euro 2023 draw (U-21). The youth national team of Ukraine will play in the group with the teams of Romania, Spain and Croatia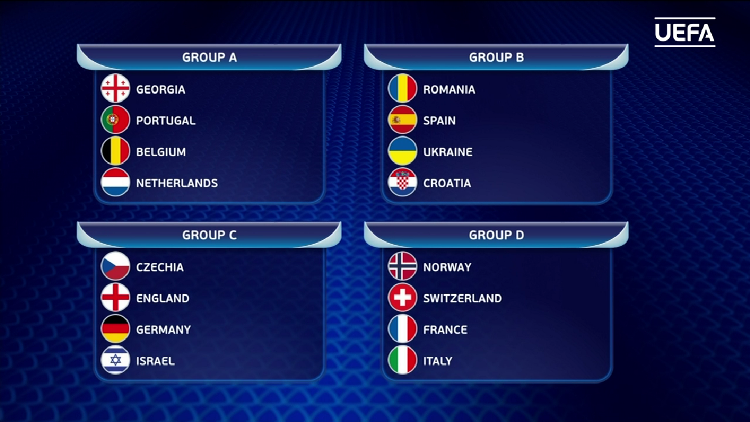 During today's draw in Bucharest, the youth national team of Ukraine learned the names of their opponents in the final tournament of Euro-2023 (U-21).
A total of 16 teams will participate in the final stage together with the two hosts, Georgia and Romania. The national teams were divided into four baskets according to their UEFA (U-21) ranking. Ruslan Rotan's wards reached the fourth basket. In addition, in order to optimize the match schedule, the host associations were given the A1 and B1 positions respectively.
According to the results of the draw of the final tournament, which took place today in Bucharest, the blue and yellow team got into group B, where they will meet with Romania, Spain and Croatia.
Euro-2023 (U-21). Group round
Group A: Georgia, Portugal, Belgium, Netherlands.
Group B: Romania, Spain, Ukraine, Croatia.
Group C: Czech Republic, England, Germany, Israel.
Group D: Norway, Switzerland, France, Italy.
We remind you that the final tournament of Euro-2023 (U-21) will be held from June 21 to July 8, 2023.
Four stadiums in Romania (two in Cluj-Napoca and two in Bucharest) and four in Georgia (in Batumi, Kutaisi and two in Tbilisi) will host the matches of the tournament with the participation of 16 national teams. The opening match will take place in Romania, and the final - in Georgia.
The three best teams of Euro 2023 (except France and England) will receive tickets for the 2024 Olympic Games.
Warehouse composition
Pot 1: Spain (41,837), Portugal (40,130), Germany (39,668), France (37,887).
Pot 2: Netherlands (36,626), England (35,798), Italy (35,244), Romania (32,414).
Pot 3: Croatia (31,945), Switzerland (31,744), Belgium (31,550), Czech Republic (30,455).
Pot 4: Ukraine (29,362), Norway (27,872), Israel (25,732), Georgia (24,442).
By drawing lots (from basket 4 to basket 1), UEFA divided the national teams that reached the final tournament into four groups of four teams each. At the forum, after the group stage, the two strongest teams from each quartet will advance to the quarterfinals.