Conference League. "Dnipro-1" defeated "Apollon" and made it to the playoffs of the tournament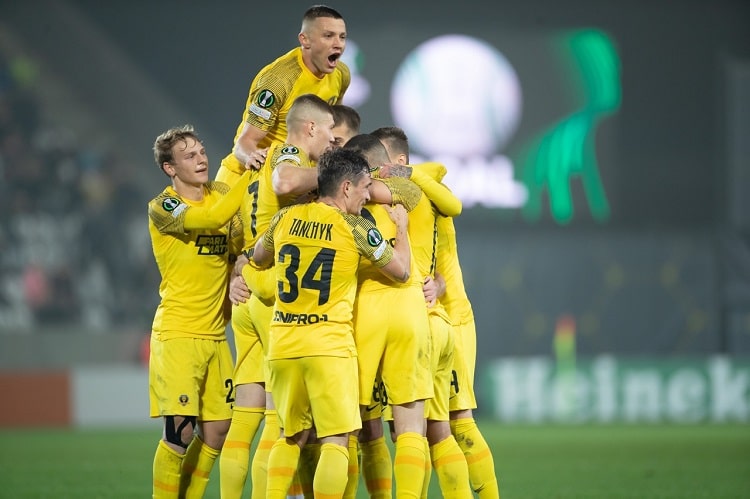 In the 5th round of the group round of the Conference League, Ukrainian "Dnipro-1" defeated Cypriot "Apollon" in Kosice, Slovakia.
Considering the situation in the quartet, it was enough for the Ukrainian team not to lose today to reach the playoffs. Due to the Russian invasion, the black and yellow were forced to host their opponent in Slovakian Kosice.
During the first half, Dnipro-1 controlled the situation and gradually increased the pressure on the opponent. In the 39th minute, the Ukrainians were put ahead by Pikhalyonok, who managed a great shot from a distance.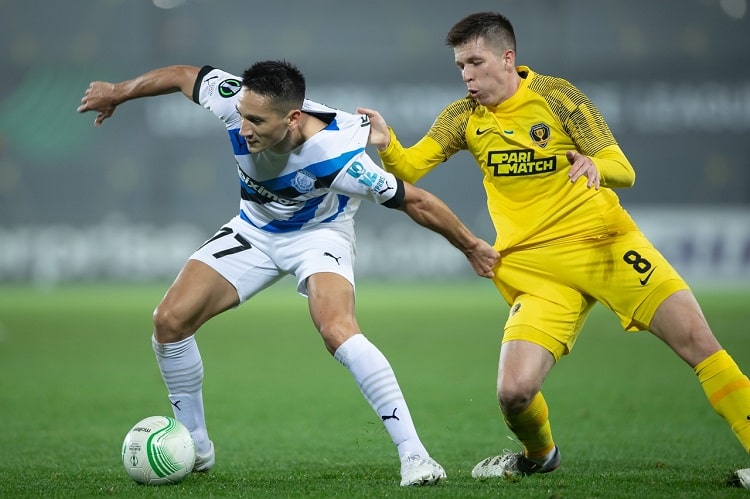 Photo by scdnipro1.com.ua
After the break, Rubchynskyi made a dangerous shot over the crossbar, later Amash forced the goalkeeper of Apollo to come to the rescue. In general, the Dnipro players played more quickly according to the result, and after the withdrawal of Zhrady, they still had the opportunity to increase the advantage, but in the end the score did not change - 1:0. Oleksandr Kucher's wards have guaranteed themselves a place in the playoffs, and if they win in AZ week, they can go directly to the 1/8 finals.
In the Dnipro-1 team, the players who were called up for the last national team training took part in the match: Sarapiy, Pikhalyonok (goal, substituted in the 85th minute), Dovbyk.
Conference League. Group round. Group E
5 round
"Dnipro-1" (Ukraine) — "Apollon" (Cyprus) — 1:0 (1:0)
Goal: Pikhalyonok (39).
"Dnipro-1": Valef, Adamyuk, Svatok (k), Sarapiy, Amash, Rubchinskyi (Kogut, 70), Babenko, Tanchyk (Kononov, 82), Pikhalyonok (Loginov, 85), Nazarenko (Buzanello, 85), Dovbyk.
Substitutions: Rybak, Kinareykin, Yurchuk.
Head coach: Alexander Kucher.
Apollo: A. Jovanovych, Cabral (Zhradi, 79), Kyriakou (k), V. Jovanovych, Alisami, Kohl, Shpolyarych (Hammas, 67), Pittas, Onjenda (Dabo, 67), Josten (Va, 67), Genty (Dighini , 67).
Substitutions: Loiz, Demetriou, Peburn, Artimatas, Shahar.
Head coach: David Katala.
Referee: Antonio Nobre (Portugal).
Booked: V. Yovanovych (27), Digini (90+4).
Sent off: Zhrady (88, "A").
October 27. Kosice Košice Football Arena Stadium.
Vaduz (Liechtenstein) — AZ (Netherlands) — 1:2 (0:0)
Standings
| | | | | | | |
| --- | --- | --- | --- | --- | --- | --- |
| | G | W | D | L | GD | P |
| 1. AZ | 5 | 4 | 0 | 1 | 10-5 | 12 |
| 2. Dnipro-1 | 5 | 3 | 1 | 1 | 8-5 | 10 |
| 3. Apollo | 5 | 1 | 1 | 3 | 4-7 | 4 |
| 4. Vaduz | 5 | 0 | 2 | 3 | 5-10 | 2 |
6 round
AZ — Dnipro-1 19.45
"Apollon" — "Vadutz" 19.45