UEFA Youth League. "Rukh" U-19 defeated "Galatasaray" and will play in the match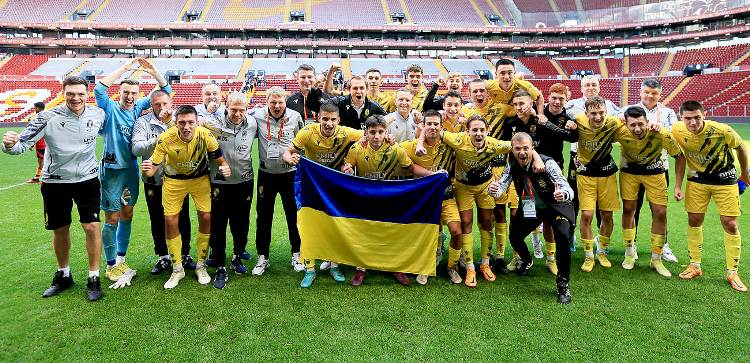 Lviv "Rukh" U-2022, which became the first team of the previous championship of Ukraine, is participating in the draw of the UEFA Youth League for the 2023/19 season.
In the opening round of the Path of Champions of Countries, Vitaliy Ponomariov's wards defeated the Polish club "Zaglembe" — 1:0 in the first match and 0:0 in the second
At the next stage of the "Movement" tournament, the Turkish "Galatasaray" got to the rivals. After a confident victory in Istanbul (3:1) the Ukrainians held a return match in the Polish city of Stałowa Wola. Lviv won again - 3:1, so they passed the Turks by the sum of two matches.
Thus, the youths of "Rukh" will take part in a head-to-head match, where on February 7/8 next year, on their own field, they will play against one of the eight teams that took second place in their groups of the Champions League Path. The draw for this stage will take place on November 8.
UEFA Youth League. The path of national champions
Round 2. Return match
"Rukh" (U-19) — Galatasaray (U-19) — 3:1 (1:0)
Goals: O. Fedor (11, 76), Rusyak (78) — Aksaka (90+1, with a penalty).
In the 65th minute, Roman ("R") missed a penalty kick (goalkeeper).
"Rukh" (U-19): Gereta, Kitela (Boiko, 56), Slyubik, Kholod, Roman, Sapuga, Pidgurskyi (Tovarnytskyi, 56), Stolyarchuk (Botskiv, 50), O. Fedor, Dobryanskyi (Rusyak, 66), Pastuh (Mykhalchuk, 66).
Sent off: Yilmaz (27, "G").
We would like to remind you that before the match of the UEFA Youth League of the 2022/2023 season, also made their way Shakhtar U-19 team.