Attention fans! Information on the sale of tickets for the Euro 2024 qualification match England — Ukraine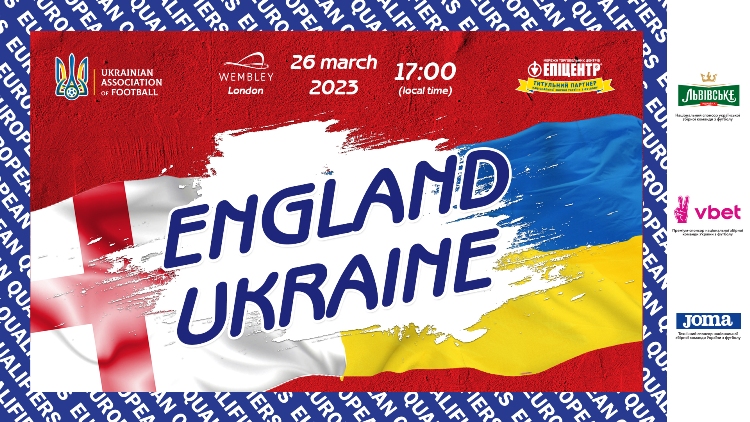 Ticket sales for the 2024 European Championship qualification match between England and Ukraine started on November 11.
Euro 2024 qualifying game will kick-off March 26, 2023 at Wembley Stadium in London and will begin at 17.00:19.00 p.m. local time (at XNUMX:XNUMX p.m. Kyiv time).
Details for buying a ticket:
— to purchase a ticket, you must register on the website https://www.englandfootball.com/;
— account registration and verification takes 15 minutes;
- you need to go to the link for choosing and buying tickets https://www.wembleystadium.com/events/2023/England-v-Ukraine---Away-Supporters;
— one fan can buy up to eight tickets;
— tickets are sold to Ukrainian sectors using the link;
— tickets are not registered.
Ticket prices vary by sector: 1st category - 75 GBP, 2nd category - 60 GBP, 3rd category - 45 GBP, 4th category - 35 GBP.
There is a discount of 16 GBP for pensioners, students and children under 10 years of age.
Tickets for people with disabilities must be ordered individually. To do this, you need to call the hotline 08000930824 and submit a disability certificate to the email address [email protected]. For details, see the link for buying tickets to Ukrainian sectors.
Children under the age of two are not allowed to enter the stadium.
Tickets will be sent to fans to their registered e-mail address one to two weeks before the match.
Tickets must be printed in A4 format.
Conditions for entering the stadium
When entering the stadium, documents are not required, but in case any questions arise, it is better to have them with you.
COVID-certificates are currently not required. In case of changes to this requirement, it will be notified on the website and additionally to all fans who have purchased tickets.
We draw your attention! The official website of the Football Association of England and Wembley Stadium has access restrictions for citizens residing in Ukraine. If the link for purchasing tickets does not open, please use alternative methods of accessing the site.