The women's beach soccer team of Ukraine defeated the Netherlands and took third place in the group at the Neom Beach Soccer Cup 2022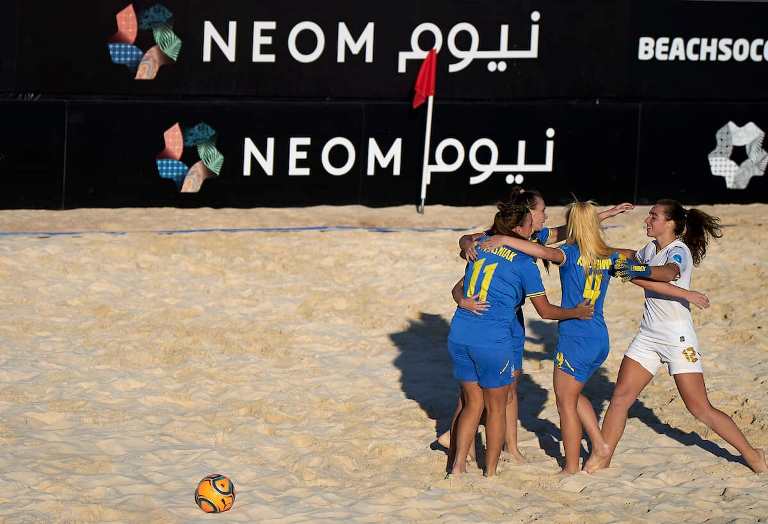 Today in Saudi Arabia the Ukrainian women's beach soccer team continued its performance on the prestigious tournament Neom Beach Soccer Cup 2022.
In the opening match of the competition, the blue-yellow team lost to the fourth team of the BSWW world ranking — Brazil (0:2). In the second match, they could not resist against the second team of the world - England (2:4). Today, our national team (fifth in the list) fought against a less famous team — the Netherlands (16th).
At the beginning of the first period, the opponents exchanged sharp attacks, and then the game went to one goal. In the 7th minute, the Ukrainian women took the lead. Myroslava Vypasnyak demonstrated excellent performance of the standard. In another minute, our goalkeeper Anastasia Terech took advantage of the mistake of her Dutch team, and in another one Anastasia Kalyagina proved the superiority of the blue-yellow team to three goals.
In the second 12-minute period, at the 16th minute, Myroslava Vypasniak hit a side-scissors shot, and the Dutch goalkeeper made a mistake again — 4:0. Following the field player, our goalkeeper, Anastasia Terek, scored a double in the 21st minute.
In the third period, Anastasia Vypasniak again put the final point in the match, scoring a hat trick — 6:0. Thus, the Ukrainian team scored three points and finished the group tournament in Saudi Arabia in third place.
Neom Beach Soccer Cup 2022. Women's tournament. 3 round
Ukraine — Netherlands — 6:0
Goals: Vyapasnyak (7, 16, 34), Terek (8, 21), Kalyagina (9).
Ukraine: Terek, Dubytska, Tikhonova, Vypasnyak, Kramna, Kholod, Kalyagina.
Netherlands: Ellen, Alyssa, Nadja, S. Thieleman, Nydia, S. Thieleman, Brak, Midema.
Yellow cards: Kalyagina (26), Tikhonova (30) — Ellen (13).
In today's other match of the tournament, Brazil beat England — 4:3. These two teams will compete in the finals to win the Neom Beach Soccer Cup 2022.
Standings
| | | | | | | | | | | |
| --- | --- | --- | --- | --- | --- | --- | --- | --- | --- | --- |
| | Team | І | В | IN | EaP | PP | Software | П | М | О |
| 1 | Brazil | 3 | 3 | 0 | 0 | 0 | 0 | 0 | 14-4 | 9 |
| 2 | England | 3 | 2 | 0 | 0 | 0 | 0 | 1 | 10-8 | 6 |
| 3 | Ukraine | 3 | 1 | 0 | 0 | 0 | 0 | 2 | 8-6 | 3 |
| 4 | Netherlands | 3 | 0 | 0 | 0 | 0 | 0 | 3 | 3-17 | 0 |
Neom Beach Soccer Cup 2022
09.11. Ukraine - Brazil - 0:2
09.11. Netherlands — England — 2:3
10.11. Brazil - Netherlands - 8:1
10.11. England — Ukraine - 4: 2
11.11. Ukraine — Netherlands — 6:0
11.11. England - Brazil - 3:4
12.11. Final (18.45)