Serhiy Nagornyak: "Despite all the circumstances, our goal is the first place in our quartet"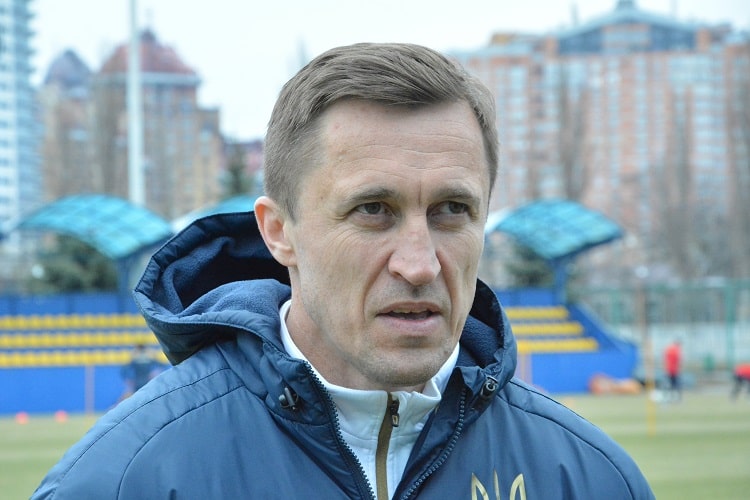 In the qualifying round of Euro-2023 (U-19), the youth national team of Ukraine (football players not older than 2004) will play against Kosovo, Cyprus and Sweden.
U-19 Youth Team of Ukraine started collection dedicated to the qualifying round of Euro-2023 (U-19). About how the team will prepare for the tournament, its head coach Serhii Nagornyak told the official website of UAF.
— Serhii Mykolayovych, what are the plans of your national team in preparation for the qualifying round of the European Championship?
— There is a catastrophic lack of time for the training process, but we have to get out of the current situation. We left Kyiv on the 13th. We trained for two days in Ryaszew, Poland. At this time, the legionnaires joined us. Again, we will not have much time, so the main emphasis is on tactical exercises. On Tuesday, we will leave Poland for Stockholm, and from there - for Norrkoping. On the 16th, a pre-game training session will take place, and on the 17th, the start of the tournament will take place.
- In our situation, we don't have to complain?
- Exactly. These are the circumstances today. In the last three years, I practically did not assemble a team in this composition. Since the beginning of the Covid-19 pandemic, we have held only two full training sessions... Therefore, the main condition for selecting football players for this team was game practice.
— How well did you manage to study your nearest rivals?
— So far, there are some difficulties with this. At disposal, there is only one game of the national team of Kosovo for the past year. But we will come out of the situation in such a way that our first match is against this opponent, and we will study Cyprus and Sweden during the competition. On the other hand, rivals have a big problem, how to study us (smiles). We are going to the qualifying tournament as a dark horse.
Is getting to the elite round the minimum task for your team?
— Despite all the circumstances, our goal is first place in our quartet. And how everything will turn out - we'll see, this is football, which is often unpredictable.
The composition of the youth national team of Ukraine U-19
Goalkeepers: Yuriy-Volodymyr Gereta ("Rukh" Lviv), David Fesyuk ("Hajduk", Croatia).
Defenders: Andriy Buleza, Oleksandr Rosputko (both Shakhtar Donetsk), Artem Benedyuk (Dynamo Kyiv), Vitaly Kholod, Bohdan Slyubik, Andriy Kitela, Yevgeny Pastukh (all Rukh Lviv), Danylo Udod (Al-Ain ", UAE).
Midfielders: Ivan Losenko, Oleg Pushkarev, Oleksandr Yushchenko (all Shakhtar Donetsk), Anton Tsarenko (Dynamo Kyiv), Oleg Fedor (Rukh Lviv), Yehor Yarmolyuk (Brentford, England), Ivan Varfolomeev (Liberets ", Czech Republic), Volodymyr Harabara ("Nuremberg", Germany), Anatoly Semenets ("Recreativo", Spain).
Attacker: Igor Horbach ("Dynamo" Kyiv).
Euro 2023 (U-19). Qualifying round. Group 3
17.11.2022
Ukraine — Kosovo (14.00)
Cyprus — Sweden (19.30)
20.11.2022
Ukraine — Cyprus (14.00)
Sweden — Kosovo (19.30)
23.11.2022
Kosovo - Cyprus (19.00)
Sweden - Ukraine (19.00)
The start time of the matches is Kyiv.
Euro-2023 (U-19). Qualification round
Group 1: Czech Republic, Greece, Switzerland, Andorra.
Group 2: Turkey, Bulgaria, Azerbaijan, Luxembourg.
Group 3: Ukraine, Sweden, Cyprus, Kosovo.
Group 4: Ireland, Hungary, Wales, Gibraltar.
Group 5: Italy, Poland, Bosnia and Herzegovina, Estonia.
Group 6: Austria, Romania, Latvia, Lithuania.
Group 7: Spain, Belgium, Albania.
Group 8: France, Scotland, Iceland, Kazakhstan.
Group 9: England, Denmark, Georgia, Montenegro.
Group 10: Norway, Serbia, Northern Macedonia, San Marino.
Group 11: Croatia, Israel, Finland, Faroe Islands.
Group 12: Germany, Slovakia, Belarus, Armenia.
Group 13: The Netherlands, Slovenia, Northern Ireland, Moldova.
The top two teams from each group and the best third-place finisher (based on matches with the first and second teams in the group) will join Portugal in the elite qualifying round in the spring of 2023. Malta's national team won a direct pass to the final stage as the host of the tournament. The winners of the seven groups of the elite round will go there.