Vbet League. "Shakhtar" beat "Vorskla", the match "Dnipro-1" - "Alexandria" was interrupted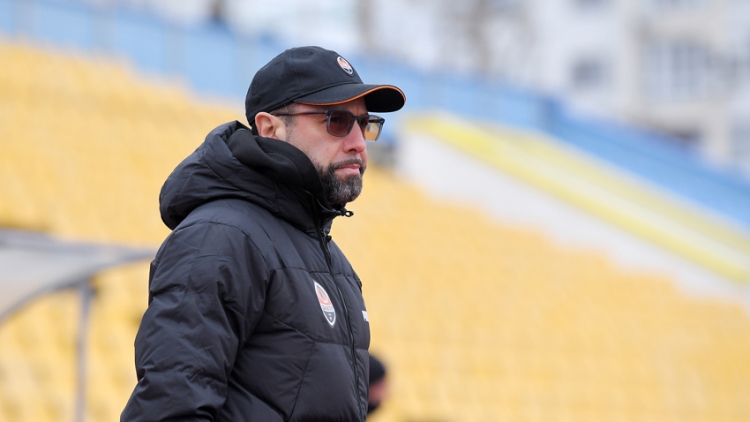 Today, November 23, two matches of the championship of Ukraine were to take place.
In the postponed game of the 1st round, "Dnipro-1" hosted "Alexandria" in Uzhhorod. Shortly after the start of the matches, it was interrupted due to an air alarm. According to the decision of the UPL Directorate, due to the impossibility of continuing the match, it will be played next year. In the starting line-up of the Dnipro players, the players of the national team of Ukraine were: Sarapiy, Pikhalyonok, Dovbyk.
In Lviv, Shakhtar defeated Vorskla in the match of the 15th round scheduled for Wednesday - 3:2. The goals of Sudakov and Kryskiv gave the Donetsk people an advantage, Seferi scored one goal, then Riznyk parried a penalty from Traore, and Chelyadin restored parity. However, the decisive word was said by Mudryk, who converted the 11-meter. The footballers who were called up for the last training session of the national team played for the miners: Trubin, Bondar, Matvienko, Mykhailichenko, Stepanenko, Mudryk (goal, assist, substituted in the 90th + 2nd minute). The goalkeeper of the Ukrainian national team Riznyk played a full match for Poltava, parried a penalty and earned a yellow card.
Vbet League
1 round
23.11.2022
"Dnipro-1" — "Alexandria" (interrupted)
15 round
23.11.2022
Shakhtar vs Vorskla - 3: 2 (1: 0)
Goals: Sudakov (27), Kryskiv (47), Mudryk (86, from the penalty) — Seferi (61), Chelyadin (75).
In the 63th minute, Traore ("W") missed a penalty kick (goalkeeper).
Standings
| | | | | | | | |
| --- | --- | --- | --- | --- | --- | --- | --- |
| | | G | W | D | L | GD | P |
| 1. | Dnipro-1 | 13 | 11 | 2 | 0 | 30-8 | 35 |
| 2. | Shakhtar | 13 | 9 | 3 | 1 | 29-11 | 30 |
| 3. | Zorya | 13 | 8 | 2 | 3 | 29-19 | 26 |
| 4. | Dynamo | 13 | 8 | 2 | 3 | 21-13 | 26 |
| 5. | Oleksandriya | 12 | 7 | 2 | 3 | 22-18 | 23 |
| 6. | Vorskla | 15 | 5 | 3 | 7 | 18-20 | 18 |
| 7. | Veres | 14 | 5 | 2 | 7 | 17-19 | 17 |
| 8. | Metalist 1925 | 13 | 4 | 5 | 4 | 13-17 | 17 |
| 9. | Kolos | 13 | 4 | 4 | 5 | 11-16 | 16 |
| 10 | Metalist | 13 | 4 | 3 | 6 | 15-20 | 15 |
| 11 | Mynai | 13 | 3 | 4 | 6 | 9-14 | 13 |
| 12 | Rukh | 12 | 3 | 3 | 6 | 14-19 | 12 |
| 13 | Kryvbas | 13 | 3 | 3 | 7 | 8-15 | 12 |
| 14 | Inhulets | 13 | 2 | 4 | 7 | 11-18 | 10 |
| 15 | Chornomorets | 12 | 2 | 3 | 7 | 8-17 | 9 |
| 16 | Lviv | 13 | 2 | 3 | 8 | 9-20 | 9 |
25.11.2022
"Chernomorets" — "Metalist" (13.00)
26.11.2022
Ingulets - Veres (13.00)
"Dynamo" — "Metalist 1925" (14.00)
27.11.2022
Lviv - Kolos (13.00)
Zorya - Minai (14.00)
28.11.2022
"Alexandria" — "Rukh" (13.00)
"Kryvbas" — "Dnipro-1" (14.00)