Five communities of the Rivne region took part in the all-Ukrainian project "Open football lessons"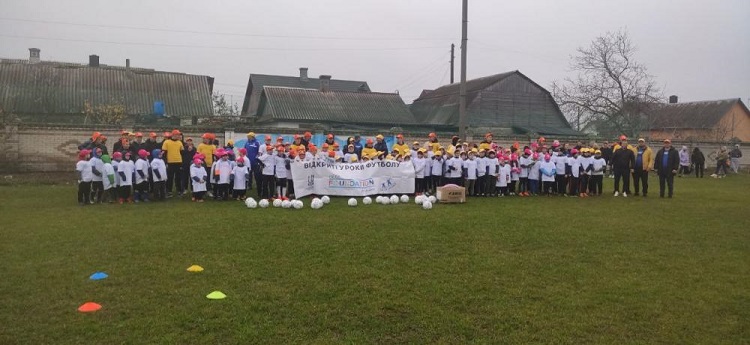 We continue to acquaint you with the activities of the UAF project "Open football lessons" that took place in the regions of Ukraine in November.
Kostopil became the last community where the Rivne Regional Football Association implemented the Open Football Lessons project from the UAF this year. About 110 children gathered at the stadium of the city community. Among them are immigrants. Trainers, a psychologist, and an explosives technician already traditionally worked with the participants.
In total, the football festival visited five settlements - Rivne, Ostroh, Zdolbunov, Goshcha and Kostopol.
The project has been active for a long time. It has been implemented throughout Ukraine for many years, but previously one region could hold only one such event. Due to the war in many regions of Ukraine, it is not possible to hold this festival, accordingly, such football lessons were moved to safer places.
The festival is held under the auspices of the UEFA Foundation for Children with the support of international partners and is implemented by UAF in all regions of Ukraine, where such an opportunity exists. All football equipment is provided by the UAF, they are already responsible for the organization and conduct of "Open football lessons" on the ground. All participants were given caps and T-shirts, and the sports schools where they study received sports equipment. For example, ropes, cones, chips, soccer balls, manishkas.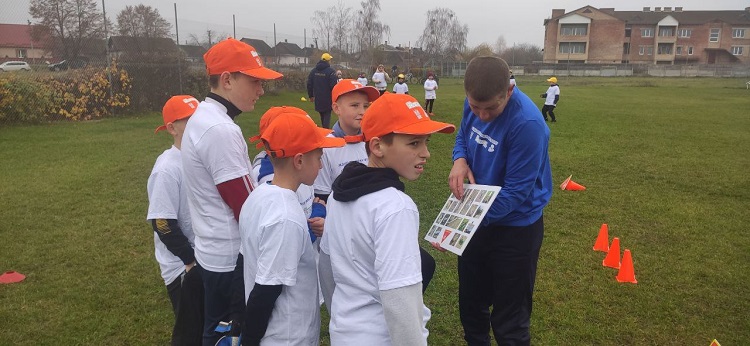 Photo by roaf.rv.ua
The participants of the festival are students of general education and sports schools of those territorial communities that participated in the project. Children of different ages, but mostly 9-12 years old. Both boys and girls. Among them are migrant children who live in the community where such lessons are held. It was planned that 144 children would participate in each community. But, for example, in Gosh and Kostopol, an air raid warning was announced an hour before the start of the event, and parents did not let their children go. Therefore, there were a little less, 130 children in Gosh, and 110 in Kostopol.
Regarding the format of the festivals. The football field is divided into 12 squares. Each square is a separate sector. Everywhere there is one trainer who shows a unique exercise. Children are divided into 12 groups in such a way that everyone visits each of the sectors. There must be a sector where a psychologist and a bomb technician work, who talk about mine safety. All other squares are physical activity.
As in previous years, and now, children really like such activities. They get a lot of unforgettable impressions and emotions. It is worth noting that it is very important to hold these festivals right now, because children here are distracted from terrible realities and recharged with positive emotions.