WU-17: the women's national team of Ukraine learned about the opponents in the second round of Euro-2023 selection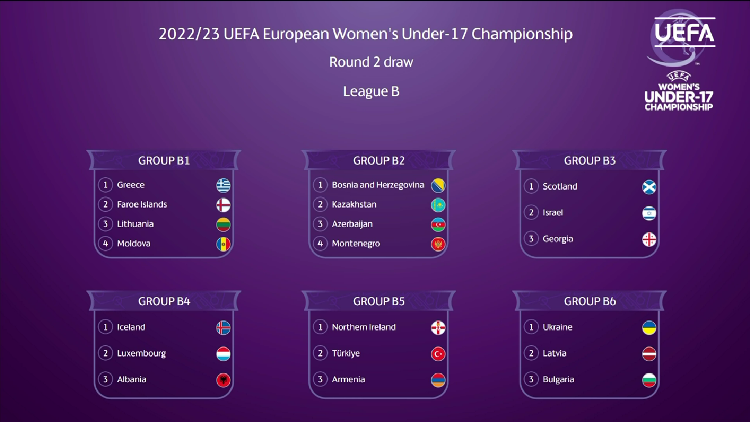 Today, December 7, the drawing procedure for the second round of the European Championship-2022/2023 (WU-17) selection took place, which determined the composition of the groups of both leagues.
In the second round of qualification, the seven national teams that will make up Estonia's team in the final stage of the European Championship among girls under 17 years of age, as well as the teams that will move from one league to another, will be determined. The seeding during the second round draw was determined by the positions that the national teams were placed in the first round.
In League A, 28 teams will play in seven groups, including seven national teams that were promoted from League B following the results of the first round. The seven A-League second-round group winners (and the best second-place finisher if Estonia finishes first in the group) will qualify for the final stage, which will take place between 14 and 26 May 2023. The fourth-placed teams in the groups will start the first round of the 2023/2024 season in League B.
Teams in League B, including those relegated from League A after the autumn stage, in six groups (two with four participants, four with three) will fight for tickets to the first round of League A in the next draw. They will be awarded to the winners of the groups, as well as to the best second team.
We will remind you that the women's national team of Ukraine is in its group of the first round took it the last place and relegated to League B. According to the results of the draw, Serhii Sapronov's wards got into group B6, where they will play with Latvia and Bulgaria.
Euro-2023 (WU-17). Second round
League A
Group A1: Czech Republic, Poland, Estonia, Romania.
Group A2: England, Norway, Belgium, Croatia.
Group A3: Germany, Portugal, Hungary, North Macedonia.
Group A4: Switzerland, Slovenia, Austria, Slovakia.
Group A5: Ireland, France, Italy, Kosovo.
Group A6: Spain, Denmark, Serbia, Belarus.
Group A7: Netherlands, Finland, Sweden, Wales.
League B.
Group B1: Greece, Faroe Islands, Lithuania, Moldova.
Group B2: Bosnia and Herzegovina, Kazakhstan, Azerbaijan, Montenegro.
Group B3: Scotland, Israel, Georgia.
Group B4: Iceland, Luxembourg, Albania.
Group B5: Northern Ireland, Turkey, Armenia.
Group B6: Ukraine, Latvia, Bulgaria.