2022: the results of the year for the national football team of Ukraine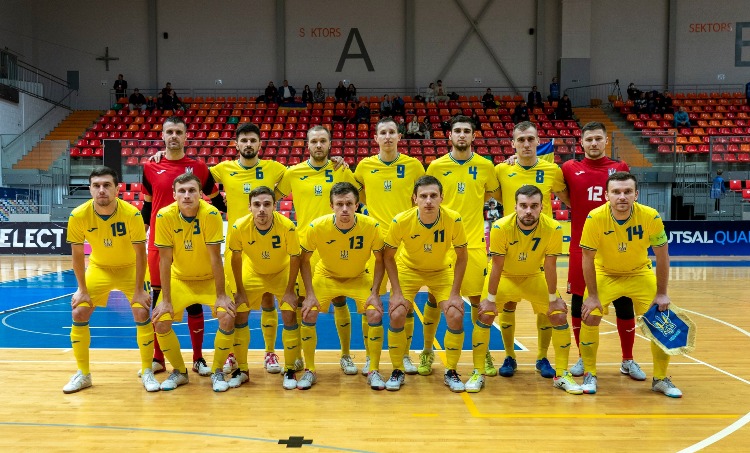 In 2022, the Ukrainian national futsal team competed at the European Championship and successfully started the selection process for the 2024 World Cup.
The passing year began for Oleksandr Kosenko's wards with preparation for the Euro-2022 final tournament. In January, home sparring matches with Kazakhstan were planned, but due to the introduction of a state of emergency in the country, the rivals did not have the opportunity to fly to Ukraine on the specified dates. Instead, the blue and yellow team played against the Sky Up team in the NTZ, which was held in Buchi.
After that, the national team of Ukraine went to the Netherlands, where they started their performance at the European Championship with a defeat against the hosts. Then our boys defeated Serbia and lost to Portugal, but according to additional indicators, they still took the second place in the group and entered the playoffs.
From the sixth attempt, the national team of Ukraine finally managed to overcome the quarter-final stage at the European Championships, beating Kazakhstan. However, Oleksandr Kosenko's wards failed to win a medal — they lost to the terrorist country and Spain in the decisive matches. Let's add that Kyrylo Tsypun was included in the symbolic team of the best players of the final stage of the 2022 European Futsal Championship.
After that, our team switched to the World Cup 2024 selection, where they started the fight from the main round. Before that, in September, the Ukrainians went to Moldova, where they held two sparring matches against the hosts and one against Romania. As a result, the blue and yellow team won the Three Nations Cup.
Due to the Russian military invasion, the national team of Ukraine hosted its opponents in the main round of the World Cup 2024 selection in Latvia. The start turned out to be successful - a victory over Kosovo and a rematch with the Netherlands. It should be noted that the players and coaches of the national futsal team of Ukraine won prizes for these two victories decided to direct the purchase of an off-road vehicle for the Armed Forces.
In November, the blue-yellow team beat the Kosovars in Pristina. Currently, they confidently lead the group and have practically guaranteed themselves to get to the elite round of selection. Our team will play the final match of the main round against the Netherlands on March 8, 2023.
Let's add that in 2022, 13 players scored in the Ukrainian futsal team, and Ihor Korsun was the top scorer with eight goals.
Matches of the Ukrainian futsal team in 2022
| | | | | |
| --- | --- | --- | --- | --- |
| date | Status | Rival (field) | Result | The authors of the heads of the national team of Ukraine |
| 15.01 | Comrade. match | Sky Up (Sun) | 7:0 | Pedyash (2), Gray (2), Razuvanov, Lebid, Abakshin |
| 19.01 | UEFA EURO 2022 | The Netherlands (g) | 2:3 | Zvarych, Shoturma |
| 23.01 | UEFA EURO 2022 | Serbia (n) | 6:1 | Zvarych (2), Abakshin (2), Korsun, own goal |
| 28.01 | UEFA EURO 2022 | Portugal (n) | 0:1 | |
| 31.01 | UEFA EURO 2022 | Kazakhstan (n) | 5:3 | Shoturma, Korsun, Zvarych, Razuvanov, Lebyd |
| 04.02 | UEFA EURO 2022 | Russia (n) | 2:3 | Gray, Abakshin |
| 06.02 | UEFA EURO 2022 | Spain (n) | 1:4 | Chernyavsky |
| 16.09 | Comrade. match | Moldova (city) | 6:1 | Melnyk (2), Fareniuk, Syriy, Mykytyuk, Korsun |
| 18.09 | Comrade. match | Moldova (city) | 7:4 | Korsun (2), Melnyk, Radevich, Lebid, Chernyavskyi, Shoturma |
| 19.09 | Comrade. match | Romania (n) | 3:1 | Chernyavskyi, Abakshin, own goal |
| 07.10 | World Cup 2024 | Kosovo (n) | 3:1 | Chernyavskyi, Korsun, Melnyk |
| 11.10 | World Cup 2024 | Netherlands (n) | 4:2 | Korsun (2), Shoturma, Abakshin |
| 09.11 | World Cup 2024 | Kosovo (city) | 5:2 | Chernyavskyi, Syriy, Mykytyuk, Fareniuk, Lebyd |