UEFA has set the date of the draw for the first ever women's Nations League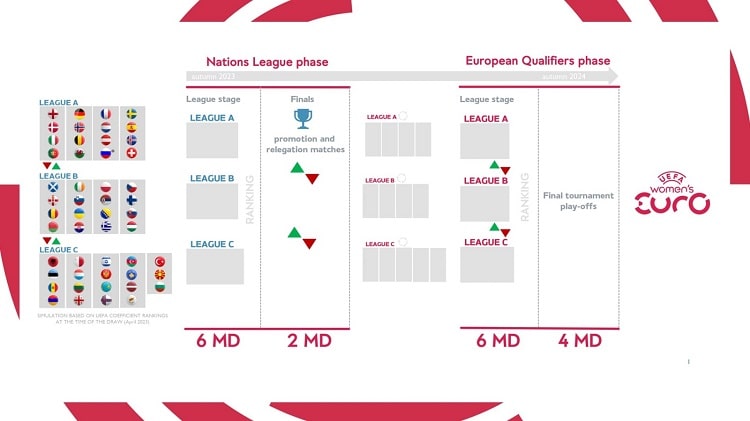 In November last year The UEFA Executive Committee, which includes UAF President Andriy Pavelko, in accordance with the UEFA Strategy for the Development of Women's Football Time For Action and with the aim of reforming the tournaments approved the competition format in the Women's League of Nations and in the qualifying tournaments of the European and World Championships among women.
It became known that the draw for the first ever women's League of Nations will take place on May 2. Leagues A and B will consist of 16 teams each, divided into four groups of four teams each. League C will feature 19 teams divided into four groups of four and one group of three (the actual composition of League C groups will depend on the number of participating teams). The composition of the leagues and seedings before the draw will determine the current ranking of the UEFA women's national teams. For example, Ukraine is currently in the 22nd place in the register, which implies entry into League B.
All matches will be played over six game days, with each team playing one home match and one away match against all the other teams in their group. Depending on the ranking in the group stage after the sixth round, teams will either retain their position in the league, be automatically promoted or relegated, or take part in promotion and relegation play-offs.
Photo by uefa.com
In 2023, there are six game windows for Nations League participants: September 20-22 and 23-26, October 25-27 and 28-31, November 29-December 1, and December 2-5.
The final ranking of the Nations League will determine the starting position of the national teams in the qualification scheme for the European Championship 2025, which will start in the spring of 2024 and will be held in the same format as the League of Nations.