The youth futsal team of Ukraine started at the tournament in Croatia with a draw in the match against France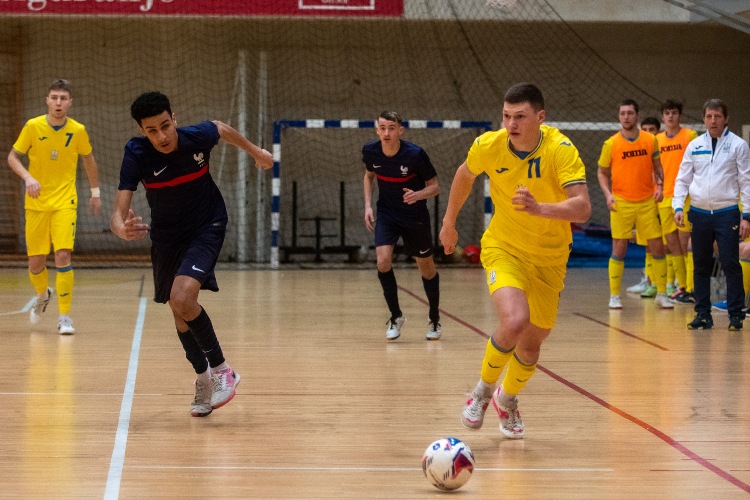 Ihor Moskvichev's wards played their first match at the Croatian tournament Umag Nations Cup 2023, in which they faced the French team.
Having conceded first, the blue-yellow team managed to take the lead even before the break. But, unfortunately, in the second half, the French managed a spurt, when they upset our team three times in a row - 4:2. However, we must give credit to the Ukrainian national team - they did not lose their composure and at the end of the meeting were able to equalize the situation. 4:4 is not the worst result considering the course of the match.
The Ukrainians have matches ahead of them against Slovenia (January 19, kick-off at 16.00:20 p.m. Kyiv time) and Italy (January 19.00, kick-off at XNUMX:XNUMX p.m.).
Tournament among youth futsal teams Umag Nations Cup 2023
France (U-19) - Ukraine (U-19) - 4: 4 (1: 2)
Goals: Lemoyne (12), Kouyate (31), Bulbul (33), Erraddaf (33) — Tyutyurai (16), Zaporozhian (20), Rybitsky (37, 38).
The roster of Ukraine U-19 futsal team
Goalkeepers - Ivan Belimov ("Black Sea"), Kostyantyn Rafalskyi ("Cardinal-Rivnestandart"), Yuriy Yaremchuk ("Bongo Futsal", Poland); field players - Vadym Tyutyurai ("Cardinal-Rivnestandart"), Dmytro Karmalita ("Fortuna", Germany), Damian Zaporozhan ("Uragan"), Denys Snitsarenko (SkyUp Futsal), Roman Tatumirak ("United Pomezia", ​​Italy), Vitalii Pankratiy, Dmytro Rybitsky (both - "Futzal Szczecin", Poland), Andriy Yelishev, Vladyslav Tkachenko (both - "Tim Lembork", Poland), Dmytro Fedyk (Levice, Slovakia), Nazarii Krukovsky (Burinhosa, Portugal), Daniil Boldyzhev ("Phoenix"), Ihor Peletsky ("Vikingay", Lithuania).
We remind you that November 3 had happened drawing of preliminary and main rounds of Euro-2023 (U-19) futsal selection. According to his results, the youth national team of Ukraine got into group 2 of the main round, where they will meet with Romania, Serbia and the winner of group B of the previous round (Montenegro, San Marino, Gibraltar). Serbia will host the mini-tournament.
Venue of the Euro-2022/2023 final tournament in futsal among young men under 19 years of age was identified Porec (Croatia). In addition to the hosts, the Croatians, seven national teams will play in the final stage, which will be known after the second round of qualification, which will be completed by March 26. The format of the final tournament will remain the same: eight participants will play in two groups of four teams each, the best two of which will advance to the semifinals.
The debut European Futsal Championship among youth was held in 2019 in Riga, the second draw took place in 2022 in Jaen — both times (2019, 2022) the Spanish team became the champion. The second championship was originally planned for 2021, but was postponed due to the COVID-19 pandemic.
The national team of Ukraine participated in both final tournaments. In 2019, Vitaly Odegova's wards took third place in the group, and in 2022 stopped in the semi-finals.