Weekend for the legionnaires of the Ukrainian national team: Yarmolenko's goal, Kovalenko's assist and Mudryk's debut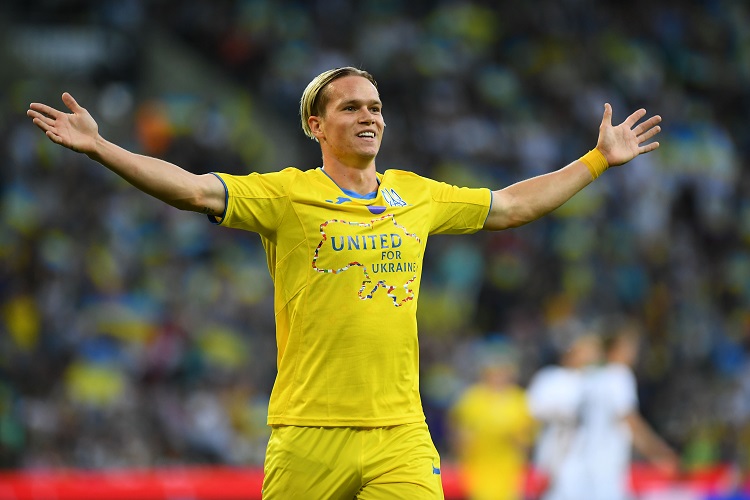 Of the 12 legionnaires of the national team of Ukraine, who were invited to the ranks of the national team for the September matches of the League of Nations, last weekend seven took to the field in their clubs.
On Thursday, January 19, in the match of the 1/8 finals of the Italian Cup "Spezia" Victor Kovalenko, who scored an assist, lost to "Atalanta" on a foreign field with a score 2:5.
In the 21th round of the Belgian Pro League "Bruges" Roman Yaremchuk and Eduard Sobol draw on the road (1:1) with St. Truiden.
On Friday, January 20, Ruslan Malinovskyi helped his "Marseille" beat "Rennes" at home (1:0) and make it to the 1/8 finals of the French Cup.
On Saturday, January 21, Mykhailo Mudryk made his debut for "Chelsea" in the match of the 21st round of the English Premier League, in which the Londoners played away in zero draw with "Liverpool" and "Everton" Vitalii Mykolenko suffered an away defeat against "West Ham" (0:2).
On Sunday, January 22, the ball Andriy Yarmolenko helped Al-Ain, coached by Ukrainian specialist Serhiy Rebrov, beat Al-Batayeh away in the 13th round of the UAE Championship — 3:2.
With the same account, but on Arsenal's own field Oleksandr Zinchenko beat Manchester United in the Premier League.
In the 19th round of the Italian Serie A, "Specia" Kovalenko lost at home to the visitors from "Roma" — 0:2, and in the 22nd round of the Belgian championship, "Bruges" of Sobol and Yaremchuk played a draw with "Charleroi" in their native walls (2:2).